"The first word that springs to mind when walking into Bossa is quality" appraised Square Meal of the restaurant debut in Europe of Alberto Landgraf. Brazilian, with Japanese and German roots, and a tattoo reading, "for the Lord, thy God is whithersoever thou goest", the physics graduate and Einstein fan worked with Gordon Ramsay and Tom Aikens in the early 2000s. He went on to launch Epice in Sao Paulo in 2008, a 38-cover restaurant devoted to "contemporary naturalism" according to Four magazine, before relocating to the city of his girlfriend, Rio de Janeiro to found Oteque in 2018. With a "modern-industrial feel" and "delicate dishes" showcasing "the region's very best fish and seafood" according to Michelin, it became one of four restaurants in Brazil to ascend to two-star status, two years on. Compared to Oteque's "discreet" location in hipster-augmented Botafogo, opposite a petrol station, the London venue, off Bond Street (beside Beast) has more architectural grandeur from the street, neighbouring, appropriately, the Brazilian consulate, an institution praised for its "fast and smooth" service according to Google reviews…
Design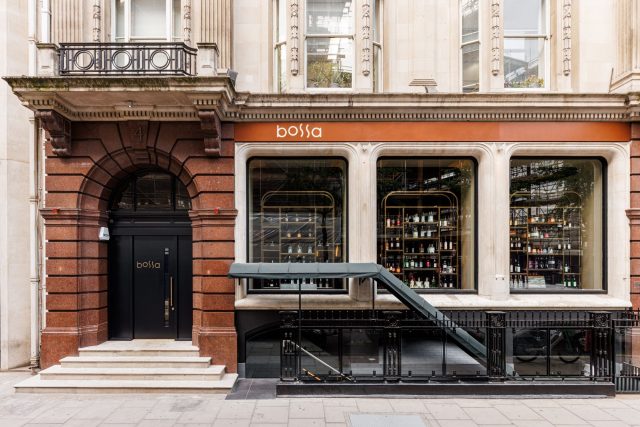 The former flagship restaurant of the Lebanese Maroush empire, where diners could enjoy belly dancing alongside "hommos Beiruty" and mixed shawarma, Bossa has received a smart, precise fit, in keeping with Oteque's mahogany tones and subtle curves. Beside tall, curved windows which worry this reviewer given the potentially spoiling sunlight freely streaming onto the shelves of spirits, is a bar counter, echoed on the other side of the executive cave-like room by the kitchen pass from which diners can sit close to the flames if they are brave enough to do battle against a presently slightly underpowered extractor hood. A semi-private room for 10 offers an upgrade while still being within the dining arena, with a view to wine bottles, again, subjected to the incursion of daylight entering from the street. The spirited playlist features such tracks as, not inappropriately, "Inflation" by the sadly obsolete moustachioed band, The Whitest Boy Alice. Meanwhile, with the Brazilian DJ, Ana Lidia Flores Miranda having headlined the opening party, the sister venue, Maroto, below, is a tactile late-night den, in the vein of Annabel's Club, but with more caramel a colour scheme, accessed from the separate pavement entrance. There, general manager, Luca de Felice mentions how the funder of both projects realised his fortune by operating "gentlemen's clubs".
Drinks
Voted Brazil's best sommelier by Prazeres da Mesa magazine, Laís Aoki describes herself, enigmatically, as "not a traditional sommelier". Divided by weight and structure, her drinks list, which has breathtaking moments, shows insight, maturity, curiosity, and access to rarities. While hefty markups may be found on the likes of Jacques Selosse Millésime Extra Brut 2009 Champagne, Grand Cru Chablis from François Raveneau, and expressions of Domaine de la Romanée-Conti, you can find other wines below retail price, such as l'Argilliers Extra Brut Champagne, made by go-getter Guillaume S. Selosse, the son of Anselme. Extremely hard-to-come-by wines, at least on these shores, also pip the radar, such as Chanterêves Aligoté Miarlons du Bas.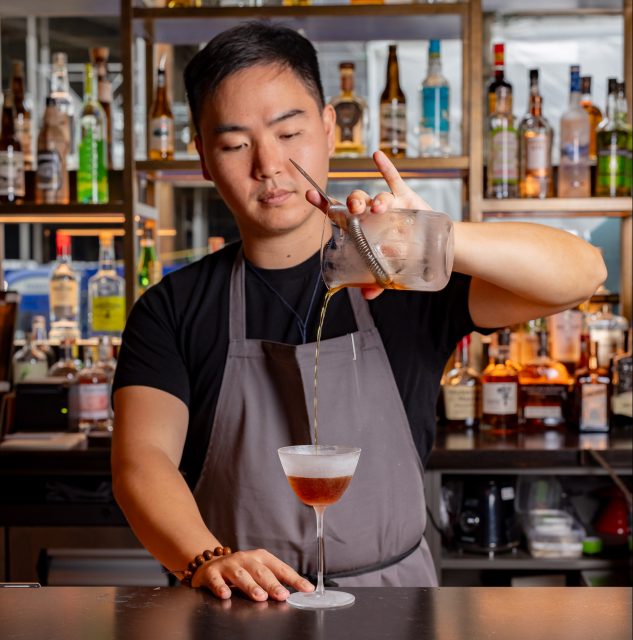 By the glass, interesting options continue, such as the very limited production Phéromone by Hiroshima-born, French-trained, Osamu Uchida. Given Brazil and Japan's entente, and the fact that Landgraf's mother, an English teacher, is Japanese, there are also three sakes. 15 cachaças feature, such as Serra Limpa, encapsulated in a beer bottle, Velho Barreiro, aged in a large oak vat, and Weber Haus which informs the house Caipirinha. Other cocktails, by head bartender, Vinni Kodama, include the Manhattan-like, "Dream of Adonis" starring Equipo Navazos' La Bota de Fino, Sacred vermouth from North London, and Gary Regan's orange bitters. The Brazilian Coffee is late harvest Daterra Stardust.
Dishes
Approached by matt finish cutlery, the menu is divided into categories, "The Beginning", "The Middle", and "The End"; "Sides", however, could do with a re-brand in this context. Showcasing what the gifted Aoki mentioned are the nuclei of Landgraf's cuisine, being attention to "temperature, brightness, umami, and fermentation", only an a la carte menu is offered, though one suspects in such a chic space, from a team with pedigree, diners will ultimately demand a tasting menu.
Sake has "a seven times longer fermentation than wine" leading to "more umami" says Aoki as she pairs Te To Te Kimoto, an oceanic of aromas, low intervention Junmai sake, with Maldon oysters and kombu-infused caviar. This is crafted in the mountains northwest of Tokyo in collaboration with arguably the most charismatic, present, connecting, scholarly, powerful yet delightful figures when it comes to sake in the UK, Natsuki Kikuya – the founder of Museum Of Sake.
Another dish from The Beginning sees Cornish mussels meet brightening carrot juice, classic parsley, and wonderfully absorbent toasted bread for scooping the residual sauce. Aoki pours, via Coravin, Chilean Mingaco, a Moscatel de Alejandría reaped from half-century-old vines sown in red granite in the Itata valley, at a latitude of 36° south. "I'm a South American – it's my responsibility to talk about Chile," she says. Its marmalade colour, from 12 days of skin contact, matches that of the supple mussels' flesh while its grapefruit notes deal with the light escabeche treatment. On being asked where she encountered such a wine, Aoki says, as a jazz lover, she had bought tickets to a festival occurring beside a sign reading Under The Bonnet Wines. "Intrigued by the name, I sent them a message…"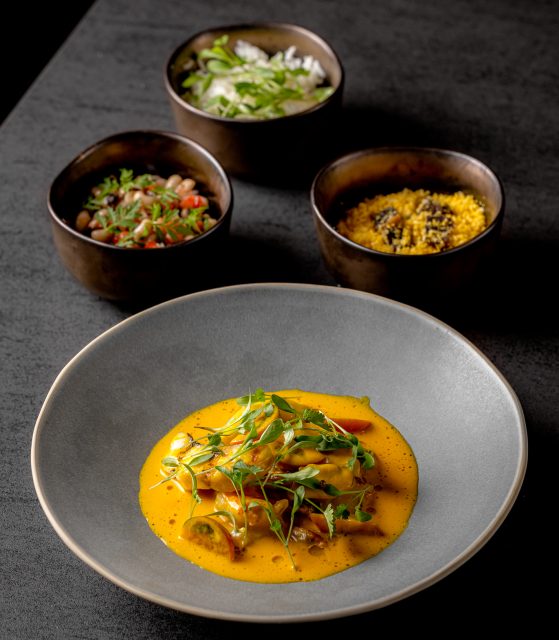 The final moment from The Beginning is beef tartare, shitake confit and fluffy summer truffle, rinsed, precisely with Marie Courtin's Presence Extra Brut 2018. "I visited on the last day of vintage," recalls Aoki of her experience at the biodynamic producer, whose tasting room was characterised by astrological signs. Fusing two-thirds Chardonnay with Pinot Blanc, the Blanc de Blancs comes from Polisot, some 40 miles from the centre of Chablis, more often prized for its red grapes. Combined with the Kimmeridgian limestone subsoils, it possesses a sense of mineral nervousness.
Recommended from The Middle, seafood moqueca, arrives with almost elver-like chive and chive oil pepper rice, banana farofa dessicated to the texture of wheatgerm, and black-eyed peas. It meets Domaine Pierre Frick's 2012 Alsatian Sylvaner Bergweingarten, farmed organically since 1970, and biodynamically since 1981. Through it, Aoki wants to show that minimal intervention is not "some fleeting fashion". Perhaps, in the context of Rio de Janeiro, a huge seaside enclave, this dish would shine brighter than in W1G where it feels a little lost in translation.
Fortunately, things get back on track with black pork secreto, with apple purée, Savoy cabbage and black pudding, ordered with a side of lavishly buttery manioc purée and gently spiced carrots. Beautifully tender beyond the char, this standout dish becomes mesmerising with Emidio Pepe's 2002 vital, violet-scented Montepulciano d'Abruzzo.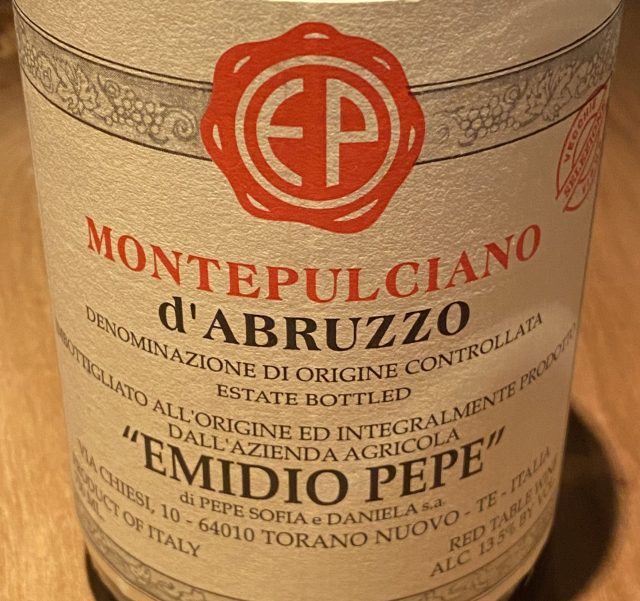 Finally, sweetened acai sorbet and dried acai from the Amazon encounter sugar cane crumble, and quite architecturally arranged spiced chocolate shards. Here, Aoki selects an ebullient 10-year-old Rousset-Peyraguey – Cuvée Puphlum – an unfiltered Semillon, Sauvignon Blanc and Muscadelle, as well as the second sake of the meal, Tokubetsu Junmai from the fifth generation, Kanemitsu Sake Brewery, Hiroshima. Like a Venn diagram, the sweet spot is right in the centre.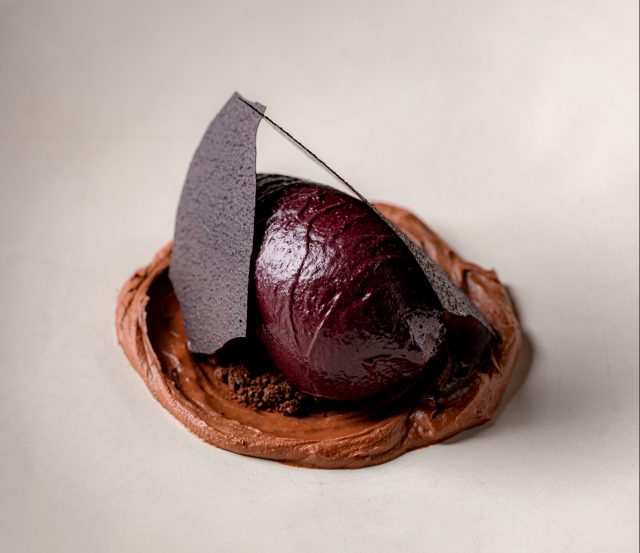 Last Word
Bossa, in Brazilian, is a term given for something enacted with charm. Having met Aoki, Kodama, the server, Jenny, and the GM from Maroto, Luca, over a relaxed yet thought-provoking evening, it feels the right term. Compared to the tasting menu only Oteque, Bossa is intended to be less prescriptive. However, we envisage the sophisticated seeming clientele will, in time, want the format to more closely approximate the original.
Best For
Bottles from the "wild/interesting" section of the list
Wild ciders, including du Vulcain's Transparente
Dishes accented with Brazilian and Japanese touches, precisely realised
A fine fit-out
Value: 93, Size: 93, Range: 93, Originality: 95, Experience: 95.5, Total: 93.9
Bossa – 4 Vere Street, London W1G 0DH; reservations@bossa.co.uk; bossa.co.uk
This article was originally published by the drinks business and has been shared with permission.