"Welcome to sushi Alcatraz" is how Time Out described Taku on finding "the front door [was] unbolted to let us in, and then swiftly locked behind us". However, rather than fretting about how to vamoose, getting in is an achievement of sorts given the high, hot ticket, Taku was bestowed its first Michelin star within four months of opening last November. Executive chef-patron, Takuya "Taku" Watanabe, who looks a lot of fun going by his Instagram, first won over critics the other side of the Channel, where his "Jin Paris" became the City of Light's first sushi omakase to gain a Michelin star, maintained for a decade and ongoing.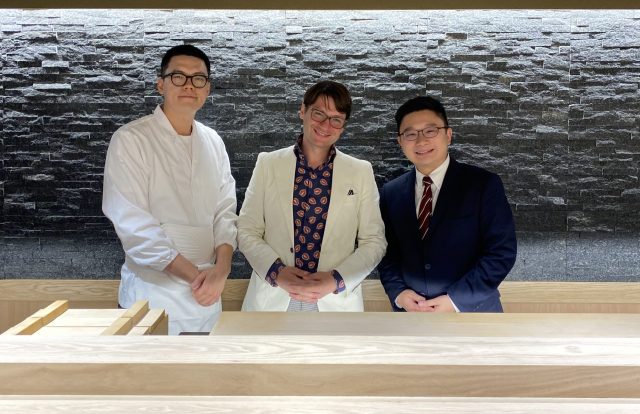 Design
From the well-spaced, blonde wood counter, sixteen guests watch numerous chefs, including head chef and trained fisherman, Long Ng, present on our visit with an albeit bandaged finger, operate in near balletic accord, their immaculate whites emphasised against the slate backdrop as, with surgical precision, morsels are sliced and scored. Almost coquettishly, bottles of Ichiro Akuto's Chichibu whisky, including the 2021 London Edition sold at over £150 mark-up per double shot, pout beyond a small window cut into the corner of the well-armed sommelier station, though these are likely to be replaced by those of Suntory for the collaboration celebrating the distillery's centenary, during which a Toki Highball will be paired by Taku with grilled lobster. Every aspect appears consummately considered, from remarkably slender mouthblown, antique lightbulb-like Usuhari Daiginjo glasses deployed for the opening sake, replete with droplet-like dimples to ostensibly enhance aromatics, to red-handled, textured chopsticks, not forgetting the facilities where loo lids automatically, servilely, rise on entry. Meanwhile, the playlist is breezy, including a take on "The Look of Love".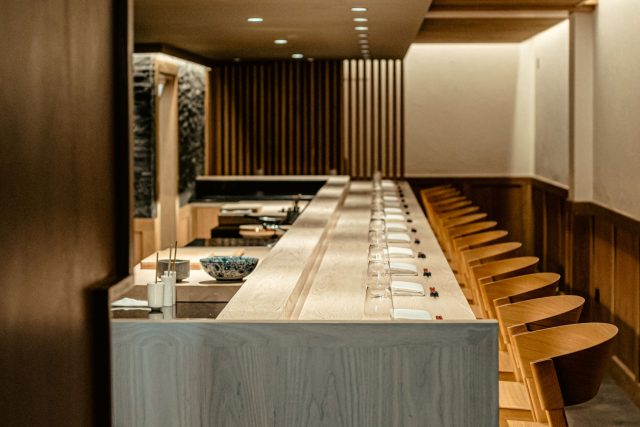 Drinks
"We're not trying to bring the fantasy of Japan to Mayfair," explains the increasingly legendary head sommelier, Bowie Tsang, who is, sine qua non, vital to the full Taku experience, adding, "we try to get people to loosen up." Although long harbouring a meticulously cultivated fascination for wine and sake, Tsang came to hospitality late, having worked as an economics teacher. Arriving in London from an unsettled Hong Kong, he began at Le Comptoir Robuchon from where he was scouted by Japan Centre, becoming head of sake. It was here that Geoff Leong and younger brother, Lucas, of the family responsible for Chinatown fixtures, Dumplings Legend, with its xiao long bao, and bottomless dim sum brunch destination, Leong's Legend, which, it is said, brought gua bao steamed fluffy white buns to the British public, discovered him.
Given Chef Watanabe started his career in sushi in Sapporo, Hokkaido's largest city, the absence of sakes from this cold, northerly region, from Tsang's drinks list, such as the brand Toku which would appear obvious a choice for a restaurant called Taku, seems peculiar. That is until Tsang reveals he has an under-the-counter list dedicated to Hokkaido sakes, available to those, unlike this reviewer, whom Tsang believes warrants it.
With a long-standing relationship with producers and collectors internationally, stunning, constantly preened knowledge, and fluency in Japanese, "which makes learning about sake easier," Tsang is determined that his sake list can contend with the top establishments of Tokyo, hence the presence of bottles hitherto unavailable on these shores. These may include, with "cult followings in Asia" according to Oliver Hilton-Johnson of Tengu Sake, Juyondai Cuvee Ryugetsu, here subject to an apparent £2,000 mark-up, while the Hakuun Kyorai Ryusen appears to have put on some £5,000 of weight atop its retail price. To put those figures in context, even if you are not particularly careful with your dates, you could actually fly to Hong Kong, respectively buy these bottles, have change from a night out including a hotel stay, and return, for the total cost of enjoying them at Roketsu – business class in the case of the Ryusen. Meanwhile, in vinous terms, the list shows love for Burgundy, albeit with escalating prices, as seen in the case of the Domaine Coche-Dury Meursault 2020, whose price at Taku has increased by £300 since April, with reference, to the earlier price, care of Andy Hayler's analysis of the wine list. However, if served as a 125ml, despite most vinous measures stated as 12cl, the glass of d'Yquem 2002 is a relative snip at £90. And then there is sole gin, Osuzuyama Yamaneko, available at a mere £50 per shot, being close to its USA per bottle retail price, were you to risk requesting a G&T.
Dishes
Following an appetising mussel broth which Tsang rightly considered pointless to match with, lunch began with a Riedel Veritas of austere, low dosage André Jacquart Blanc de Blancs Extra Brut, during which Tsang revealed his dislike of zero-dosage sparkling wines. Instead, he favours sugar-seasoned cuvées which show the benefits, he says, of the "Maillard reaction". Frustratingly, even though there is an example from an estate co-founded by a fluent Japanese speaker, and other examples already present in Japan, the list appears to discriminate against English wine.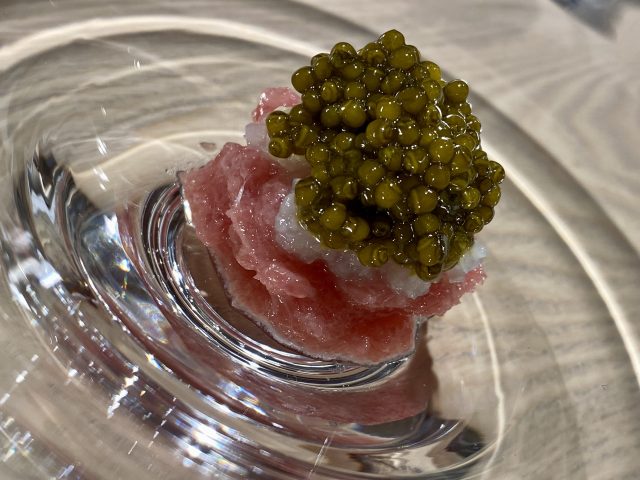 Then, with a glass bowl of Spanish tuna, micro-diced, almost spiced raw white asparagus, and caviar, Tsang introduces the first of four contrasting sakes, all of which were new to this reviewer. "Would you drink a wine in a cup?" he reasons, when asked about the breathtakingly beautiful tapered glasses he uses, from the Usuhari Daiginjo to Mark Thomas stemware. "It's ridiculous," he adds, claiming that cups and wooden "masus" are so dumbing of aromas that the result is akin to "tasting blind."
Kioke Bodai Moto, a Junami from Nara, fermented in barrels from local cedar trees, is made by Mimurosugi, a producer taking its name from an enlightened Buddha. "Wine is a gift from God, made from potentially naturally fermenting grapes, while sake is not natural at all, requiring work to protect it," says Tsang. The sake wraps around the tuna, then sea bream sashimi with green asparagus and white soy, and tuna marinated in a house blend soy with the third incarnation of asparagus, this time wild, with garlic stems.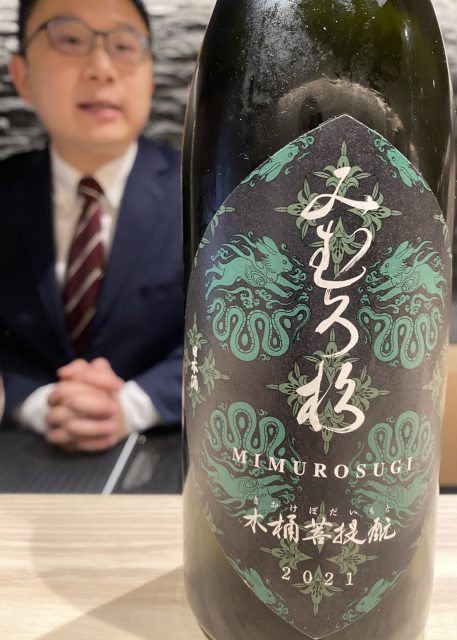 Next, the "avant-garde" Aramasa "Ash" Kameno-O Colors is served in a Mark Thomas white wine glass, its shape evoking the head of Red Dwarf's Kryten character. Here, the shimmering of text "2021" on the bottle refers to the brewing date of this raw junmai brought to life with rare guild No. 6 yeast. "I know a thing or two about yeasts," nods Tsang. It was fermented in wood. Crisp, precise, almost dainty, it melts, then expands, then becomes oaty alongside roast turbot from Cornwall, then lightly steamed lobster from Skye's waters placed on a cauliflower purée amidst sudachi jelly evocative of bitter clementines. Little wonder that Tsang would choose this producer, "if I could only have one sake for the rest of my life". In fact, so enjoyable is this sake that it seems dismal to cancel the aftertaste with Welsh Radnor sparkling water, chosen on account of its relative neutrality and unobtrusive bubbles.
The journey returns to Mimurosugi, for a sake with particularly flamboyant flavours. Beyond the orange label, the "Karakuchi" (dry) edition is made with Tsuyuhakaze rice, often grown for the table. "Wine can upset balance compared to sake's lower pH," says Tsang of the agile drink. "And you come here for balance." This accompanies the majority of the sushi flight including grouper, particularly good, scored cuttlefish, Orkney scallop, and dry-aged yellowtail. Such moments are punctuated with an interval of fried, fatty escalope of sea bass because, says Tsang, sushi in succession could otherwise "tire your palate".
The final savoury sake, is Senkin Shuzo "Nature" from Tochigi, known for its nearly 100 metres of drop, Kegon Falls. With a Miro-esque label, and emphasis on terroir and pronounced acidity, it is brewed with locally certified, organic rice, resulting in an almost Riesling-like green apple character, matching eerily well with the oiliness of iron-rich otoro sushi, Hampshire trout, and mackerel wrapped in seaweed.
Finally, being the least enjoyable sake today, sweeter Gozenshu Junmai Bodaimoto Kijoshu, subject to arrested fermentation care of added sake, brings green melon, caramel, and a slightly gras texture to a volume eleven, milk foam topped, elderflower pepped crème brûlée with corn syrup and caramelised popcorn.
As a neighbouring guest feasted on truffle enriched abalone and wraps eclipsed by caviar, Taku, even on our more restrained lunchtime menu, which was priced, according to the website, at an extra £30 since the press release was received the week before, succeeded in providing enough food to sate a hungry guest, when these sorts of experiences, while debatedly feeding of the soul, can actually leave one yearning for fodder straight after.
Last Word
Bearing romanticised Japanese influences, chic, refined counters such as Taku are presently mushrooming in London offering, attentively, the time-poor, cash-rich a disciplined meditation of sorts, while harvesting their operators millions of pounds through multiple marathon sittings per day. Perhaps, to these guests, figures following pound signs, unless in relation to massive stock market movements, real estate swaps, or the array of tantalising opportunities to profiteer over the wider public in times of vertigo-inducing inflationary rises, simply do not matter. What one hopes, however, is that these extraordinarily expensive restaurants can enhance, too, aided by the now common 15% service charges, the minds, palates and wallets of those skilled individuals who actually work in the premises in order to justify the heart-stopping prices, and indeed the growers of produce, including alcoholic wonders, who supply them.
Best For
The care, enthusiasm and knowledge of Bowie Tsang
Sakes otherwise hard to find
Glassware
Spacious counter
Value: 80, Size: 90, Range: 92, Originality: 95, Experience: 100, Total: 91.4
Taku – 36 Albemarle St, London, W1S 4JE; info@takumayfair.com; takumayfair.com
This article was originally published by the drinks business and has been shared with permission.