Louis Thomas finds that big is indeed beautiful as he enjoys a pour from a Balthazar of Château d'Yquem 2013 at The Twenty Two in Mayfair.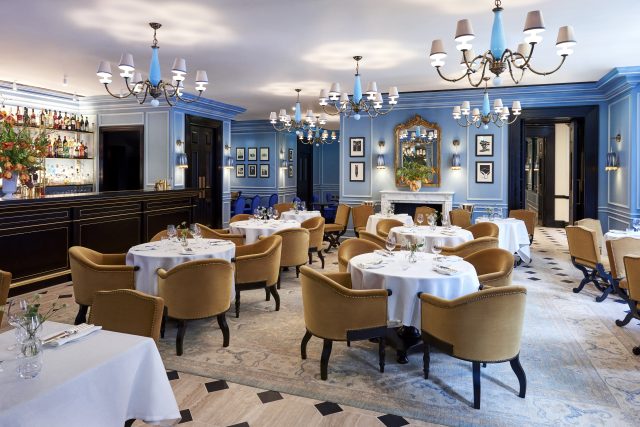 With its pastel blues, well-stocked bar and abundance of sunflowers (not in the press imagery for the restaurant, alas), I felt as if I had stepped into a Van Gogh, though without the undercurrent of depression.
The wine list is largely the work of the delightful Roxane Dupuy, who oversees 850 bins (in autumn it will go up to 950), and 60 wines by the glass.
Dupuy opened proceedings with a wine from her hometown in Luxembourg: Alice Hartmann Brut made of predominantly Pinot Noir and Chardonnay with a dosage of Riesling ice wine.
The 'lux' part of 'Benelux' is the homeland of last year's world's best blind-tasters, and the fifth highest per-capita alcohol consumption in the world, but it seems that Luxembourgers are not just good at enjoying wine – they can also make a decent drop too.
The unconventional dosage added a tropical flourish to an otherwise dry, sharp Crémant d'Alsace-esque sparkling wine. Perhaps the greatest praise I can give the wine is that I wanted to try it as a bit of a novelty, but I am now seeking out a bottle so that I might taste it again.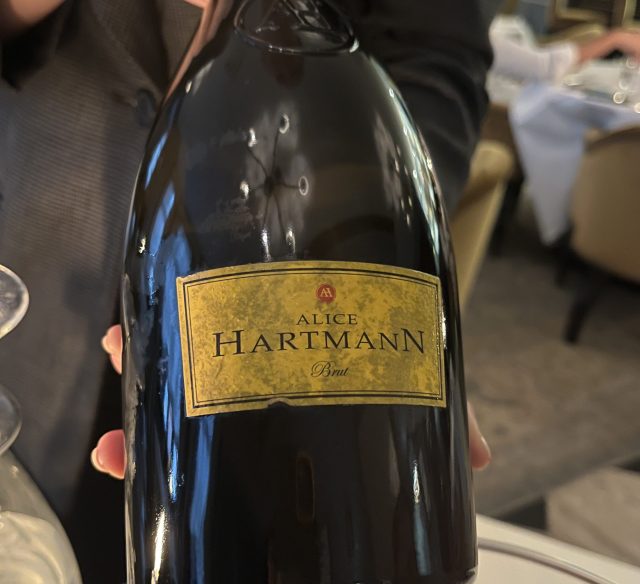 To pair, Dorset oysters were suggested, with a drizzle of mignonette for good measure. The only downside was making awkward eye contact with my colleague as I attempted to slurp down the salty mollusc, only to end up spilling brine and vinegar on my trousers. Perils of the job.
It was not long before we were then plied with offerings from what is perhaps my favourite food group – deep fried things. Polenta chips were pleasant, perhaps lacking the primal satisfaction of a good cuboid of crispy spud, but the smoky aubergine ketchup they were served with was stand out – thinking baba ganoush meets barbeque sauce. The fried artichokes were also pleasingly greasy, though my heart will always belong to (and eventually be stopped by) carciofi alla giudìa. The highlight of that particular dish were the scraps, or gribbles, or cack, as my mother unceremoniously calls them, of batter that had tumbled to the bottom.
Having maxed out on morsels, the starters soon arrived: Sussex asparagus with a Hollandaise sauce, and a Devon crab salad.
The asparagus was the essence of simplicity, and all the better for it – tasting of itself and nothing more. The Hollandaise was particularly good due to its lightness, having been whisked into a fluffy, buttery cloud, rather than the usual Hellmans-esque gloop one finds. The crab was less good, being slightly bland and garnished, in the words of my colleague, "like a 1980s prawn cocktail".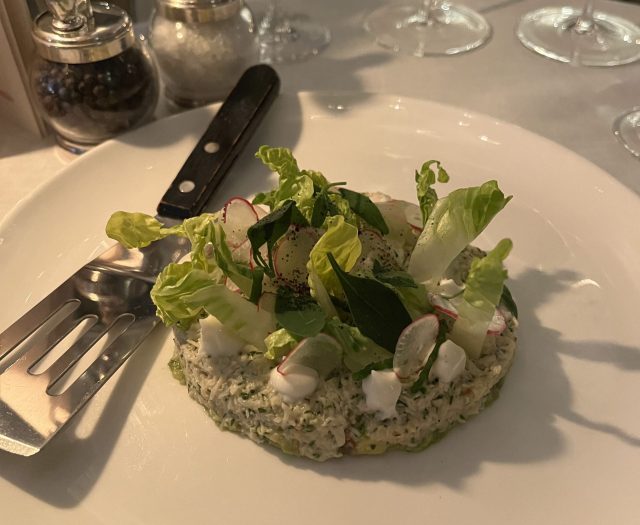 Luckily, the crustacean course was somewhat redeemed by one of the wine pairings, a green fruit, citrus and mint-forward Coffele Ca' Visco Soave Classico. The asparagus was especially good with the searing acidity of the Vino Budimir Margus Margi Riesling from Serbia. It's hardly a secret that the Balkan nations are capable of producing wonderful wines, but to see them available by the glass on a list in Mayfair is, at least to my ignorant self, a pleasant surprise.
Dupuy has an admirable philosophy when it comes to developing the cheaper end of the list: "House wines should be both interesting and good value for money".
Upon finding out that myself and my colleague were both devotees of Italy, Dupuy then zipped away only to return with two rosso offerings from the Apennine Peninsula, sort of.
I add a caveat as the first, though made from Pugliese Nero di Troia, was actually vinified closer to Bethnal Green than Bari, by Renegade.
"It's important to list local brands," Dupuy explained, disclosing that she is also prone to featuring English sparkling on her lists.
The other wine, picked and fermented fully in the old country, was Antoniolo Gattinara Riserva 2017, one of Piemonte's more overlooked Nebbiolo expressions. Within the first sniff, my colleague made an astute observation: "It smells Italian." Indeed it did, with aromas of tobacco and leather grabbing the nostrils.
The main that would be playing alongside the wines was a loin of lamb so soft it could be cut with a stick served with sheep's ricotta and roast aubergine purée, with additional sides of a Pixar-perfect ratatouille (or confit byaldi, to be precise), and mashed potato suspended in a matrix of butter.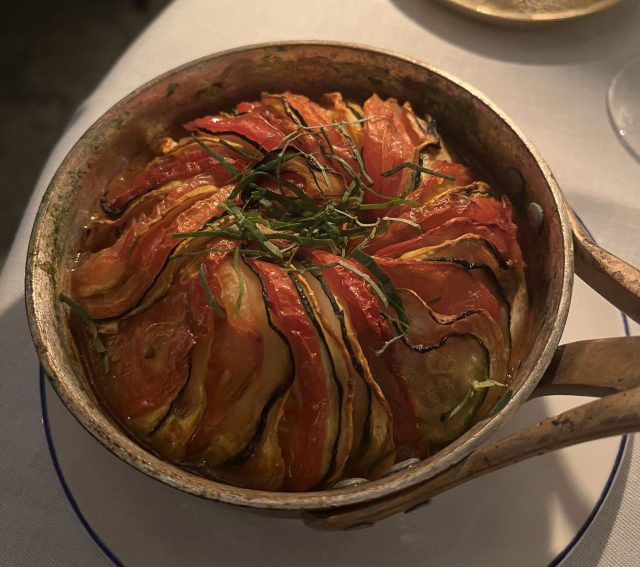 The whole dish tasted of a sunbaked Southern France, which may be the confit byaldi talking, and paired exceptionally well with the Piemontese pour, which had just the right amount of grip from the tannins to hold its own against the intensity of the aubergine in particular. "That's a bit of me that is," my colleague chimed in. The Renegade wine was also pleasant, having the intensity of black fruit one expects from Puglia, but with a bit more British restraint, but lacking the complexity of the Gattinara.
My misgiving over the main course would simply be price. £36 for a main which requires other sides to be ordered (ratatouille for two was £12, mashed potato was £6) seems steep, even for Grosvenor Square.
Dupuy then materialised with two sweet wines for us to stick our noses in. The Philippe Bavet Bugey Cerdon Methode Ancestrale was a sweet, sparkling Gamay (around 78 grams of residual sugar, according to the internet) hailing from Bugey AOC, just east of the grape's more famous residence of Beaujolais.
Even less conventional was the Maison Goubet Cabernet Pétillant 0% Alcohol. Having tasted a reasonable amount of non-alcoholic fizz, I was rather pleasantly surprised to find it not just palatable, but enjoyable.
"It tastes like Super Malt," opined my colleague – I believe they were being complementary.
The Gamay really sang when set against a dense, almost fudgy, vanilla cheesecake with strawberries.
Dupuy called it "an easy, straightforward pairing", and it was effortlessly agreeable.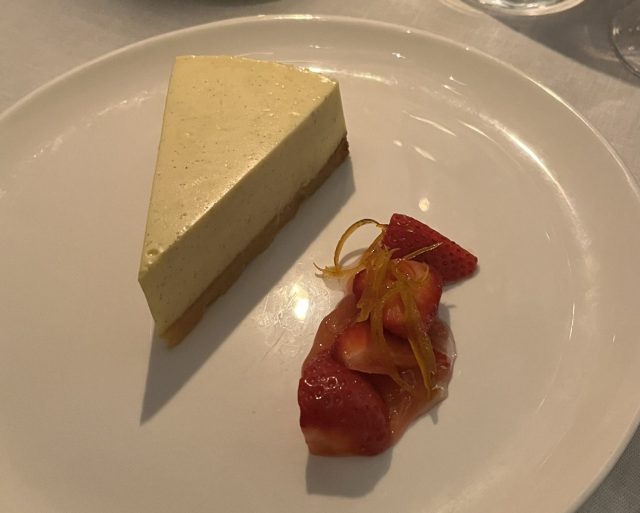 Then the moment arrived. Having seen the Balthazar of 2013 d'Yquem bobbing around the dining room, it was finally our turn to taste.
Cradling the 12-litre vessel like a big glass baby, but one considerably more valuable than any infant, Dupuy must surely have the strongest arms in the wine trade. The showstopper bottle has been slowly but surely drained by deep-pocketed patrons since The Twenty Two opened, and Dupuy revealed that it has been kept fresh thanks to a Coravin prototype.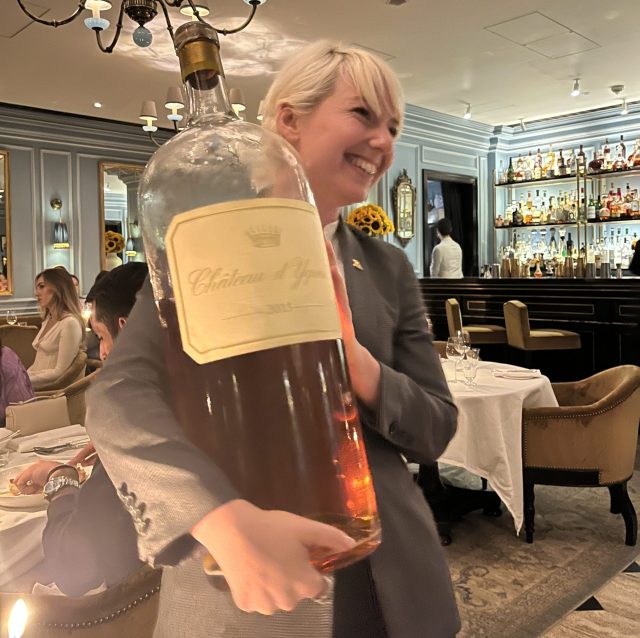 The pairing of a banana tarte tatin was also faultless, but, if you're prepared to pay £100 for 75ml of wine, dessert seems almost unnecessary – words I never thought I'd say. You sip it, you enjoy it, you sip it again, and it's gone, but you're happy it was there.
While undeniably a blow-out, and the sort of ridiculousness that you have to be a real enthusiast to enjoy, rather than just a fair weather Sauternes sipper, it is a spectacle that I shall not forget in a hurry (which is for the best as I doubt I will be able to pay for a glass next time). After Crassus' death after the Battle of Carrhae, the Parthians poured molten gold into his mouth to spite him. If someone were to do the same for me once I shuffle off, but subbing out the precious metal for Sauternes, my post-mortem self would be most grateful.
As an esteemed member of the press, one naturally gets a different experience of a place than the average punter. But it would be remiss of me not to note that none of the other tables seemed in a rush to leave, the conviviality doubtless eased along by the attentive and charming service of Dupuy and the rest of the front of house team.
All in all, The Twenty Two is by no means a cheap option for regular dining, but for a languorous, but intellectually stimulating session of working through a wine list, it will be high on my list for a future visit.
This article was originally published by the drinks business and has been shared with permission.