Douglas Blyde embarks on a beak-to-foot odyssey at Soho spot Humble Chicken to taste for himself whether this poultry-focused restaurant really does rule the roost.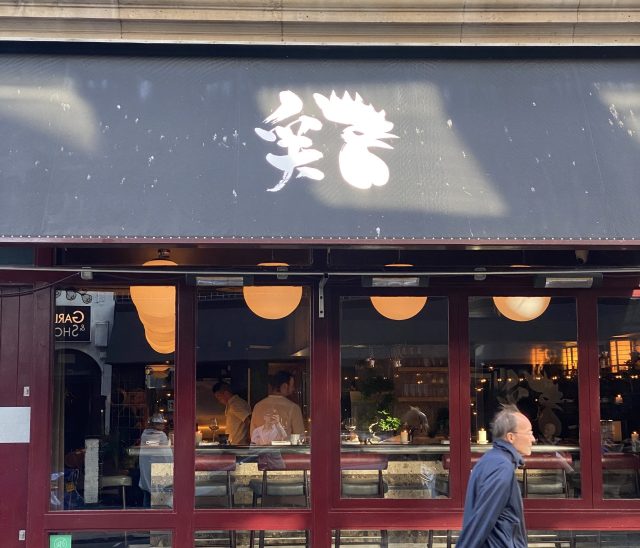 "Humble Chicken's beak-to-foot yakitori made a splash when it first opened in 2021" appraised Square Meal of the L-shaped counter restaurant in Soho, continuing, "that was just a step in the restaurant's evolution towards a tasting menu. 2023 brought the greatest gift of all – Humble Chicken 2.0 in its final form – and it has set the bar remarkably high…"
Design
Humble Chicken occupies the original Barrafina site, which relocated in 2013 to larger premises, where it attracted an even longer queue. Subsequent tenants included Scott Hallsworth's "Freakscene", replete with the signature salmon sashimi "pizza", then Adam Simmonds' "The Test Kitchen" serving a rather more appetising sounding grouse with cocoa nibs. With its handsome, banded, terrazzo fascia, the counter seats, in bolstered comfort, 18 guests with views of the open grill under outsize, moon-like pendants evoking those at the inaugural Sager + Wilde.
Bamboo chopsticks rest on sculpted chicken holders, the gallus motif interpreted, too, in a neon outline by the window, though this is rarely illuminated because – take note interior architects – the pink tinge it lends to Instagram shots apparently upsets posters.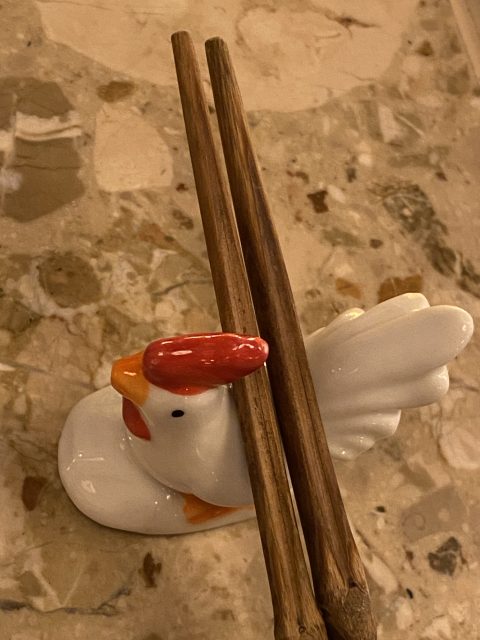 The playlist pinballs between "Gangsta's Paradise", "Take On Me" and "Lovers Again" by the 19-strong Japanese boy band, EXILE.
Drinks
Declaring his love for "the ceremony of service", Aidan Monk began as restaurant and beverage manager two months ago. His CV includes Savoy Grill, Dame de Pic, and most recently, Evelyn's Table where he thrived under the tutelage of Honey Spencer, while in Sydney he worked at The Wine Room at The Dolphin Hotel (now Side Bar). Resplendent in a Daz bright white shirt, Monk mentioned he has "an uncanny ability to stay clean in messy situations…" His co-pilot at Humble Chicken is assistant manager, John Paul, who appears reserved until casting aside the chicken-motif noren curtains between kitchen and counter as if they are saloon doors in a cowboy film.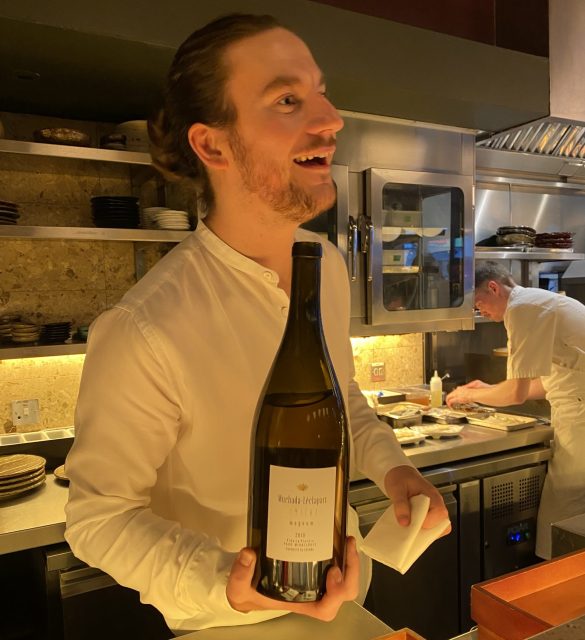 Drawn predominantly from a single freestanding fridge, the liquid assets, though diminutive in quantity, achieve a real sense of interest. A dozen sakes, including five Junmai Daiginjos, are partitioned into categories ranging from "ocean", to "mountain" and for entities such as umeshu, "fruity", while the 19 wines cover seven countries, including Koshu from Japan.
Dishes
Inscribed with near 3D tattoos of a dripping skull, crouching tiger, clock and butterfly, the flavour-forward dishes are created by chef-owner, Angelo Sato, who rose from commis chef at the Nihonryori Ryugin, Tokyo, to sous at New York's Eleven Madison Park (both holding three Michelin stars), then Story, London, where he became head chef.
As aperitif, with the forgiving Pinot Meunier to the fore, Monk chose Éclats De Meulière Extra-Brut Champagne from Jeauneux-Robin, who farms biodyamically, spurred, said Monk, by the fact the garden where his kids play abuts the vines for this wine. Serving this a few degrees cooler might have sharpened its form.
Dinner itself opened with a quintet of snacks, including the "humble" according to Sato, who does appear in manner to adhere to that attribute in person, hand-harvested Welsh mussel with citrus kosho ponzu. These are infilled, suggestively, with waves of wettened avocado. Also remarkably good was the two-week miso cured foie gras tart, with almond brittle and early ripening honeymoon melon, served as cold as ice cream – and being equally refreshing. Alongside, Monk, who is self-taught in sake, poured the yellow "Koji 99" centric Junmai from Tsuchida in Gunma into our choice of sake cup, magnifying its bass notes. This brew seemed to shapeshift, starting initially vegetal and crisp, then becoming rounder with tutti frutti notes, culminating in a reassuringly bitter, stable finish.
With grilled Carlingford Lough oyster, koshu beurre blanc, fermented white asparagus, spreading burnt chicken fat, lovage and grape, Monk poured an ostentatious, yet incisive unfortified, old vine Palomino from Jerez from magnum. Quite a find, the biodynamic, barrel fermented, Muchada-Léclapart Lumiere 2019, made in conjunction with a Champagne producer, added structure and salinity to the dish. A thrilling match.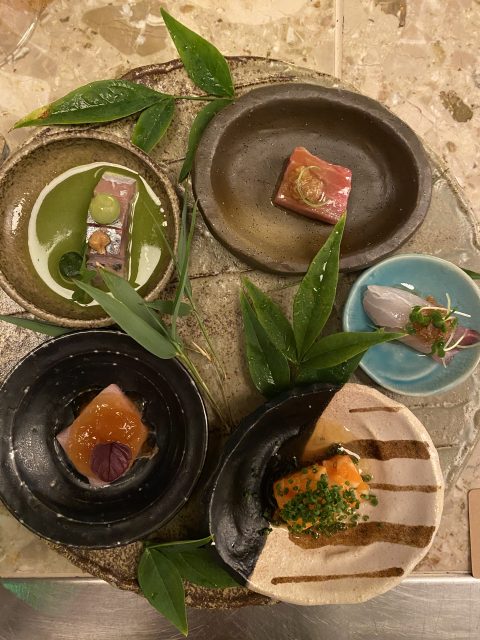 Velvety seven-day cultured miso butter, with layered cabbage, sesame and sleek chicken liver parfait, met fluffy Shokupan, a Japanese style brioche, and a very juicy, unfiltered Barossa Shiraz, Mataro and Grenache, 'Superfly' Rock of Wisdom, 2022. "I wanted something you could sling in a picnic basket with bread and butter," said Monk modestly of the bright choice, which if it had been not wine but weather, would have required sunglasses. Monk admitted he had considered an orange Cataratto (Abbazia San Giorgio – Lustro) which fellow guest, Hannah Crosbie, described as having the perfume of "love hearts".
Decorated with leaves found in Soho Square, the sashimi selection "celebrated the essence of Japan" said Paul, although the morsels, served all at once, and arguably overcomplicated by the array of toppings and preparations, proved tantamount to information overload. Adding to the sensory ambush, despite full marks for generosity, not one but two sakes were served in two formats, side-by-side. The first, from stemware to maximise its aromatics according to Monk, was Silent Blossom, a subtle, refreshing, cucumber-scented Junmai Daiginjo by Kimura Shuzo from Akita, below Hokkaido, famed, said Paul, for its bathing waters which allegedly possess age-defying properties. This worked best with the delicate flesh of the seabass. Meanwhile, from "Peckham Prefecture", the fresh mushroom skin scented, Tokubetsu Sumi from Peckham's Kanpai, paired with the more closely textured sea trout and tuna. This Junmai felt more robust, despite being served in a cup, which can be blunting.
Warm sole, covered in courgette 'scales' in rich shitake dashi with exotic citrus, poured from an owl-shaped teapot met Monk's neat invention, a 'Signature Bamboo' martini, featuring shiso-infused pear liqueur and yuzu sake. We would like to see more of Monk's cocktail inventions in the future.
The final savoury course, a nod to Sukiyaki, comprised slow-cooked, fillet-like in appearance, short rib with Roscoff onion and a soft-centred, crispy Clarence Court egg, roofed in cress. This encountered a fully-ripe, expressive, never-green Cabernet France from Saumur-Champigny. Château Yvonne 2018 brought, said fellow guest and Monk's mentor, Honey Spencer, "black wine gums" to the dish.
Finally, a pot of silky, oolong-infused set custard was sealed with a cutting from a former menu, hence some guests took theirs home, while the strawberry cheesecake was dramatically covered by the show of grated snow of strawberries celebrated from a very camp bowl of flowers. Monk selected La Cueille, a non-vintage, thankfully fresh and fragrant, high altitude méthode ancestrale from Savoie by Patrick Bottex. Fashionable in natural wine places presently despite its truly horrid scroll-like label, the late-harvested wine majored in Gamay followed by Poulsard.
Last Word
According to the preacher, Joyce Meyer, "chickens are generally afraid of life, and they seldom fly or reach their potential in life." By contrast, Humble Chicken is flourishing, with poultry, when it appears, being tautly deployed in an elevated context. Alongside, though not long in his role, Monk, is working towards achieving a "benchmark" selection of sakes in response to his guests' requests for a more sake-enriched experience, while sharing, with generosity and friendliness, his knowledge.
Best for
Sake list divide by "ocean", "mountain" and "fruity"
Cocktails and mocktails, including the Jasmine Martini
Monthly collaborations, including Kurisu Omakase
Value: 93.5, Size: 80, Range: 91.5, Originality: 91, Experience: 98.5; Total: 90.9
Humble Chicken – 54 Frith Street, London W1D 4SL; 020 7434 2782; hello@humblechickenuk.com; humblechickenuk.com
This article was originally published by the drinks business and has been shared with permission.