Rick Stein Group director Charlie Stein tells WLC why he opted to pursue a career in wine while the rest of his family chose cooking, the regions he believes should be on your radar, and what he really thinks about low- and no-alcohol drinks.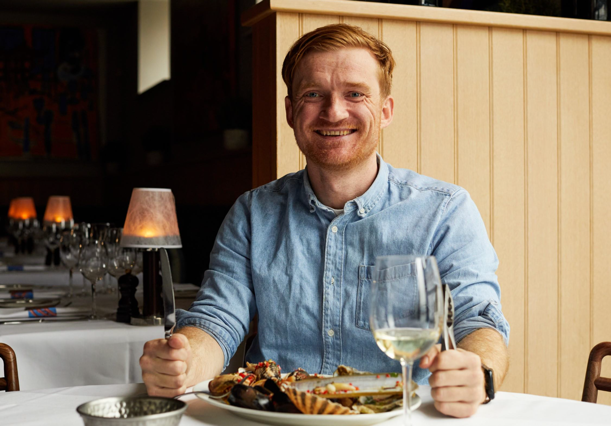 Steins' father, Rick, and brother, Jack, are both celebrated chefs, with the former having enjoyed a long and successful career as a broadcaster and cookbook writer, as well as being a restaurateur. However, Padstow-born Charlie Stein favours the corkscrew over the kitchen knife.
"We're a food and drink family – growing up, there were lots of winemakers dad was friendly with and wine merchants coming to the house. I thought: 'they're pretty cool, they live quite a nice life'. I tried my hand in the kitchen for a bit, but it didn't go very well – I then worked a few shifts in front of house, and my auntie was the sommelier, so we would taste wine together and it clicked from there."
Family holidays to Bordeaux, South Africa and Hunter Valley further fanned the flames. Experience at London merchant The Vintner gave him a good grasp of the business before he then returned to work with his family.
"We're a family business, and someone needs to look after the drinks," Stein remarked.
Stein took WSET up to Level 3. When asked if he ever considered taking his formal wine education further, he said: "I felt that it was more fun to visit the winemakers and ask them themselves."
As for if his travels have uncovered a country or region that he feels is under appreciated in the UK, Stein said: "I'll promote South African wines whenever I can, especially producers making wines that are appropriate for terroir rather than what they were making in the 90s by trying to chase Bordeaux. I fill my wine list with old vine Chenin Blancs and Cinsaults and Syrahs. Old vine Chenin Blancs from Badenhorst, for example, work really well with our kind of food."
Describing the rest of the lists he curates, Stein said: "We're pretty French heavy with what we do, but I like exploring Spanish white wines, like Godellos and Treixaduras, with seafood. Greece also."
"Our customer base is fairly traditional in their taste: Champagne, rosé and Marlborough Sauvignon Blanc. I've put a few orange wines on the list but they don't sell – it's not what people are looking for."
"We're getting a lot more requests for English wines," Stein shared. "We've always just sold Camel Valley, but now we get people asking for Chapel Down, Bolney and Flint by name, perhaps as a result of premiumisation."
While English fizz is gaining traction, Stein is yet to be convinced by homegrown still reds: "I couldn't give you one that I would tell you to try because I haven't found one that I can drink. The quality's not there yet – with global warming it might be soon – but it's not there yet."
Stein is also sceptical of the booming popularity of no- and low-alcohol alternatives: "We list no-alcohol wines, but I would get our guys to suggest a beer or non-alcoholic spirit instead, because I'm not convinced that there's non-alcoholic wine that reaches the quality that we want to give our guests, but we have them because people ask for them."
The key trend Stein has noticed is that, in the context of the cost of living crisis, even those who can afford to go to high-end restaurants for dinner are seeking value: "If people want a traditional method sparkling, they will often go for a Crémant or Blanquette de Limoux."
Fortunately for Chardonnay fans, Stein shared that while securing Burgundy has been a "real issue" due to recent bad weather-blighted vintages, he bought two years of stock and skipped 2021: "We sell our own label white Burgundy and now we've got lots of stock at a reasonable price [£51 for a 75cl bottle] – trying to get any other Burgundy of good value is really difficult."
Wine lists provide a means of communicating the often murky and complex world of drinks to consumers who might not be familiar with the differences between Syrah and Cabernet Sauvignon, for example, or Grand Cru versus Premier Cru. Describing how he writes a list with these people in mind, Stein said: "I like to tell a story for the guests, as well as our teams in order to help them sell the wine. Dad is still involved in putting the wine list together, and we write tasting notes. The descriptors help to sign post the wines. There's quite a lot of story building in them, maybe dad's filmed with the winemaker etc. – it's important to try and create a narrative for the wines, rather than giving a generic description."
Given the fish focus of Rick Stein's restaurants, it felt appropriate to ask whether there is any truth to the tired taboo of not having red wine with seafood: "Having a huge tannic red with anything delicate wouldn't work. Light reds work really well with oily fish."
When it comes to pairings, Stein's philosophy is keep it simple, and let the wine shine: "If you're opening a really special bottle of wine, and having something wrong for it food wise, it destroys the flavour of the wine. Pick simple food so that you can appreciate the wine."
As for his own personal favourite food and wine combinations, he picked oysters with Grand Cru Chablis, and tarte tatin with Sauternes: "On a desert island I'd have them both, maybe with some jamón and some Pinot Noir mixed in there as well."
This article was originally published by the drinks business and has been shared with permission.