Lympstone Manor, chef Michael Caines' Michelin-starred Devon restaurant, hotel and wine estate, has announced the release of its 2020 Classic Cuvée.
The classic method fizz is a blend of Pinot Noir, Chardonnay and Meunier grown on the estate near the Exe Estruary. Both this wine and Lympstone's previous release, its still 2020 Triassic Pinot Noir, have been developed in partnership with Lyme Bay Winery in Devon.
The 2020 Classic Cuvée was partially aged in French Oak for nine months before spending three years on the lees. The dosage was determined after consultation with a number of wine journalists who visited Lympstone Manor to sample the wine.
James Lambert, managing director and head winemaker of Lyme Bay Winery, described the newly released sparkling as "a wine of elegance and complexity, created to complement the cuisine and ambience of Lympstone Manor both as an aperitif, and to pair with Michael's signature dishes."
Other tastings notes include apple, spiced pear and toasted brioche.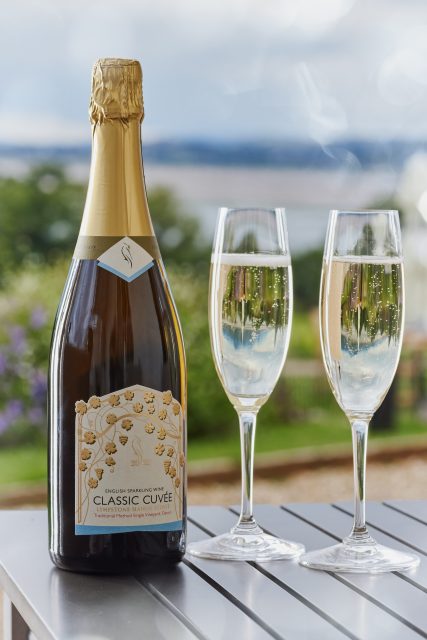 Caines said of the launch: "It's an incredible milestone for Lympstone Manor Hotel to launch its first Classic Cuvée from the 2020 vintage, under the Lympstone Manor Estate title, an award-winning single vineyard estate with a growing collection of wines. I'd would have never imagined saying 'award winning', when I was inspired to plant a vineyard back in 2015, but it was instinctive decision, inspired by my travels to vineyard locations all over Europe."
"This was just the start of an incredible journey that we have shared with Lyme Bay Winery, who are getting a growing reputation for producing award winning English wines," Caines continued. "The 2022 harvest saw the diversification of our portfolio with the addition of our first still rosé wine, Isabeau, the production of a barrel-fermented still Chardonnay and sparkling blanc de noirs, all designed with a focus on being food friendly, high in quality and representing the full expression of the grape varieties grown on this unique site."
Isabeau is named after Caines' daughter and is produced from the taille pressing. It is a field blend of Pinot Noir, Meunier and Chardonnay. The still Chardonnay will be released next year to mark the hotel's seventh anniversary.
The Classic Cuvée will be showcased at Caines' Harvest Festival on 4 October.
This article was originally published by the drinks business and has been shared with permission.