As it's Negroni Week (18 to 24 September), there is no better time to treat yourself to the iconic ruby red cocktail. Here are six of the best spots to drink Negronis in the UK capital.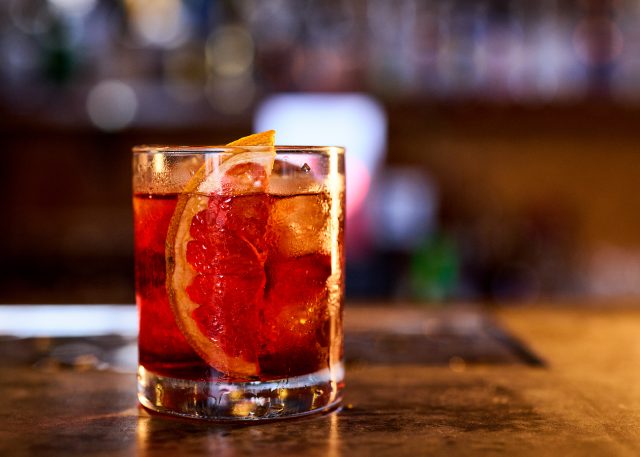 Lovers of vintage vermouth posters will be in heaven when they come to Amaro Bar in Kensington. But, though the decor might hark back to the past, it has a really rather modern drinks menu. The Pomegranate Negroni, a mixture of Tapatio Blanco Tequila, mezcal, pomegranate, Cinzano 1750 Vermouth di Torino Extra Dry, and Campari, might be something of a deviation from the drink created at Caffè Casoni in Florence in 1919, but it suggests that the Negroni is less of a specific recipe, and more of a genre. If you're in the mood for something extremely classic and really want to make it a special occasion, particularly if it's pay day, you might consider the £95 1970 vintage Negroni, mixed from Plymouth Dry Gin, Martini Rosso and Campari all from more than half a century ago.
Also offering a vintage Negroni from the 1970s, famed Mayfair haunt Connaught Bar has a £120 creation that uses Gordon's Dry Gin, rather than Amaro Bar's Tanqueray. That extra £30 is not for the different gin, but is instead the Mayfair tax. For £35, you could order the bar's pre-bottled Negroni, perfect for washing down a selection of luxurious canapés – the Jamón Ibérico de Bellota on crystal bread with cherry & walnut could be a particularly good pairing, bringing a similar bitterness and slight sweetness that the cocktail provides.
For offal enthusiasts, St. John in Smithfield is hallowed ground. However, founder Fergus Henderson doesn't just know his livers from his lights, he is also a dab hand with the shaker. St. John actually offers two versions: a classic, and a stronger, off menu version dubbed 'The Fergroni', after Mr. Henderson himself. Though it might not be listed, the reputation of this version of the classic cocktail (made from 50% Tanqueray Gin, 30% Punt e Mes vermouth and 20% Campari) has grown over the years to almost legendary status, by cocktail standards anyway. You can even buy t-shirts celebrating it.
Space does come at somewhat of a premium in this Soho spot, but, provided you don't mind the noise and having to wait outside to bag a table indoors, it is worth visiting for a fortifying drink of something. The House Negroni (£8) comes in a quintology of styles: Classico, Superiore, Rosato, Robusto, and Arancia Verde. Much like how the best thing to order when visiting a pizzeria for the first time is a Margherita in order to establish a baseline, this writer would argue that it is best to start with the Classico and sample the other versions on subsequent visits. Bar Termini's other cocktails, including the Marsala Martini and Garibaldi, should also not be overlooked.
Given the Negroni's inextricable association with Italy, it might seem unusual to have a Sri Lankan restaurant on the list, but, as previously mentioned, the Negroni formulation framework is a flexible one. Teaming up with famed vermouth producer Cocchi again following a successful summer terrace cocktail activation, Hoppers' bar manager Martin Balo has created a trio of Negronis with a tropical twist: Kokova Negroni (cocoa & orange-spiced rum, Campari, and Cocchi Rosa), White Negroni (gin, lemongrass & fennel bitters, and Cocchi Americano), and, capitalising on last year's House of the Dragon TikTok trend, a Negroni Sbagliato (Prosecco, pomelo, Campari, and Cocchi Storico Vermouth di Torino).
£5 probably won't even get you a pint in Farringdon these days, so to be able to have a cocktail for that price in the gorgeous Tuscan trattoria-inspired setting of Brutto is something worth shouting about. Being entirely objective, it is not London's best Negroni, and Brutto does indeed offer more premium renditions of the cocktail, but there is something to be said for sitting at the marble bar counter in good company, each nursing a drink and ruminating on the delights of Florence, before ordering a bistecca and a bottle of something appropriately tannic to complement.