Douglas Blyde heads to newly-opened Mayfair joint 20 Berkeley to give his assessment on what this manor house-inspired offering from Creative Restaurant Group is in need of.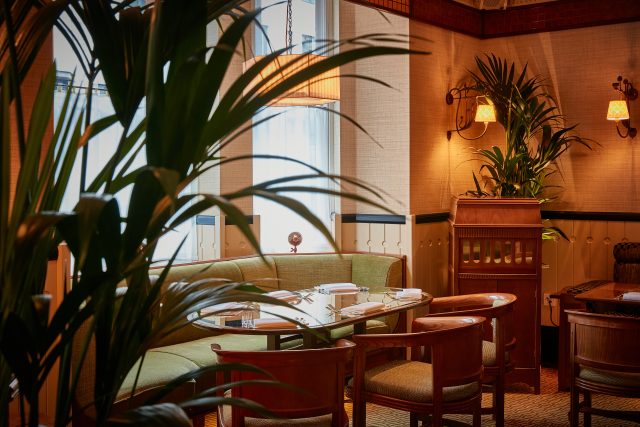 "Rubbing shoulders with its glamorous neighbours Sexy Fish and Amazonico, 20 Berkeley feels decidedly grown-up in comparison," appraised Square Meal of the latest offering from Creative Restaurant Group, which includes Humo, Endo at The Rotunda, and SUMI, while Jimi Famurewa of Evening Standard encountered "a kind of turbo-Daylesford for those without the diary space or wherewithal to pop to the Cotswolds."
Design
Detailed, though art-free interiors by Pirajean Lees (Koko Club) blend touches evocative of Chiltern Firehouse, Louie, and Gymkhana, albeit here bathed under a sort of sodium glow. Turn right at the top of the stairs for the higher quality and larger of two main dining rooms, where the trade launch of Sena 2021 was underway during our visit, while downstairs beside a wine fridge and with walls lined with various vials of homemade tinctures is the venue's coolest draw: Nipperkin bar, likely named after the slang for taking a "nip" of a drink.
Drinks
Formerly of the Dubai-scale Il Borro at the old Nobu site approximately 50 seconds stroll away, Savoy Grill, and One O One fish restaurant at the Sheraton Park Tower, Knightsbridge (RIP) which is now home to one of Salt Bae's 22 steakhouses, head sommelier, Antonio Roveda oversees an even of focus list with a curious number of spelling mistakes, subject to an average mark up of 3.5 times retail, being, alas, normal for the area. England's still and sparkling wines, from heritage producers to the more recently launched, are foregrounded, despite there not being any wines listed which were produced in Cambridge, the home region of the otherwise evangelical of ingredients head chef. What Berry Bros & Rudd describes as a "haute-couture négociant house", Lucien le Moines gets a page, while the range of Bordeaux dating to 1996, and array of Super Tuscans are assembled with care. Roveda is assisted by Marianna Trevisan and Dario Quadrano.
By the glass, jumps in price can feel unsettling, with nothing offered between, for example, Lieserer-Nidemberg-Helden Kabinett from the Mosel and the 2021 Chassagne-Montrachet (Moret) some £28 later.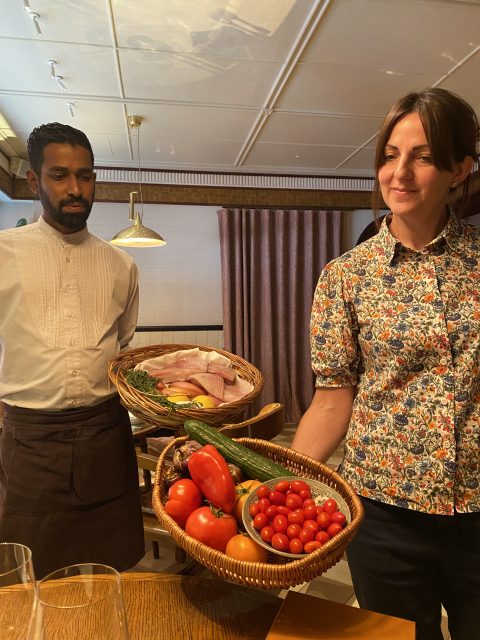 Be sure to start or end at Nipperkin – or even make it your main destination – though the experience is best not appreciated from the rather high, Princess and the Pea-esque divan facing the bar. Here, drinks, made in collaboration with the kitchen, include an excellent twist on a mezcal margarita featuring syrup of Cambridge-grown padrón peppers with shiso, designed by Angelos Bafas (formerly of SOMA, Aqua Shard, and Galvin at Windows). It is perhaps worth noting seating elsewhere, including the banquettes in the Orangery can also feel a bit tight due to the shallow seat depth.
Dishes
Featuring such ingredients as hand-pulled Ealing burrata, which is apparently an origin worth boasting about, and Shropshire Iberico pork, the kitchen is led by executive chef, Ben Orpwood (Maison Estelle, Gordon Ramsay Holdings, Zuma, Caprice Holdings). Formerly of Sachi at Pantechnicon, and with four years experience in the wine trade, the first pairings were playlisted by the charming Marianna Trevisan. Despite being given full freedom by us, Trevisan playlisted just one wine, being the cheapest, and arguably, dullest bottle of the list with several quite different starters. Served in Nisbetts-grade RONA stemware, the £50 (£15 retail) Côtes du Rhône Blanc Les Bergeronnettes 2021 was put into battle with Nutbourne tomato tartare, a dish given excitement by an excellent vanilla-coloured Bloody Mary sorbet, a generous Scottish lobster salad with Cambridge strawberry sauce and yet more tomatoes, and the standout, being roasted Orkney scallop with lardo, black pudding tortellini and sorrel velouté which begged for a light red wine. Alas, the latter dish failed to arrive initially, with the also foam covered St. Ewes egg yolk and potato raviolo with peas and lemon thyme landing instead. This slightly mushy, accidental arrival gave the opportunity for us to request an off-the-cuff wine recommendation rather than have to continue with the ordinary Rhône. Despite not enjoying "extreme acid", Trevisan prescribed a Hungarian dry Furmint from Barta – Oreg Kiraly Dulo 2020 – which cut through, though something with a bit of tannin could have felt even more harmonious with the earthy dish.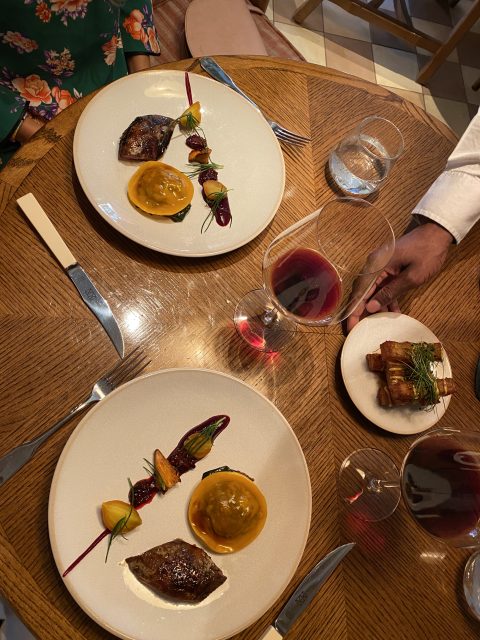 Next, with half a beautifully pink grouse, which, perhaps over cheffily had all the interesting bits stuffed, anonymously, into another raviolo, removing, sadly, any hands-on guest interaction with the bird, Trevisan chose Armit's Esprit de Pavie, Côtes de Bordeaux 2016, served in a more flattering Spiegelau than the RONA of before. Although a decent enough wine, it is possible guests, reading "Pavie" might assume they are getting close to the greatness of the actual St. Emilion estate rather than drinking in the grapes of a very different, unranked location. Fortunately, a friend, Harry Ballmann, attending the launch of Seña 2021 in the better dining room had the compassion to send over two glasses of the Franco-Chilean icon of his own volition.
Finally, with a huge, and hugely delicious tarte tfatin, Dario Quadrano arrived with the always enjoyable Torcolato from Maculan in the Veneto (2019) which was the first wine to show generosity from the wine team.
Last word
Wine choices, particularly in reference to the all-purpose dry white, felt price-led, failing, in the main, to show skill or awareness of a sommelier team who were clearly taken up with the Sena event. Omitting the effort of the bar which created a truly balanced, memorable cocktail, and were proud to show off their domain, this had not been 20 Berkeley Street's finest day. With a little more flair applied to pairings, a thorough sub-edit of the wine list, more care with accuracy when it comes to delivery of orders, better glassware, a much-needed manicure prescribed to an unnamed senior member of the team, deeper banquettes, and lighting which doesn't look evoke that of sodium streetlamps, this could be a wonderful place of subtlety in an otherwise overwrought part of town.
Best for
Nipperkin bar
Bread and Marmite butter
English wines
Value: 89, Size: 90, Range: 91, Originality: 90, Experience: 90, Total: 90
20 Berkeley Street – London, W1J 8EE; 020 3327 3691; reservations@20berkeley.com; 20berkeley.com
This article was originally published by the drinks business and has been shared with permission.