Douglas Blyde boards supper club-cum-restaurant Darjeeling Express, Asma Khan's "soulful" all-women run restaurant, and travels through the Kingly Court establishment's Indian home-cooking-inspired menu.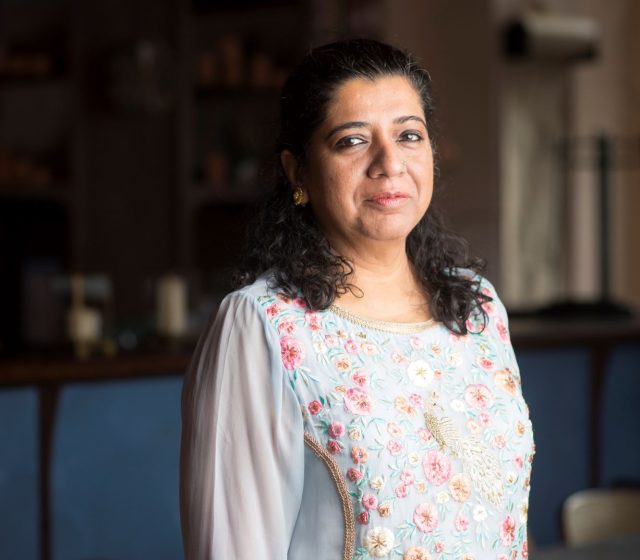 "What began as a supper club for friends has become one of the hottest restaurants in Soho," wrote Concrete Playground's Melanie Cowell of the present incarnation of what Jason Allen of The Nudge described as the "legendary" Darjeeling Express. With absolute composure in this haven-like setting, an all-women team operates a kitchen led by the self-taught cook, Asma Khan, who was born into a royal Indian family and holds a PhD in British constitutional law.
Design
Located in a warm-toned, plant-entwined, L-shaped former yoga studio in the eaves of the humming Kingly Court, itself resembling an albeit modernised gallery of a coaching inn, Darjeeling Express pivots around the kitchen, featuring six open hatches, each topped with a trifle shaped light. The fluted bar counter, meanwhile, has six seats for spirited spectators. Sometimes on carriage-like benches, up to 90 guests, including 20 in a private space beyond dividers and heavy drapes, book in for an a la carte lunch, Royal Thali evening feasting menu, or the belt-loosening Sunday supper club. The energetic soundtrack includes Bollywood film songs such as Balam Pichkari.
Drinks
The entire drinks selection, presented in a guide-like format to eschew the necessity for a daily sommelier, is the inaugural work of very engaged "drinks experience designer", Ruchira Neotia. Like Khan, Neotia grew up in Calcutta, "so we have the same orientation of culture and palate," she notes. In fact, both women's lives have been aligned: they both attended the same house in the same "disciplined" school where Khan was vice-captain and today, Darjeeling Express remains Neotia's link to the feeling of home.
Fortunately, given Khan does not herself drink, Neotia declares "Alcohol is my passion." Her damascene moment in wine occurred when harvesting at Nobody's Perfect – the biodynamically tended Entre-Deux-Mers property of former hairdresser, Dawn Jones Cooper. "There, I saw wine as a labour of love which seeped into the soil," she recalls. She subsequently enrolled at Plumpton College, while also following the impulse to study towards her private pilot's licence.
Like the food menus, Neotia's razor-sharp wine selection, of which every bin is offered by the glass, is refreshingly sanely priced, including such allocated peaches as Ulysse Collin, Les Maillons, Blancs de Noirs at significantly under retail price. "I need people to drink well," she explains. Perhaps controversially, Neotia, whose epitaph, she revealed during the latter stages of lunch, could be the "patron saint of Champagne", is a particular fan of drinking complex, layered examples with well-spiced dishes. As she notes on the wine list, "the mouth-watering acidity, citrus-apple-berry tang and complex flavours of brioche are built to enhance the sensational fares of Darjeeling Express."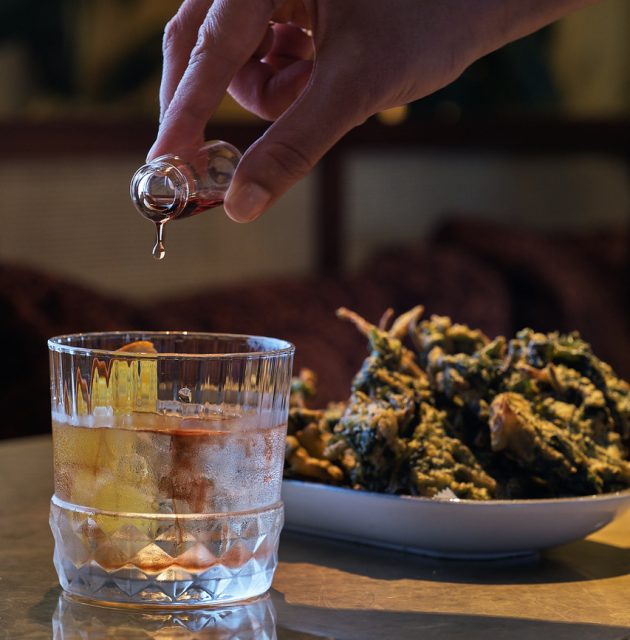 As per the gender of the kitchen team, all still wines are crafted by female winemakers, including the Chenin Blanc and Syrah from Swartland producer, Jolandie Fouché of Wolf & Woman. The former is listed with a quote by British-Indian poet, playwright, writer and illustrator, Nikita Gill: "Some days I am more wolf than woman, and I am still learning to stop apologising for my wild…"
Given Asma Khan was the first British chef to feature on Netflix's Chef's Table (series six), which is particularly popular viewing in the USA, Neotia has included wines such as Domaine Joseph Drouhin's Oregon Roserock Chardonnay and Pinot Noir from the west coast for pilgrims from that country.
Neotia also masterminds the spirits selection and cocktails realised by mixologist, Rob Signea. A perfect aperitif for indecisive diners is "The Three Carriages" Indian gin-led cocktail flight which represents she says, "the proverbial journey from Calcutta to Darjeeling." Accordingly, "the sensorial summery journey begins in the sweet monsoonal humidity of Calcutta," with the Champagne-enhanced Phool Baagan vegan sour, "hinting at flower gardens filled with exquisite hibiscus, jasmine and rose bushes", continuing "through the Bengal tropical orchards" where fat, juicy lychees grow, represented by the violet evoking Lychee Surprise, and culminating with the most complex, tea and cardamom lifted Makaibari cocktail, suggesting the "the oldest tea gardens in Darjeeling."
More substantial creations include the Howrah Bridge Negroni. Named after the 705-metre-long cantilever bridge connecting Calcutta to Howrah station – the starting point of the Darjeeling Express – the drink arrives startingly clear, ready to be brought to life when the contents of the supplied vial of saffron-infused bitter.
Dark spirits from India, meanwhile, include the jubilant, pineapple-scented Rampur Asava from the Himalayas, raised in Bourbon casks then finished in Indian Cabernet Sauvignon casks, and the Goan, cask strength Paul John 6 from That Boutique-y Whisky Company, from a release of just 822 bottles.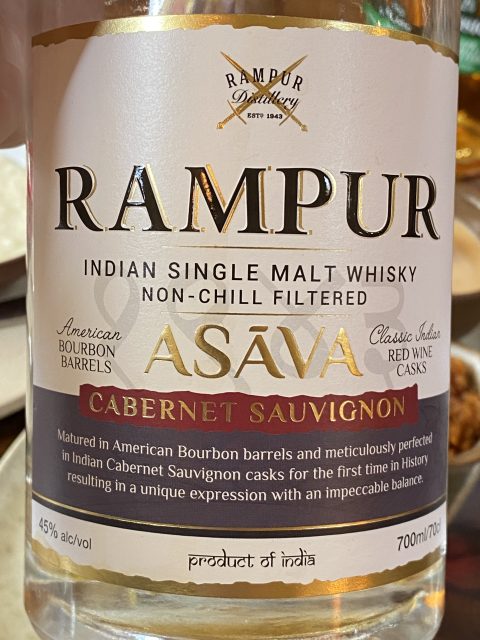 Dishes
Delivering "auntie's food, if auntie was good", advises Neotia, dishes prepared by "Indian housewives" are served on ceramics created by a friend of the "loyalist" Khan. Their wheat shells as thin as the rim of a Zalto glass, filled with spiced chickpeas and furry potato, are the opening "Puchkas" which diners flood with perky tamarind and mint water, as well as two types of steamed, ginger-pepped chicken and asparagus dumplings, or "momos" which show the influence of Calcutta's once-thriving Chinese community. Perhaps the most thrilling starter, with their building, spreading heat, is the Indo-Chinese Tangra prawns, served with life jacket red chillies, comforting garlic, and a squeeze of lime. All met the nuanced The Three Carriages cocktail flight with such joy that we could imagine sipping cocktails throughout the meal.
We also tried a quartered, pencil shaving scented, comforting, buttery, Aloo Kaju toastie – perhaps the best ever created, filled with potato spun with mustard seeds and chillies with cashew nuts and curry leaves, Ruchira selected citrussy Frerejean Freres Blanc de Blancs, poured in near caricature like Lehmann Synergie glasses, to work with the butter component.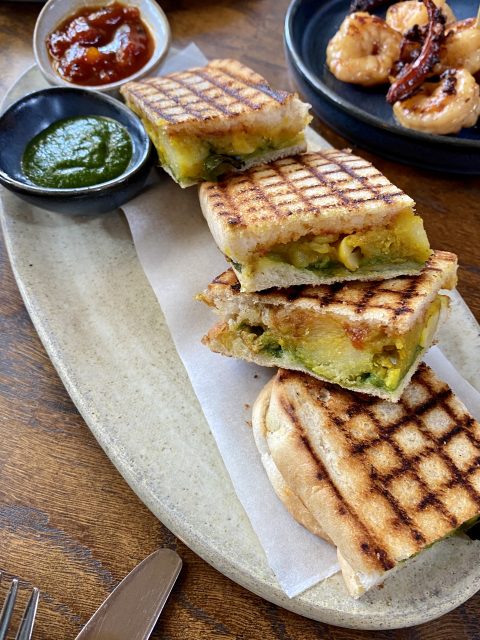 Champagne continued to be the theme with the main course, with the shape-shifting, sourdough-scented, Ulysse Collin, Les Maillons, Blancs de Noirs brought with Kosha Mangsho, being a Bengali style slow cooked goat curry in "thick clingy gravy". Neotia initially "stress tested" her belief that when layered, high-end Champagnes like this could work with powerfully spiced Indian cuisine while studying the WSET Diploma, putting the likes of Comtes de Taittinger 2006 and Dom Pérignon P2 2002 with biryani, to the shock of her fellow students, who too, ultimately rated the viability of the match.
Finally, Khoobani Ka Meetha, being stewed, olive-sized Hunza apricots with pistachios and cream, and Kheer, a chilled spiced rice and milk pudding, met the also rice-scented Darjeeling Old Fashioned Paul John Nirvana. Created with house-made cardamom bitters, nutmeg, Lucky Sod Irish whisky liqueur, and saffron-infused syrup, this masterpiece was unveiled from a smoke-filled closh.
Last word
Neotia's mantra, when compiling the drinks selection, is, "I want you to be surprised, and surprised you discovered it at Darjeeling Express." With an eye on the story of Khan, inextricable from the story of this formative restaurant, and her own, related experience of Calcutta, Neotia has, with care, intelligence, precision, pride, and joy, authored a fully functional, liquid compendium. As a result, beverage sales have at least doubled in revenue without media amplification, shocking even the accountant of Darjeeling Express. When combining such flair for drinks with the generosity of the kitchen, the result is a genuinely soulful, deliciously heart-warming experience.
Best for
Supperclub Sundays
Monsoon Malabar single-origin coffee
Calcutta style Dum Biryani
Indian whiskies
All wines by the glass
Value: 98, Size: 80, Range: 92, Originality: 95, Experience: 97; Total: 92.4
Darjeeling Express – 2.1, 2.4 Kingly Court, Carnaby Street, London, W1B 5PW; 020 3375 3772; reservations@darjeeling-express.com; darjeeling-express.com
This article was originally published by the drinks business and has been shared with permission.