Celebrity chef and restaurateur Rick Stein has come under fire after it emerged that those asking for sauce at Stein's Fish & Chips in Padstow, Cornwall would be charged an extra £2.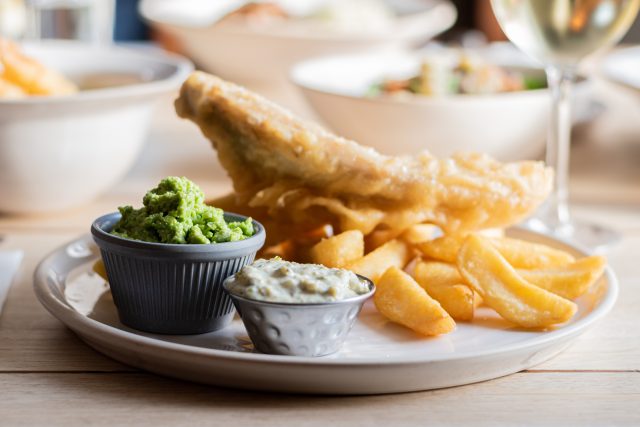 Fish and chips is arguably the UK's most iconic dish, though what sauce you choose to add may say a great deal about which part of the country you come from. According to a survey, those in the south of England and Wales tend to opt for curry sauce, whereas those in northern England and Wales gravitate towards gravy. Other popular choices include ketchup, tartare sauce or, perhaps most traditional of all, lashings of malt vinegar.
Whatever your preference, it is undeniable that Brits care deeply about condiments. Many were upset therefore when it emerged that famed chippy Stein's Fish & Chips would be imposing an additional charge for those seeking certain sauces. While a portion of cod and chips will set punters back £16.95, a serving of gravy, tartare sauce, mayonnaise, aioli, mushy peas, Goan curry sauce, mango chutney or raita will come at an additional £2. Scraps, however, are free.
A spokesperson for the restaurant explained the introduction of the policy: "Our homemade condiments using Rick Stein's special recipes are prepared in Padstow by our team of chefs. Food inflation, energy costs, along with rising wages, have driven up the cost of production significantly. We have reluctantly, along with many others, had to pass on some of the costs to our customers."
Food writer Josh Barrie offered his view on the additional charges: "Wait, £2 for mayonnaise? That is so silly. Basic condiments (ketchup, mayo, tartare) should be free in fish and chip shops. Charging for mushy peas, curry sauce, gravy (what the f*ck) is all very well. Not sure why all these are grouped together to be fair."
However, others suggested that Stein's more high-end take on fish and chips merits a sauce charge: "If you're paying £££ for a high-end restaurant, my guess is you are not trying to replicate your experience in the local chippy. Rick Stein serves chips without sauce for a reason – Rick Stein's chips do not need cheap sauce slurped all over them."
It isn't just mayo that customers are going to have get used to paying more for – Stonegate Group, the UK's largest pub operator, announced this week that it was introducing peak-time drinks pricing.
This article was originally published by the drinks business and has been shared with permission.