Douglas Blyde heads to the recently revamped Claridge's Restaurant at the famous Mayfair hotel. During his visit, he delves into how the "lavish" restaurant is excelling at vegetable-led cookery, and discovers why wine buyer Daniel Manetti's motto is "keep pushing and never give up".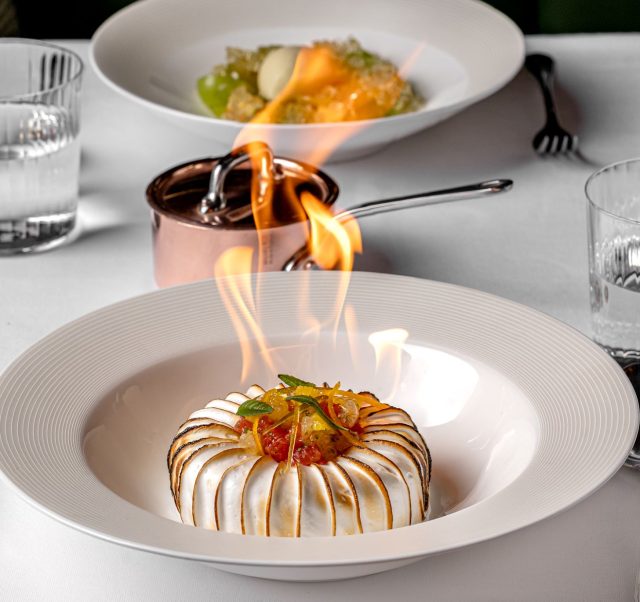 "Anything that stands against the Dubai aesthetic must be encouraged," wrote Tanya Gold in The Spectator of this "British-style brasserie" which "treats the diner like an unwell baby," adding astutely, "good restaurants are, at heart, hospitals for people who are not ill."
Design
Last called Claridge's Restaurant some 20 years ago, this legendary dining room, frequented by Dame Barbara Cartland who kept a table for Dover Sole, was under the tenure of Gordon Ramsay for 12 years, serving such dishes, mostly under the guidance of Mark Sargeant, as pigeon carpaccio, and, ordered an astonishing 300,000 times, beef Wellington, within a rather frumpy decor. Following his two-year pop-up in Fitzrovia, Simon Rogan entered the dining dome next, appraised by Richard Geoffroy when at Dom Pérignon as "not only on top of his art but a great human being." "Fera" (Latin for wild) saw dishes of dry-aged hogget with sweetbreads brought to diners with British-made, Sri Lankan-sourced deer-horn knives, as well as magnificent new season carrots unearthed from Rogan's own Cumbrian farm, and puddings such as ice cream of pineapple "weed" with butterscotch and celery. When the dining room was arguably at its most chic, evoking an art deco cinema auditorium, the shortest occupancy occurred under Daniel Humm of Eleven Madison Park. Alas, his efforts to take matters entirely vegan proved too substantial a shift for the hotel, particularly given his tenure pivoted around the pandemic years.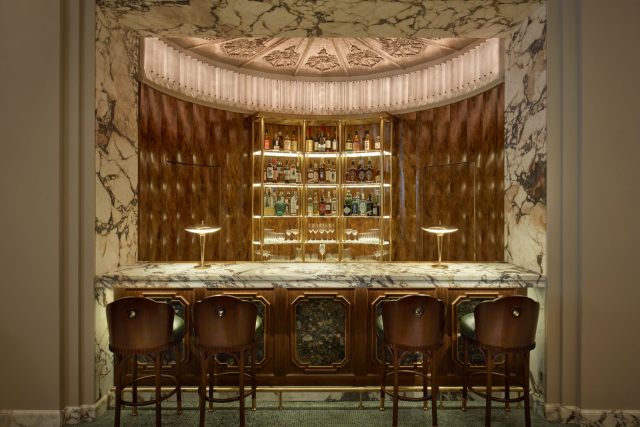 Now taken back in-house, the restaurant, and its 35-strong kitchen brigade, is led by Coalin Christopher Finn, who worked with Humm, and, like a Trojan horse, clearly rates his vegetable-led ethos. Of the quartet of operators, from past to present, Paula Fitzherbert, the doyenne of PR for the Maybourne Collection of five-star hotels of which this is part, calls them "my four boyfriends."
Evoking a more lavish version of the beautiful Brasserie Zédel beneath Piccadilly, today's shiny and far from hushed dining room was designed by Bryan O'Sullivan Studio, who also worked on the hotel's popular Painters Room bar, including its irrelevant shelf at eye level over the counter, the retro, curvy Red Room and neighbouring cigar merchants at The Connaught, and The Berkeley Bar & Terrace, its lights like halved naval mines – as well as aspects of The Maybourne Riviera, Monte Carlo. Gone is the wall which provided a baffle against the kitchen, replete with a picture of Radiohead on the reverse side. The trademark Humm slogan, "Make it nice" has also vanished from the tiles, though the sentiment 100% remains under Finn.
On our visit, it was interesting to watch how the front-of-house team skilfully soothed the nerves of very particular older diners, including one who arrived with jaw-dropping bottles in a Sotheby's-branded bag. Even the younger clientele dressed from a different era, including a young fellow who wore a flap-pocket country suit seemingly identical to that worn by Captain Georg von Trapp in The Sound of Music.
While the facelift to the restaurant is currently the latest news, it is worth noting that Claridges grew substantially between 2014 and 2021, when eight new storeys, five below, and three above were added, which is a lot of surgery, especially when considering this occurred while the venue remained open. One of these will ultimately feature a brand new restaurant concept, which is alas, currently deeply under wraps.
Drinks
The wine programme is overseen by Tuscan-born group wine buyer for Claridge's, The Connaught, The Berkeley, and to an increasing degree, The Maybourne Riviera, Daniel Manetti. Adhering to the motto, "keep pushing and never give up", Manetti, who is an aspiring pilot, previously helped guide Hélène Darroze at The Connaught, with its standout wine producer collections, to three Michelin star status alongside then deputy restaurant manager, Lupo Thoenes. Previously of The Waterside Inn, Thoenes is now Claridge's Director of Wine. Representing a return to the hotel is the fine head sommelier, Emma Denney. A former competitive dancer, Denney began her career in drinks in New Zealand at Glengarry/Hancocks followed by the extremely popular S.P.Q.R. and then in London, Roka, LPM Mayfair, Davies and Brook at Claridge's, and Clove Club. Despite her New Zealand origin, her interest lies in organic and biodynamic wines stemming from Old World producers, including grower Champagnes.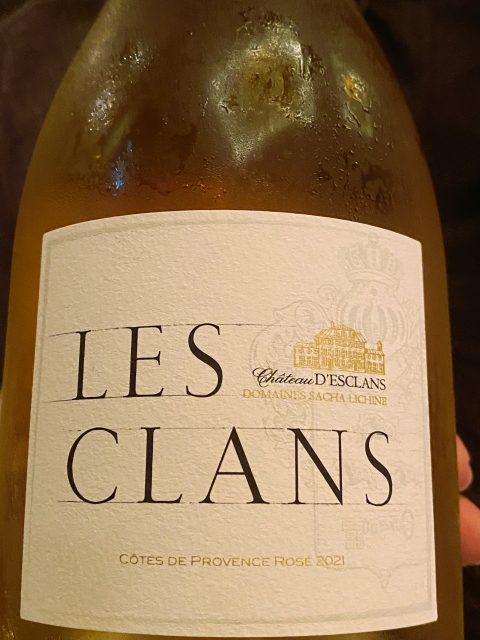 Big hitters by the glass or carafe might include 2018 Hermitage Blanc, M. Chapoutier, Chante-Alouette, and Seña 2016, and with age, the indefatigable 1989 Sercial Madeira (D'Oliveiras). Popular thanks to Denney's enthusiasm for it, there is also a skin contact Weissburgunder – Cuvée by Claus Preisinger.
By the bottle, prices start at a notably modest £30 for the Bacchus Rosso Piceno Ciu Ciu 2017, then climb to £7,000 for Pétrus 1998, which is a lower figure than the most expensive wine sold in this dining room while under Ramsay, being a 1900 Château Lafite Rothschild at £10,000.
There is a focus on Savennières, including Domaine du Closel's La Jalousie, 2018, and Savagnin, with a highlight being Château d'Arlay 1990 Vin Jaune. From Burgundy, Coche-Dury, Aligoté 2017 clocks in significantly below retail price at £210, with wines from this producer still relatively kindly priced at the top end, as seen with Puligny-Montrachet, Les Enseigneres 2020 at £2,400.
Given the hotel's international roster of check-ins, there are abundant Napa Cabernets, such as Harlan 2016 at £2,050, while other classy USA wines include the hard-to-find 1984 Mayacamas Pinot Noir (£550).
Despite the Calcutta Viola and brass accented setting, which Denney describes as "a neighbourhood restaurant, albeit the neighbourhood is Mayfair," prices really have been kept in check – for now – with over 200 bottles costing fewer than £100, including such trade-friendly "Easter eggs" as Serbian Furmint, Maurer, Szerèmsèg 2016 at £52, Val di Magra, Fattoria Ruschi Noceti, Póllera 2010 at £65, and Suertes del Marqués, Vidonia, Listán Blanco 2016, from century-old vines, at £90.
A new cellar is due to be unveiled in the middle of 2024, which will ultimately benefit from the shrewd, ex-châteaux purchases by Manetti.
Denney is assisted by Maria Ruseva, a former sommelier of Comptoir Robuchon, and Morton's Club, where she was a chef.
Dishes
To begin, an easily torn, fluffy, Parker house loaf came with a rather large butter perfectly pressed into the shape of the Claridge's crest. Briny, nutty, fin de claires oysters served naked, with the option of a miniature Tabasco, and also dressed with crunchy, flavoursome carrot mignonette, followed, showing an introduction to the thriving pickling industry going on in the kitchen. Its flavours accurately described as "opening up as you have more" by Denney, the un-oxidised, wild yeast fermented, big barrel matured, slightly salty 2018 Savagnin from Jura producer, Domaine De La Borde – Foudre à Canon Naturé – accompanied these, and two further dishes. Beneath so much parsley it felt as if the meat component was being deliberately hidden, as if from Humm's gaze, a spiceless tartare made of excellent, sake-cured Herefordshire beef wrapped in kombu, with wild garlic seed capers, met nibs of bone marrow and a breakfast-like rack of toast. The result was subtle. Meanwhile, a particularly sumptuous pumpkin agnolotti with sage and a miso-enriched sauce was finished with enlivening, fresh ginger juice.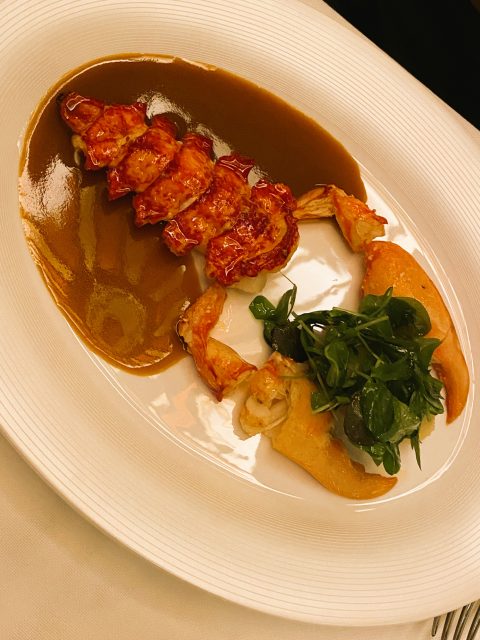 With main courses, Denney served two wines, being, from magnum, the very fine 2021 Les Clans rosé from Château d'Esclans, which she has visited, and a pure 2016 Pinot Noir from Burgenland producer, Claus Preisinger, being "one who started the 'natural' wine movement, although I dislike the term." These were interchangeable with what server Stephanie called "Instagram-friendly" grilled native lobster with Jersey royals. This was prepared, meticulously, out of its shell, while retaining the original form, which compares with the presentation of the lobster Wellington available in the hotel's also excellent Foyer restaurant which, said Fitzherbert, "has its winter coat on."
As per all fish served at Claridge's Restaurant, said Chef Finn, grilled Cornish turbot, coming from a 3.5kg fish hanging in the glass-fronted ageing locker, was wild. The buttery yet lifted sauce "Emeline" it basked in apparently takes its name from the partner of one of the kitchen team, Emeline Gigaud, assistant head sommelier at The Twenty Two. Alongside, a complex bitter leaf salad included very pretty pickled white strawberries.
On a tour of the kitchen, including its Mibrasa charcoal oven, Chef Finn insisted we tried the starter of confit aubergine with roast garlic yoghurt, and cumin, which read rather plainly but transpired to be a meticulous, pressed, textured bar with a cool scoop of yoghurt, seemingly straight out of the Humm era.
Finally, set alight with Grand Marnier, baked Alaska to share, further heightened with verbena, could have been flawing a dish after the already generous savoury dishes, though the freshness of the citrus aspects helped elevate it – as did a glass of 2018 Burgenland Welschriesling and Chardonnay – Beerenauslese Cuvée, from Kracher. This politely evoked mango with even a hint of durian.
Last word
While treasures of the sea, and an animal from the land, had been skilfully prepared, remarkably, and in testament, perhaps, to Humm's legacy, non-meat dishes, including the textured side salad, had shown remarkable finesse and flavour alongside a list offering sometimes surprising value and plentiful interest.
Best for
Vegetable led cooking
Upgraded grill room classics
Esoteric 'Easter egg' wines to appeal to wine trade/connoisseurs
Stage-like bar, including X Muse vodka martini
Value: 95, Size: 95, Range: 95, Originality: 93.5, Experience: 96.5, Total: 95
Claridge's Restaurant – Brook Street, Mayfair, London, W1K 4HR; 0207 629 8860; dining@claridges.co.uk; claridges.co.uk
This article was originally published by the drinks business and has been shared with permission.