Iain McPherson, founder of Edinburgh's Panda & Sons, talks to Wine List Confidential about taking inspiration from the kitchen in coming up with his 'Souspression' cocktail-freezing technique.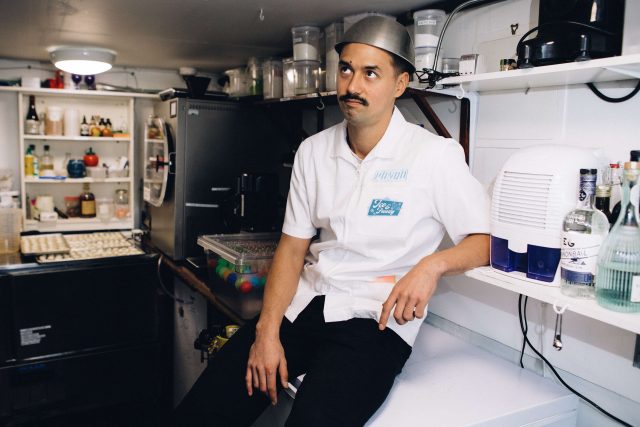 Celebrating the 10 year anniversary of Panda & Sons this month, the Edinburgh bar uses freezing techniques to broaden the limits of cocktail flavours.
McPherson was born in Sydney, Australia to a Scottish father and South Korean mother, and moved around a lot as a child. "During my younger years I was fortunate enough to live in Bangkok, Vietnam, Hong Kong," he says.
His "multicultural upbringing" heavily impacted his approach to hospitality, having grown up "being more open to different cultures".
McPherson headed to Seoul, South Korea in July doing a two-part bartending residency at Villa Records and Zest, showing off his signature 'Souspression' cocktail-making technique which was the foundation for his Edinburgh bar's new menu, Transcend.
All the techniques developed by the Panda & Sons founder use "freezing for flavour" — a concept which originated during his time at the Carpigiani Gelato University where he took a course learning to make "boozy ice cream".
"People are realising that it's hard to find new ingredients, but if you use a new technique you can get a new flavour from even something obvious, like an apple," he explains.
Panda & Sons first began freezing ingredients to extract flavours in 2018, and since then has created six or seven iterations. Souspression is the latest innovation, which McPherson describes as "a freezing alternative to sous vide". Cocktail ingredients are combined and stored in the freezer for 20-30 hours, allowing the fresh flavours to infuse into the alcohol without being heated or cooked, inspired by the 'low and slow' sous vide method.
View this post on Instagram
"The main thing about freezing techniques is they maintain fresh flavours," McPherson says. "Over the past year most bars have gone down a tried-and-tested path of looking at chefs at Michelin-starred restaurants, and trying to adapt their techniques to drinks. Obviously, most of those are heat-led. I love a cooked strawberry, but by using freezing techniques we can maintain a fresh strawberry flavour in different flavour profiles, keeping those acids and delicate flavours rather than cooking it."
McPherson says that turning to the kitchen for inspiration has been the trend of the past few years. "No one in bars has really been creating techniques for drinks; they've either been taking cooking techniques or just doing very generic things."
While he has also turned to the culinary arts as a starting point, McPherson is taking a different approach to many of his peers.
"The great thing about freezing is it lends itself really well to liquids, which is a large part of bartending. I think over time there are going to be more and more people developing new techniques."
The Transcend menu has predominantly been designed around twists on classic cocktails. "With Souspression we didn't want to go too weird because we want people to understand how that technique affects the flavour of the drinks," McPherson explains.
This article was originally published by the drinks business and has been shared with permission.