Gary Foulkes began his career in 1996, aged 17, as a trainee chef at The Chester Grosvenor in Cheshire. His first full-time position was commis chef at Rhodes & Co in Manchester where he worked under the wing of Gary Rhodes for three years. Stints in London restaurants followed, including the Oxo Tower restaurant and Gordon Ramsay's Aubergine in Chelsea. In 2003, he moved to The Vineyard at Stockcross as chef de partie, progressing to sous chef during his two-year tenure with John Campbell. He then moved back to the capital in 2005 to work alongside Phil Howard at The Square, where he became head chef in 2011. Foulkes joined D&D London as executive chef of South Place Hotel in 2016, where his responsibilities include the hotel's Michelin-starred modern European restaurant Angler, room service, banqueting and events.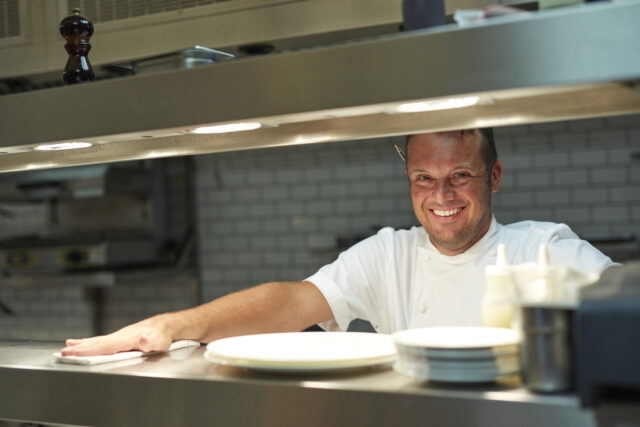 Describe to me your earliest food memory….
My grandad making 'scouse' – a lamb, potato and vegetable stew. I add barley to mine, which is a game-changer. This was a firm favourite in our house then and now too – my son loves it.
Did you always dream of becoming a chef or did you fall into it? 
Not at all – there were various jobs higher up the pecking order. I ended up doing five days' work experience in a hotel, spending each day in a different department. My last day was in the kitchen, where everyone was so focussed but really got on and enjoyed what they were doing. That's what really got me interested – the social element of working in a kitchen.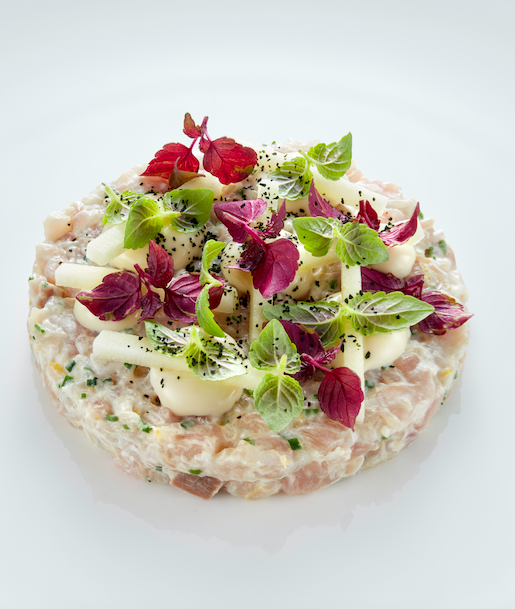 What is the dish that you have created that you're most proud of?
Most of my dishes are a culmination of things I have seen somewhere while travelling, and things I've learned in a kitchen. My mackerel tartare at Angler has everything I look for in a dish – big flavours, lots of different textures, but still light and interesting.
What is your ultimate food and wine match?
I rarely drink sweet wine, but I do love a bit of roasted foie gras with a sweet Riesling. It's a classic combination, but they're classics for a reason.
What is the most memorable meal you've ever had in your life?
El Bulli – without question. I went with my wife and it was an incredible experience from start to finish. I can't remember exactly what we drank; the sommelier paired wine for us as we had no clue what we were going to eat, but I do remember it all started with a bottle of Krug, so we were off to a flyer straight away.
What's the weirdest thing you've eaten while on your travels?
I travelled for three years around southeast Asia and Central America, so I came across a few 'interesting' – shall we say – things to eat along the way, from water beetles and fried cockroaches, to rat and fried scorpions in Mexico.
Who is your culinary hero and why?
I know how hard it is to succeed in the industry, and what dedication and hard work it takes. Rob Weston, John Campbell and Phil Howard have been the main influences in my career, and they're the people who invested time in me and taught me what I know.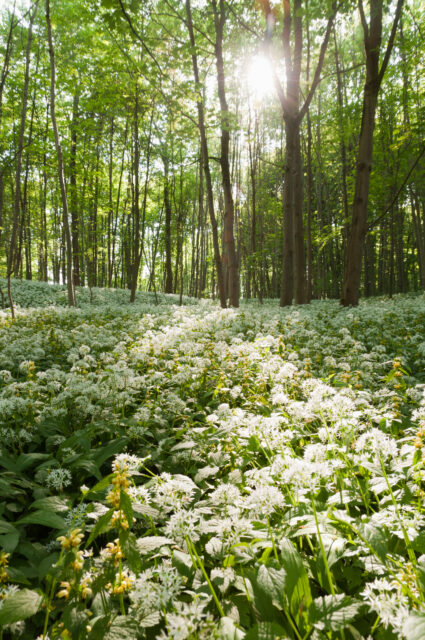 What's the biggest blunder you've made while on the job? 
I once made a last-minute birthday cake for someone and had to use tinned peaches, as it was all we had. I didn't drain them properly, so by the time the cake went to the table and it was cut into, it it just collapsed into a syrupy mess. The lady said that I had ruined her birthday – quite funny really, now that many years have passed.
What is your favourite season for food?
Spring – it's when everything starts becoming more interesting and we leave behind the cold weather ingredients like beetroot. It also heralds the arrival of all the produce I love cooking with – wild garlic, elderflower, white asparagus, morels and turbot.
What single ingredient do you rely on most in the kitchen?
Salt, because most things taste of very little without it. I also use a lot of soy and seaweed to add an additional layer of savoury flavour, and when I'm cooking at home, I love using chilli, lime and garlic.
What is the best bottle of wine you've ever drunk?
I've been fortunate enough to drink many great bottles of wine over the years, but one I particularly enjoyed was a Peter Michael Les Pavots from 2013. It was outstanding and was paired perfectly with the food we were eating at the time.
What is your guilty pleasure food?
Instant noodles – they're great for any time of the day – breakfast, lunch, or a snack after work, and you can also add whatever you like to spice them up a bit.
If you had to only eat one country's cuisine for the rest of your life, what would it be?
It would be a toss-up between Thai and Indian, and I think Thai just edges ahead as my favourite. I love the combination of heat and sourness, and it varies so much from region to region. You could travel Thailand for years and eat something different everyday. I love that.