A Colorado woman is revamping old ski gondolas to convert them into outdoor private dining spaces as a creative solution to socially-distant dining amid the coronavirus pandemic.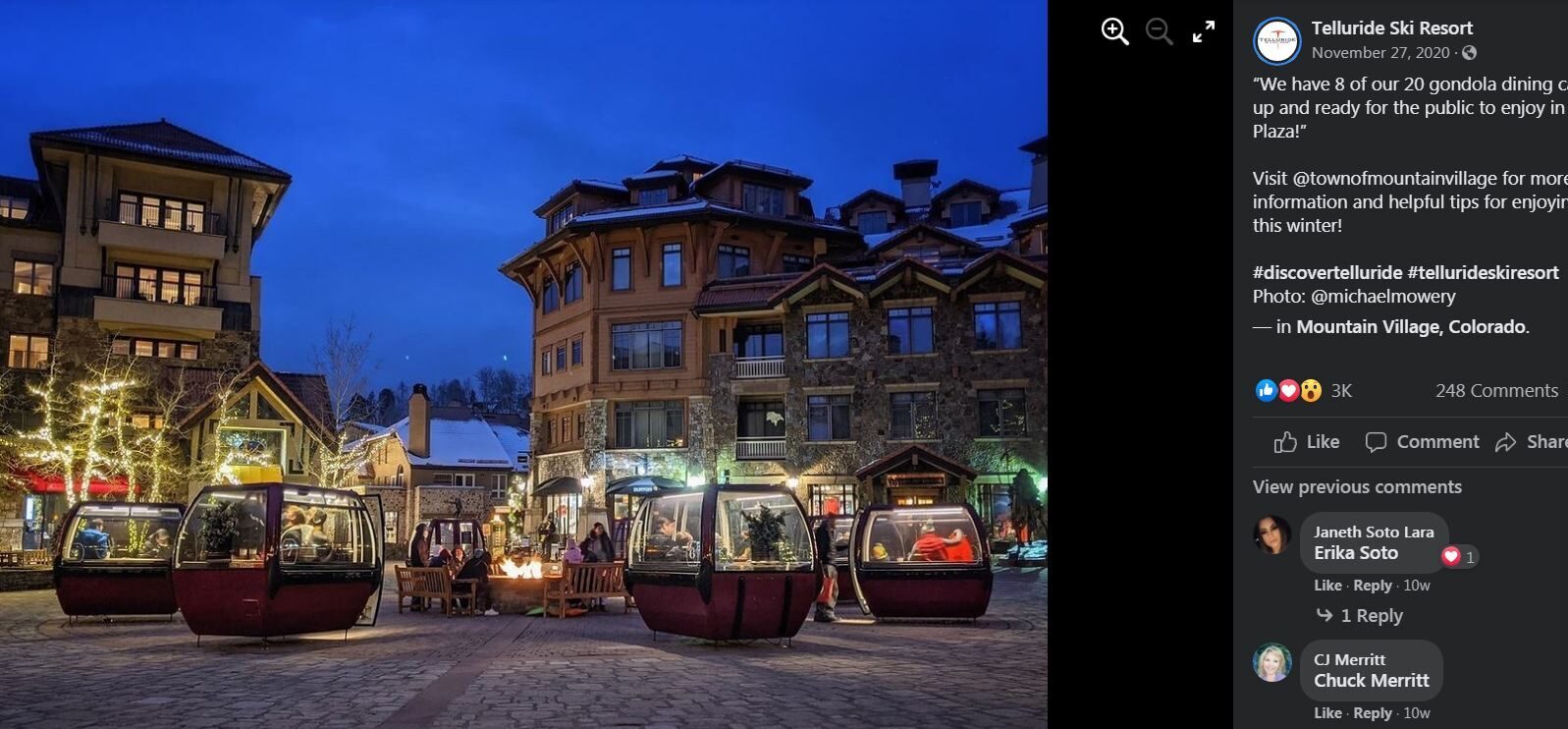 With ever-changing rules aimed at limiting the spread of COVID-19 amid the ongoing pandemic, pubs, bars and restaurants have been forced to become incredibly nimble and adaptable in a very short space of time.
Chief among the issues for hospitality venues is the risk of the spread of coronavirus indoors, and thus one restaurant came up with an ingenious solution during a brainstorming session: convert old ski gondolas private outdoor dining hubs.
Yet even in a mountain town in Colorado, old ski gondolas are not ten-a-penny.
Thankfully, one woman had been buying up old gondolas for years in the hopes of eventually up-cycling them into something else.
And during the pandemic, Dominique Bastien, who owns The Gondola Shop, began working with her team to revamp the old gondolas into COVID-safe private dining spaces for restaurants who were worried about staying in business during the cold winter months.
The gondolas have saved us this winter for sure," said Wendy Tucciarone of Mountain Tap Brewery. The venue bought three of the gondolas – which seat six diners each – and all have them have been booked out ever since they became available in November.
A Colorado woman is revamping used gondolas to help restaurants stay afloat with outdoor dining. https://t.co/Sp9jPKa4mc

— Food & Wine (@foodandwine) February 12, 2021
Bastien, whose regular business involves  polishing and repainting ski gondolas that are still in use, says she was "slowly planning to go bankrupt" after her contracts dried up as ski resorts closed early for the season in March. However, in September Bastien got a call that would revamp her business.
The Town of Mountain Village near Telluride, Colorado wanted five repurposed gondolas to share among 12 restaurants at the base of Telluride Ski Resort. Two weeks later, they upped their order to 25.
Bastien and her team blasted their way through a years' worth of work in just four months – delivering the beautifully revamped gondolas ahead of the Christmas rush.
After they garnered attention on social media and in the press, Bastien has been fielding enquiries for the gondolas from restaurants located across the country.
"It just got crazy," she said. "Things turned out really weirdly but really well."
H/T: Food and Wine