Born in Delhi, Sameer Taneja is executive chef at Michelin-starred Indian restaurant Benares in Mayfair. Using his classical training in French and Indian cuisine and 20 years' experience, Taneja's culinary style pairs top-end British ingredients with Indian spices and techniques. Prior to Benares he worked with Michel and Alain Roux at the three star Waterside Inn in Bray, and alongside Pierre Koffmann at Koffmann's in Mayfair. He is particularly proud of having cooked for the Queen. Before heading up the Benares kitchen Taneja ran his own venture – Indian tapas restaurant Talli Joe in Covent Garden.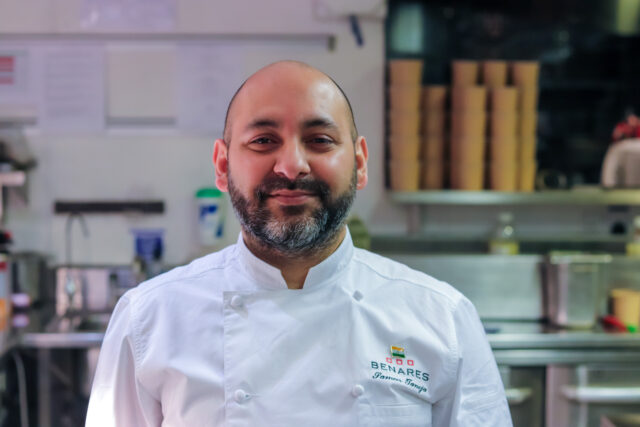 Describe to me your earliest food memory…
My mum's rajma chawaal kidney bean curry and rice dish. The sound and sweet aroma released from the pressure cooker takes me down memory lane. Delicious would-be understatement.
Did you always dream of becoming a chef or did you fall into it?
I chose to study culinary arts as my professional qualification, and I'm pleased I did – this is the second-best thing that has happened in my life. Becoming a cook is a blessing, but the first is becoming a father, and having my two children.
What is it about the catering industry that has kept you hooked?  
There is something magical about this industry, you are part of this beautiful thing that keeps the cycle of life moving – food! I don't think there is a specification to be a cook, all you need is the determination to become one.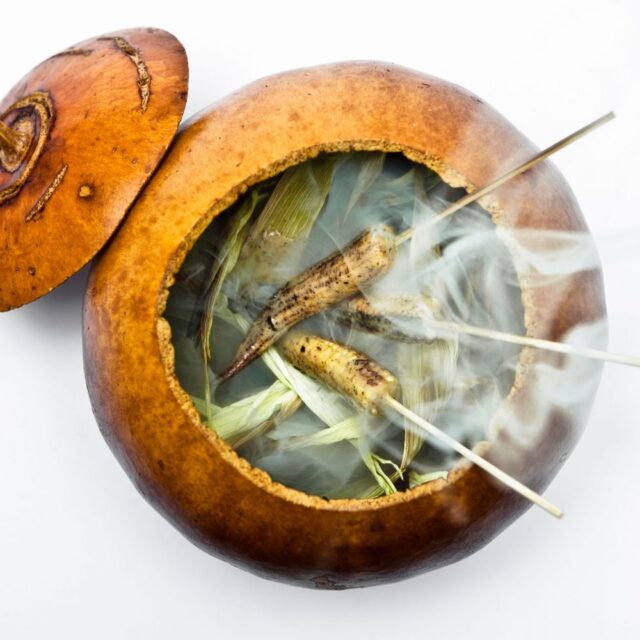 What is the dish that you have created that you are most proud of?
I have not reached a point where I can say this is the dish of my career, but every day I work to have one. Saying that, one dish which is very close to my heart is my oyster and sea bream chaat, which tingles all your tastebuds. It represents both my mother cuisine and my travel.
What is your ultimate food and wine match and why?
I'm not really a wine person – a pint of beer and a curry is my comfort.
What is the most memorable meal you've ever had in your life?
Lunch at Pujol in Mexico City has stuck with me – I was with chefs from London and Mexico, and we drank a lot of Tequila. Also, a meal at Nathan Outlaw's was amazing too.
What's the weirdest thing you've eaten while on your travels?
When I was in Mexico, a fellow chef took me for a street delicacy – he described it as crunchy, salty and spicy, and then a fried grasshopper appeared. I thought it was okay until I was offered to try it live to taste the acidity. I don't mind insects but if they have a strong smell then it's a 'no' from me.
Who is your culinary hero?
Chef Pierre Koffmann – my mentor, my God! I have followed him since I first started out as a chef, and I am extremely blessed to have had an opportunity to work for him at Koffmann's in Mayfair. Cooking is religion for him rather than a passion or job, and his presence in the kitchen makes it a temple to gastronomy.
What is your favourite season for food and why?
I love all of the seasons, but winter gives me the edge to create dishes using warming spices.
What single ingredient do you rely on most in the kitchen?
Pepper, this humble ingredient can make a big difference to dishes.
What is your guilty pleasure food?
Ramen – it's quick, easy, comforting and so delicious.