Prime Minister Boris Johnson has ruled out using Covid-status certification when outdoor hospitality reopens in England next week, and has stated it also won't be required for the resumption of indoor dining.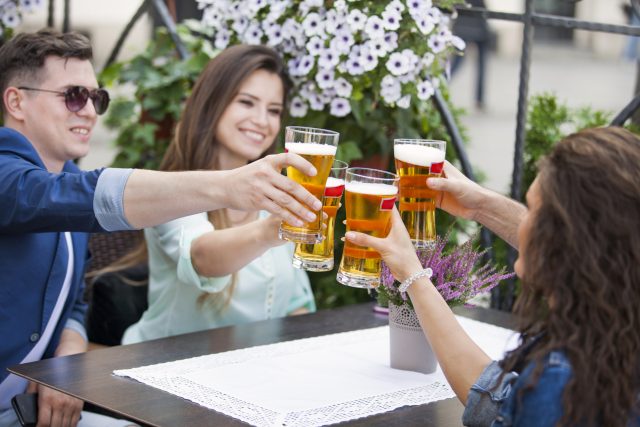 In a statement delivered on Easter Monday (5 April), the Prime Minister confirmed that England would be moving to 'step two' of its roadmap out of the pandemic, which will see outdoor hospitality allowed to reopen on 12 April alongside non-essential retail, gyms and hairdressers.
"On Monday the 12th I will be going to the pub myself – and cautiously but irreversibly raising a pint of beer to my lips," Johnson said.
After reports that so-called vaccine passports – officially known as Covid-status certificates – might be used in pubs, Johnson said they would not be used when outdoor hospitality reopens in England on 12 April.
"There is absolutely no question of people being asked to produce certification or a Covid status report when they go to the shops or to the pub garden or to the hairdressers or whatever on Monday," he said. "We're not planning that for step three either."
Step three will see indoor hospitality reopen on 17 May. Johnson acknowledged that there are "complicated ethical and practical issues" surrounding the implementation of vaccine passports.
With regards to hospitality, he said: "We are not planning for anything of that kind at this stage."
To achieve Covid-status certification, a person would have to demonstrate one of three things: they've had the vaccine, obtained a negative result from a lateral flow test on the day or day before the event, or had proof of natural immunity, such as positive test for Covid in the past six months.
Vaccine passports or certification will be trialled as a way of enabling mass events to go ahead. The scheme will be tested at the FA Cup final, World Snooker Championship and some nightclub events.
Sources told the BBC that requiring a certificate to access hospitality further down the line – as a potential method of removing the need for social distancing – had not been ruled out.
The government is currently undertaking a Covid-status certification review. In a paper published yesterday, it stated:  "The government believes that Covid-status certification could have an important role to play both domestically and internationally, as a temporary measure. Equally, the government wants to be sure that the benefits of any such approach are fully interrogated in public debate and that the deliverability of Covid-status certification is rigorously tested, along with analysis of the potential economic impacts that COVID-status certification would have across different settings."
It said that there should be "appropriate exemptions" for those who are not advised to be vaccinated or where "repeat testing is difficult".
The document said that in some settings, such as public services, public transports and in essential shops, certification "should never be required". However it "could potentially play a role" in settings such as theatres, nightclubs and mass events.
It also noted: "It is possible that Covid-status certification could also play a role in reducing social distancing requirements in other settings which people tend to visit more frequently, for example in hospitality settings. However, the government recognises this has significant implications for businesses and their customers, so this will be further considered in consultation with industry, as part of the review of social distancing rules and taking into account the equalities and other impacts. For now, businesses should continue to plan to reopen in a way that follows the latest Covid-Secure guidance, and certification will not be required for reopening as part of step 2 or step 3."
While the changes only apply to England, the government said it is discussing its approach with authorities in Scotland, Wales and Northern Ireland and is "seeking a consistent approach wherever it is sensible and appropriate to do so".
Other countries are also exploring similar measures. For example Israel has given its vaccinated citizens a 'Green Pass' to use gyms, while those that have been given a jab in Denmark receive a 'Coronapas', which provides access to hairdressers, restaurants and cinemas.
Reaction
Kate Nicholls, CEO of UKHospitality said she was "reassured" by the Prime Minister's comments regarding the use of vaccination certification for hospitality.
"This would have been very difficult to implement and placed a huge amount of additional stress on an industry that has suffered enough," she said. "Such a scheme would have hindered the ability of thousands of hospitality businesses to return to sustainable levels of trade, to recover and to be viable, and we urge the government to avoid this at every stage, and at all costs."
She added: "In terms of bringing back larger scale events, these test pilots are certainly positive news, and could start to unlock the safe return of business conferences, festivals, nightclubs, concerts and larger weddings, helping people safely return to normal life from 21st June, and to the removal of social distancing restrictions. Our industry, especially those expert in safely producing world-class, large-scale events, will do everything to assist the government in any way it can to help the pilots succeed."
Emma McClarkin, chief executive of the British Beer & Pub Association (BBPA), said she continued to have "deep concerns" over proposals around vaccine passports as well as "changes to guidelines on how pubs will operate once they reopen".
"Not allowing customers to pay at the bar for food or drink in pubs, but allowing it in cafés or shops is completely unfair and illogical," she said.
However, she welcomed the "great news" that pubs can start to reopen. Some 15,000 pubs in England are expected to reopen next Monday.