With restaurants shuttered during lockdown, several sommeliers reconsidered their calling. Oliver Christie was already considering leaving the floor of Shoreditch's Clove Club before Covid entered the lexicon, so he could get closer to the raw components of wine. Six months into his new life in Alba, he talks to Douglas Blyde about his journey so far.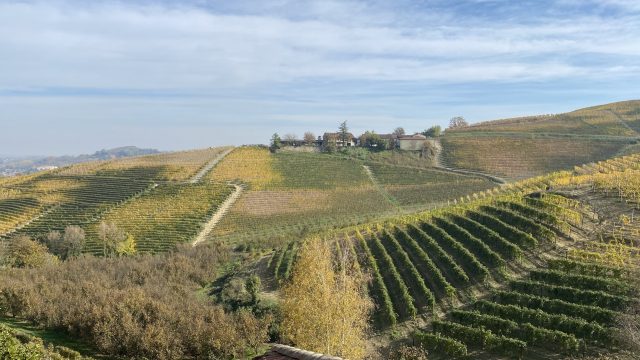 'On a clear day, as the setting sun casts an orange glow over the hills of vines and chestnut trees in front of me, and in the distance, the snow-covered mountains, I stop and remark to my better half, Emanuela, how lucky are we?' says Christie, removing his beret for our Zoom catch up, showing a healthy tan built in Piedmont's springtime vineyards. 'London is a magical place, but I must admit, I'm completely bowled over by the beauty of here.'
Christie previously worked at the Michelin-starred Pied à Terre, Fitzrovia under 'mentor', Mathieu Germond, then Clove Club, which climbed the ranks to 27th best restaurant on the World's 50 Best list while he was reinvigorating the wine programme.
'I got to the stage in London where I could have taken a beverage director role overlooking three different sites and maybe I would have liked that. But to move to Italy, it had to be now or never. It wouldn't have been ideal to have to pick up children and move to other side of Europe with no promise of work.'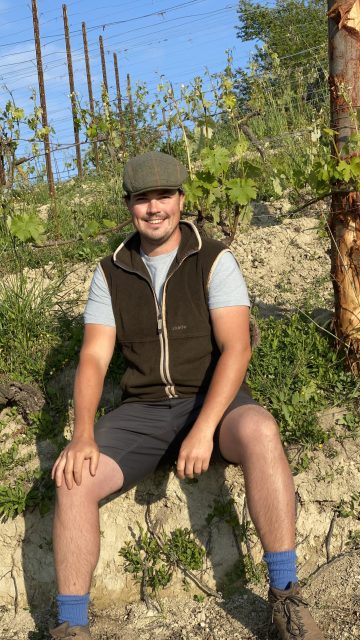 Having left Stockwell, Christie now lives in Bra, west of Alba, 'a name which always makes people laugh,' he jokes. Considering his appreciation not only of wine but gastronomy in general – and at Clove Club he needed to have a working knowledge of at least ten types of seaweed – it seems fitting that the town is the birthplace of Carlo Petrini, founder of the Slow Food movement. 'At first I was very nervous,' he says.
'Emanuela and I took a flat before I had a job.' And then he smiles. 'Did you know when you take a house in Italy there's nothing in it? The previous residents take it all with them including, in our case, the toilet. Light fittings would have been a luxury!'
Pace
Christie also instantly noticed the change in tempo between bucolic Italy and England's dynamic capital. 'Everything runs differently, meaning if you try to live a Londoner's life, you will accrue many grey hairs. When I first arrived, I had a to-do list including buying winter tires, a kitchen sink, and various bureaucratic matters. In London I could have achieved all on the list in a week, though I soon realised in Italy there's no point trying to push. If buying a sink takes three weeks, then it'll take three weeks – you can't cheat the system. Brexit hasn't helped. The system here hasn't caught up.'
During the week, Christie works for producer, Valfaccenda in the Roero, while on weekends, he helps take visitors, including an American from a tech company, around estates acting as a guide and translator. 'Valfaccenda was a producer I listed at Clove Club,' says Christie. 'Fabio Fantino of Conterno Fantino in Monforte fostered the introduction between owners, Luca Valfaccenda and his wife, Carolina. They gave me a big tour of the three vineyards and cellar where we tasted what was going on in the vats.
'Luca told me, "I'll be honest with you, Oliver, it's monotonous and physically tough work. The days are long, and sometimes we work at night. But if you think it's something you still want to pursue, let's speak towards the end of the year." That was October. 'And just before Christmas I had a job.'
Solo Roero!
Valfaccenda is a family business. 'As well as keeping on top of the admin, Carolina is a designer-engineer who has decorated the three bedrooms of their agriturismo to resemble the incredibly striking, sometimes, Death Star-like wine labels. Their one-year-old, Emilio can do the best tiger impression I've ever heard which sometimes deviates from a chuff to a boiling Moka pot.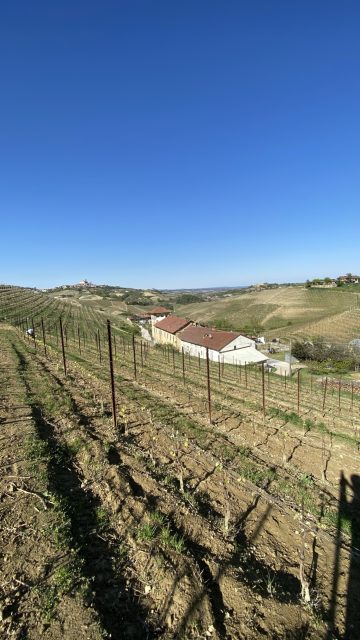 The place is young and full of life and not shackled to the past, including the winemaking philosophy of Luca, who learnt his trade in Alba and then travelled in New Zealand.' Such a modern approach is something common in the Roero, says Christie. 'There's a quelling of young talent and Luca and fellow producers have formed a group called "Solo Roero" to really lift awareness of this region.'
Roero has more sand than Langhe, which has clay, leading to red wines which Christie believes are 'more accessible' in their youth. 'We work with Nebbiolo, the same grape as Barolo and Barbaresco. Of our two reds, Vigna Valmaggiore Riserva is named after its single site which could be the missing piece of Barolo, and Luca Sandrone from the Langhe even took a big piece of this site, as did Bruno Giacosa. And then there are the whites which are honestly the most interesting examples of Arneis I've tasted.'
The estate white combines two plots, with ferments treated differently, one combining greener Arneis for acidity from stainless steel, another being oak matured, and the third aspect seeing skin maceration. 'It's filled with texture and magic with food, which is why I used to deploy it on Clove Club's tasting menu.
'Think pink grapefruit, bergamot, yellow flowers and riper fruits wrapped in a fantastic acidity with a salty finale.' Then there's the single Cru, Loretto 'from a madly steep vineyard which I've been helping to re-build.' Christie likens this to a super linear, clean, Clare Valley like Riesling, 'with lemon, lime and a slight tropical facet.'
Teamwork Behind Terroir
Day-to-day, Christie, who previously led a sommelier team, finds himself following orders. 'I do what I'm told, taking my hoe, digging, carrying trellis poles. I'm working less than the others, and still I'm broken. What these people are doing, working their asses off, gives me a sense of respect and understanding for the people behind a label.' Previously, wines had arrived at The Clove Club seamlessly.
'All I had to do was open the box, rack them then sell them. Yes, I had read wine books but never before had I done anything in a vineyard. Which is why I came out here to find answers to questions I couldn't get in London. I wanted to understand the winemaking process and how decisions taken in the vineyards and cellar impact the result.'
Christie has learnt to taste wine differently in his new setting. 'As a sommelier, I checked if a wine exhibited the characteristics of the grape variety and asked, is it an honest wine? I looked at price and sometimes I looked at the label – though labels don't bother me. I asked, can I sell it, will people like it; does it fit in? For instance, there's no use in listing five Amarone producers in a sushi restaurant when a 16.5% red and raw fish doesn't sound appealing. However, when tasting with a winemaker you need to go further, evaluating it from a technical point of view.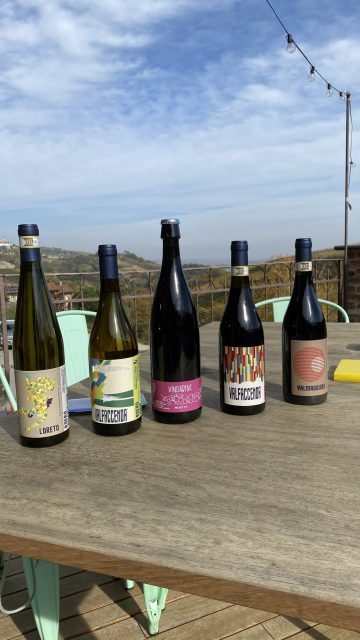 Winemakers are astute to faults. I remember tasting a wine with a slightly dusty character on the nose: not a fault I knew. Luca immediately said the dustiness is a result of malolactic fermentation starting when there was still some sugar left in the wine – an overlap between alcoholic and malolactic fermentation. I didn't know it could happen.'
But winemaking is a bit like herding cats, says Christie, 'with things whizzing around the winery in the form of yeasts and bacteria which don't do exactly what you want. So, the job of the winemakers, who also have weather and the vintage to contend with, is to try to guide the wine to a point that they want it to reach. I suppose, if I was an artist, I would look at a painting and see faults, but I'm not and I see a painting.'
Christie finds it serendipitous on reflection that he received the first taste of his future some eight years in the past. 'I remember trying a red from the area then made by Giovanni Almondo in Montà when I was at Pied à Terre. His top cru, Bric Valdiana, was only £50 on the list and I didn't expect much. Yet it was so eye-opening that I ended up buying six bottles for myself. And years later here I am, working fewer than ten minutes from where that wine was made.'
Health is Wealth
From wearing tailored suits in a cossetting dining room where he looked after an often affluent clientele, Christie is now living the life of a contadino. 'I'm at the bottom of pile, carrying 35kgs poles up what feels like a near vertical slope.
'There are days I think my knees will turn to dust. Comparatively, though, I don't miss getting up after the third consecutive 18-hour day in a restaurant when I was mentally exhausted, followed by days off when I physically couldn't haul my grumpy corpse from the duvet. Now I wake up every morning at 7am fresh.'
But Christie does miss good Chinese and Indian food, 'and my former local, The Canton Arms.' And although he longs for the thrill of welcoming a guest into a restaurant 'more than I could have imagined,' he does still have the chance, every two weeks, to help look after groups of guests at the winery gleaned from local restaurants.
'With fifteen people around a table, I slip straight back into that sommelier role, the best role of someone who serves – joie de travaille. I find myself thinking, 'there's nine wines to go, let's make sure they're at the right temperature and prepare the glassware for the next one. Starters are gone, what's the paring, he's vegetarian…'
When Christie looks at his pay cheque, there is a temptation to feel that he may have taken a step back. 'But the reality is, I've taken a step to the side. I have more time to study. And I never realised how special it would be to be home for dinner every night. I have everything I want – for now. I feel fitter and have lost a stack of weight. I'm looking at having a B&B here one day. I will get married here, with guests from Italy and England and on my side, Scotland. It'll be a tremendous clash of cultures!'
'What not working in a restaurant affords me outweighs what I miss about them,' says Christie.' I've talked to lots of people who have seen the light in terms of not being "shackled" to a restaurant. Yes, I'm still in that first cat in headlights moment. But, marvelling at that orange sunset, I've no intention of moving back…'