People are hailing one bartender as a "hero", after his quick-thinking saved a woman from a "creep" who would not stop "harassing" her in a Florida bar.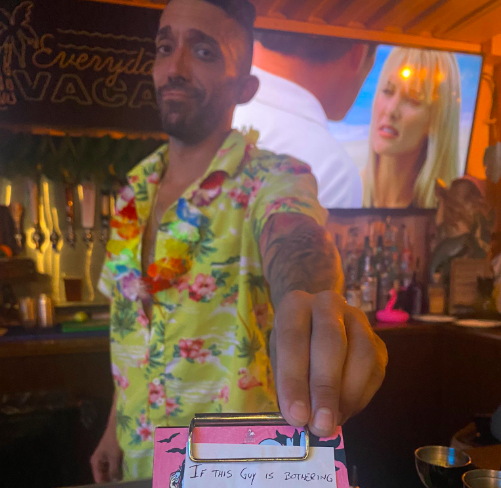 Unfortunately, uncomfortable encounters happen all-too-often in bars, but one bartender's care and attention has gone well and truly viral on social media as people pay tribute to his quick-thinking.
Twitter user @trinityallie shared her story on the site, explaining how the bartender had come to her aid during an encounter she had with a creepy stranger.
"This man was harassing me and my friend and the bartender passed this note to me acting like it was my receipt! Legit the type of bartender everyone needs." She wrote.
This man was harrassssing me and my friend and the bartender passed this note to me acting like it was my receipt ! Legit the type of bartender everyone needs pic.twitter.com/kGTGekNFgl

— trinity👑✨ (@trinityallie) June 14, 2021
Trinity later clarified in a follow up that she asked the bartender to pose for the photo after the incident so she could share her appreciation.
The note reads in full:
"If this guy is bothering you, put your pony tail on your other shoulder, and I will have him removed.
"He's giving ME the creeps."
In another followup tweet, Trinity added:
"He ended up having to literally yell at the guy he said 'You need to get tf away from these girls who clearly are not interested' and the dude said 'That was a little aggressive' and he said 'Well ur aggressively hitting on them and you need to leave'."

The New York Post has reported that the bartender in question is called Max Gutierrez and works at a bar in St Petersburg.
On a Reddit thread dedicated to the note, Gutierrez himself appeared to comment and explain more about the incident, writing:
"This guy was giving off very weird vibes for quite a while, kept an eye on him, try to give him a chance, try to let the girls tell him no and leave it at that, but he didn't take no for an answer and kept pestering them so eventually I kind of yelled at him and made him leave lol.
"I honestly don't like yelling at customers or embarrassing people, but I find it's one of the best ways to handle creeps. Calling them out in front of people is usually enough to get them to turn tail and walk away. I just don't need my guests feeling uncomfortable."
Bartenders recently revealed the best drinks that people never order. You can see the list for yourself here.