The co-founder of floating restaurant and British seafood specialist London Shell Co. shares his defining moments with Douglas Blyde.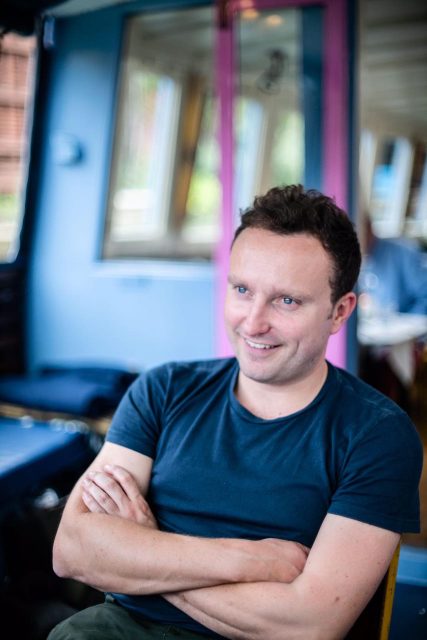 What is your vintage and what have you enjoyed from that year?
I was born in the spring of 1986. Described as a somewhat lacklustre year with difficult growing conditions and therefore a disappointing vintage for wine anoraks. It wasn't declared in Porto either, so even wines with incredible longevity are impossible to track down.
My life experience so far has shown me that everything, usually, does improve with age. Perhaps I should seek some more 1986 out after this difficult pandemic year. I might find their lack of balance and cohesion more comprehensible now. I really like young wines, but a Clerc-Milon 1986 sits well in my memory banks.
Where were you born?  
Camden. It's actually listed as my place of birth on my passport. My mum and dad are from London, and on my mother's side, her family have lived here for hundreds of years. Both my uncles drove Routemaster buses and apart from a brief stint in Brighton for university, I've predominantly lived in the boroughs of Islington and Camden.
It's a tremendous honour to be able to open two neighbourhood restaurants in my city. Our cruising restaurant may be moored overnight in the borough of Westminster, but at a certain point during its lunch and dinner services it crosses constituency boundaries and pops into my home borough Camden, just to check what's going on.
We grew up drinking cheap cider and alco-pops on the towpath of The Regent's Canal. It gives me an enormous sense of wellbeing seeing revellers assembled by the water on the way to Camden Lock at night.
Describe your career?
A game of two halves. Throughout my twenties I was a jobbing actor accustomed to the doors of opportunity rarely opening for me. I worked in restaurants as a side hustle to supplement my meagre earnings. I enjoyed it for the same reason I liked being an actor: late nights, alcohol and lots of fun.
One of my managers encouraged me to take restaurants and hospitality more seriously and I soon found that pretty much every door I knocked opened and the people behind them were more than willing to help. You have to recognise a shift like that when it comes. It's a lot of work and I rarely get the chance to switch off, but I am enormously proud of what my sister, Leah, and head chef, Stuart Kilpatrick and I have achieved.
What advice would you give your younger self? 
Try not to take things too seriously and realise when people are trying to help you.
How do your approach to your lists? 
Fill them with treats and gifts. I want our guests to look at our drinks offering with the same level of excitement that they have for the food menu. Buying wine is a pleasure and a privilege and if you don't enjoy it, there is something wrong with you.
We're a small restaurant, which means I tend to stay away from iconic wines and regions like: Champagne, Chablis and NZ Sauvignon. If we listed wines like this, we wouldn't sell anything else and I would get very bored.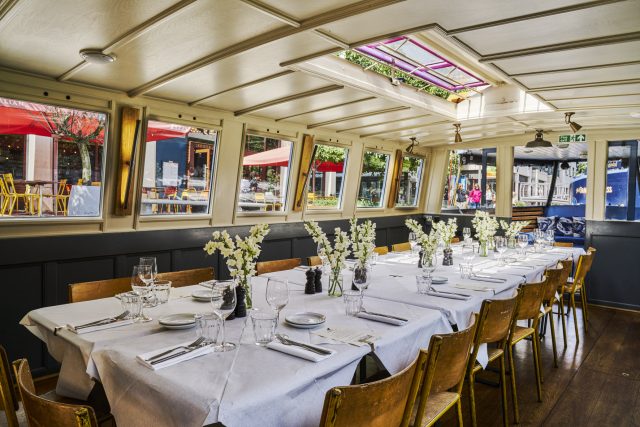 How do wine suppliers get your interest? 
I prefer to use wine suppliers which have personal relationships with their producers. This generally means shorter lists and regional specialists. If I need an Italian wine, I think about the Italian wine supplier. It's simpler that way.
Which grape, region or style do you find it hard to get along with? 
Valpolicella Ripasso, my dad loves it. To me, it seems like an extraordinary amount of work for an average wine. I have a similar feeling about Amarone, I just don't know when I would drink it. I know plenty of people who I'd like to drink one with, but I just haven't found the time.
What has been your most impressive food and wine pairing?
I love food and drink pairings, but often think that setting is also just as important. At The Grand Duchess, our static restaurant, the cold chips left in a gastro on the pass after a 15 hour shift have a miraculous restorative quality when paired with a fresh pint. Otherwise, a more wine industry answer would be, chilled Cab Franc from the Loire Valley with an Indian takeaway. Extraordinary.
What were your vessels before they were restaurants? 
The Prince Regent was a private hire party boat with an infamous reputation for experimental cuisine called the Floating Boater. Leah and I steered it all the way to Isleworth on the day we got the keys. The first thing we did was rip out the kitchen on the towpath in Hanwell with help from a very good friend.
We converted it ourselves and made lots of mistakes.  In March 2019, we converted The Grand Duchess, formally known as The Paddington Pioneer, from a marketing suite used by our landlords, British Land, to the restaurant it is today. We made even more mistakes and are still in the process of correcting them now.
Did you consider selling the business during the pandemic? 
I don't think that was ever an option. We're trying to build a national treasure here. We haven't achieved half of what we would like to yet. Plus no-one would be able to match our valuation.
What is it like running the business with your sister, Leah?
Like doing the three-legged race on sports day. If you're both in-time and share the same rhythm, it's fun and hilariously efficient. As soon as one falls out with the other one… Disastrous!
Is the customer always right? 
No, but we should never let them know this. In fact, the more I think about this, the more I feel that the customer is never right. We've been working in this environment at London Shell Co. for five years now.
We know what we are good at and stay away from the things we're bad at. All the decisions are made before the doors even open and are influenced by our experiences. If we remember that we work in a service industry, where we attempt to give guests the best experience of what we provide, we can't go wrong. Right? Lol.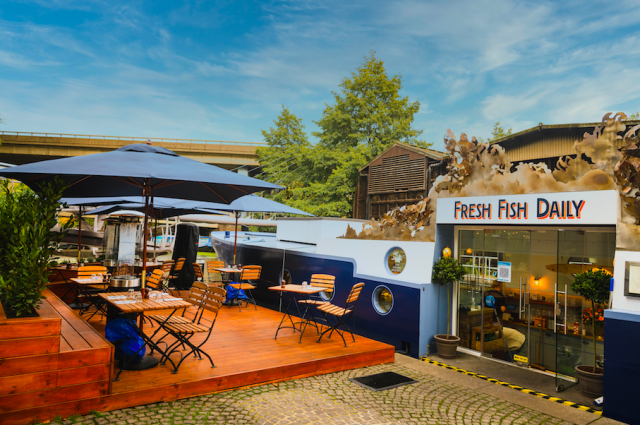 Has a guest ever fallen overboard? 
Never a guest. I have, myself, almost made a final passage to Davy Jones' Locker. In our first year we were privately hired by a gentleman's dining club with a considerable reputation. The lead booker requested we join him for drinks and later insisted on making his own cocktails behind our bar that night. What he lacks in mixology he certainly makes up for in charm.
They left at 2.30am. I locked up at 3am, completely obliterated from his half pints of Whiskey and Gin. I stepped off the wrong side of the boat and into the canal. It was the making of me. I haven't been the same since.
What is your go-to drink at the end of the day? 
It's changed over the last two decades. From 18 to 27, it was always a bottle of beer and a shot of tequila, to assist me on my way to the closest Soho drinking den. Now a crisp lager seems to see me right accompanied by a light red at home if I really need to unwind from a full day.
And water. Two pints of water before bed. When I worked for Laure Patry at Pollen Street Social, my first drink of the day was often a half glass of flat Taittinger Comte 2004, if I was lucky. Someone had to test those sparkling wines before service!
How interested are you in spirits? 
I can appreciate them, but, with wine, I love the romance of bottling a year's work and the perils which come with it. I don't like alcohol burn and consciously consider it a flaw after years of drinking wine. I do love Tidal Rum and Michter's Single Barrel Straight Rye. Effortlessly smooth and best consumed neat. And I've recently discovered Dima's vodka from Ukraine.
What about non-alcoholic drinks?
I make a mean homemade lemonade. These are made to order at the restaurant with the lemons freshly squeezed every time.
Do you have any interests outside of wine?
I enjoy the work of Emile Smith Rowe, John Williams, Paul Simon and The Reebok Club C 85. My happy place is Hampstead Heath with some pocket meats in the form of a ridiculous saucisson.
What was the last play you saw? 
Three Kings with Andrew Scott, streamed from the Old Vic. It was electric even from my sofa at home. I go to the theatre a lot, I can't wait for them to reopen properly. I hope we still have as much choice as we did before the virus. Go out and support the arts as much as you can.
Where would your fantasy vineyard be?
I indulge myself with these daydreams every week. Imagine having a small vineyard on the island in the middle of Browning's Pool in Little Venice, or at London Zoo? We could sail past the vines you were pouring into the glasses. The London terroir would add a unique tension to the wine.
My parents spend most of their time on an island called Lefkas in Greece. I have plans to plant some vines there one day for personal consumption and maybe a little house grappa. But small ideas and flights of fancy can often turn into full time employment. So, I'll have to be careful; better stick to the fantasy option.
How did your parents influence you?
Our parents are unstoppable social creatives. Even now, as they approach their 70th birthdays, they go out four times a week. They've never stopped working, they've never abandoned anything because they found it difficult and they have always pursued lost causes. I don't think we would have been stupid enough to open restaurants if it wasn't for them.
Before we opened the first boat my sister, Leah, flew to New York attempting to persuade an English chef that he had made a terrible career decision not starting London Shell Co. with us. We still stand by that decision. The last five years have been filled with magnificent gestures. The constant question we ask each other is whether we have done enough. In short, we are intense people.
And what type of parent are you?
 More of an absent one than I would like, at the moment. Lucy and I have a six-month-old baby boy, Valentine. He is an unbelievably chilled and charming baby who takes after his mother. While my eldest, Freddy, six, is a wonderful showman and takes after me. Showing up is the most important thing you can do.
As a father, you imagine you'll be a demigod worshipped by all your children, generously doling out the entertaining anecdotes and pearls of wisdom. In reality, it's nothing like that. They're the talent, front and centre as they should be and you're the supporting cast, slightly out of focus on the edge of frame…
London Shell Co. The Grand Duchess, Sheldon Square, Paddington Central, London, W2 6PY