Amazon founder Jeff Bezos has donated US$100 million to chef José Andrés' World Central Kitchen, which provides food to those hit by natural disasters.
As reported by Wine Spectator, Bezos announced the donation this week after an 11-minute space flight aboard the Blue Origin New Shepard rocket.
His Courage and Civility Award recognises people who are working on solutions to tackle global issues. The money will help WCK expand its mission, from responding to disasters to tackling systemic hunger. Andrés wants to see food aid around the world double.
"I'm really grateful for this award, and the incredible support from Jeff and the entire Bezos family.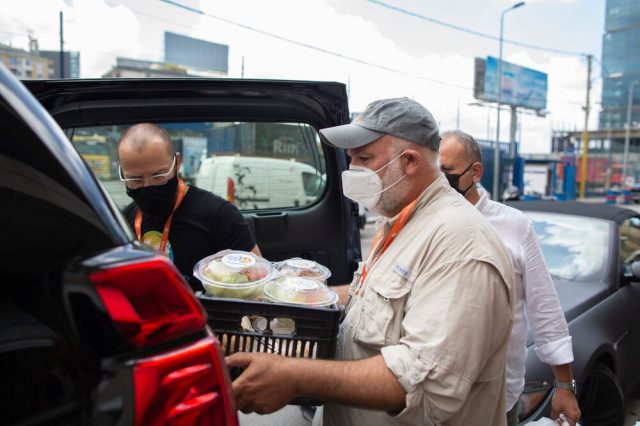 "World Central Kitchen was born from the simple idea that food has the power to create a better world. A plate of food is a plate of hope. It's the fastest way to rebuild lives and communities," Andrés said.
"We will be there with our boots on the ground when disaster strikes. But we will shoot for the stars, fighting hunger and the causes of hunger," he added.
For the last decade, Andrés has been a food first responder, helping to feed those blighted by natural disasters around the world through his World Central Kitchen initiative, which is currently helping those affected by the floods in Germany.
His response to the Covid-19 crisis was no different. Since the start of the pandemic, Andres has provided over 25 million fresh meals in over 400 cities across the US to communities in need of support, including elderly citizens shielding from the virus.
His #ChefsForAmerica food relief scheme gave back to the struggling on-trade by purchasing over 7 million meals from over 2,700 local restaurants in need of revenue during the crisis to feed those most in need.
db named Andrés our Hospitality Hero at our 2020 Drinks Business Awards for his efforts to fight hunger during the pandemic.
Andrés founded World Central Kitchen in 2010 in response to the Haiti earthquake. Based in the US, he also runs over 30 restaurants via his ThinkFoodGroup.