The actor, producer and DJ Idris Elba and David Farber are launching their first Porte Noire bar and shop in London next month.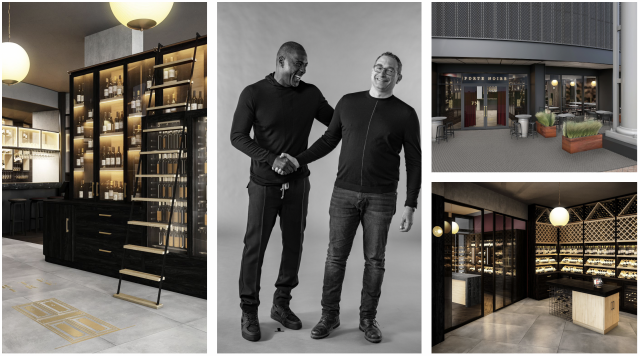 Elba, known for his roles in The Wire, Luther and Mandela: Long Walk to Freedom, entered the celebrity wine game last year when he partnered with two French estates on his own label Porte Noire. The wines, a Provence rosé and blanc de blancs Grand Cru Champagne, are produced by Chateau Sainte Marguerite and Champagne Sanger.
The new venue, also named Porte Noire and located at the foot of the Gasholders – opposite Regent's Canal Towpath at Coal Drops Yard in London's King's Cross, will feature an extensive selection of international wines, a selection of cocktails made solely with premium spirits and serve artisanal cheese and charcuterie alongside an earthy brasserie-style menu.
Porte Noire bar and shop, which has been designed by Kanvass, will include an outdoor space, a dining room and a bar which can seat up to 70 guests and will be home to around 800 wine bins, and one of the largest fine wine tasting rooms in London.
Curated by Connaught Wine Cellars founder David Farber, the wines will range from some of the best and rarest bottles to a more accessible selection of wines on tap to suit all tastes. Most bottles will be available to buy in the shop that sits by the entrance of the bar.
''David has been working in the wine space for a long time, I know he is going to take the Porte Noire name and create something special,'' said Elba.
Elba is no stranger to premium bar launches after opening a cocktail bar and live music venue, named The Parrot, inside the Waldorf Hilton hotel in London three years ago. However, Porte Noire intends to keep its primary focus on wine and uphold the brand name while doing so.
''We're really excited to be bringing a slice of continental hospitality to London this autumn. Since launching our brand Porte Noire we have seen some incredible reviews of the product and we're looking forward to creating a space to match," added Farber.
The Porte Noire Bar and Shop is set to open on Monday 18 October 2021.