It's no secret sparkling wines and Champagnes are a favourite for celebrations. Whether it's a Buck's Fizz with your Christmas Day breakfast, your chosen tipple to toast with at the dinner table, or the bottle you pop at midnight to ring in the New Year, there are a fair few sparkling peaks during the festive season.
But if your eyes were bigger than your belly and you couldn't finish off those last few bottles, it's safe to say that no one enjoys throwing away flat fizz after it's inevitably lost its bubbles. How might you prolong that festive fizz and allow the drinks to keep flowing? Here are four handy hacks to keep your drinks sparkling for longer.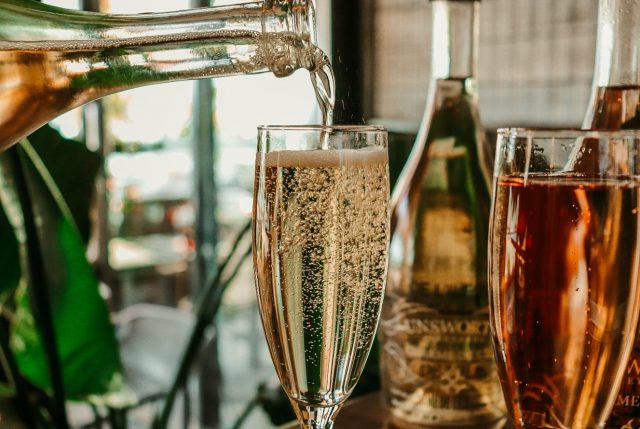 1, The teaspoon trick
We're starting off with a trick that has a little controversy around it. Despite the debate as to whether it's a tried and tested hack or a bit of a kitchen myth, it seems that placing a teaspoon (handle down) in the neck of the bottle before you put it in the fridge may just help to retain the bubbles in your favourite wine for a little longer.
Believers in this method claim that the cold metal of the spoon cools down the air around the neck of the bottle, making it denser. This denser air increases the pressure on the surface of the fizz and allows fewer bubbles of air to escape. The spoon technique is more of a short-term solution, though, so aim to finish the bottle off the very next day to really feel the benefit, and most importantly always keep it cold.
2, Reusing corks
A Champagne cork expands once you remove it, so you can't put it back in. However, as regular wine bottles have straight corks, they can be re-used in the wider necks of Champagne bottles to buy you a few extra days of fizz. Prosecco corks can be reused by inserting them at an angle, and slowly pushing them back down aided by wax paper (and some experience). If you're feeling handy — and very careful — corks can also be trimmed down with a knife to narrow them back down again ready to be reused.
3, Stoppers
If you'd rather opt for a more reliable, permanent method, try a wine stopper. Usually fitted with a rubber seal, they essentially act as replacement corks and are a very affordable solution. Decorative or personalised wine stoppers have become a popular gift, and some models also have a built-in spout that allows you to pour a glass or two without spoiling (or spilling) your sparkling wine.
While standard stoppers are the most common way of preserving fizz and do seal out the air, some oxidisation will still occur inside the bottle. For a more functional product than the decorative ones, try a vacuum stopper that removes the oxygen from your Champagne to make it last that bit longer.
Whichever variety you choose, it's worth buying a good quality model as some cheaper ones can have a poor seal, or even pop off the bottle unexpectedly.
4, Coravin
This one's for the Champagne connoisseurs out there. If you have an enviable wine cellar, like to try your hand at tastings, or fancy yourself as a future sommelier, then it could be worth investing in a high-end preservation system designed especially for sparkling wines. Although it was originally designed for still wines, there is now a Coravin Sparkling model that can preserve your fizz for up to four weeks.
With a stopper system charged by slim canisters of carbon dioxide, these are impressive, effective pieces of kit. However, this inevitably means they have a high price point and so would only be the kind of investment for those who regularly enjoy high-quality Champagnes.
Whichever method you go for, the key thing to remember is to keep your bottles cold from the get-go: cold liquids retain their dissolved gas far better than those that have warmed to room temperature. Add an extra touch of class to your dinner table and use an ice bucket or a decorative cooler sleeve to hold your fizz, as these very affordable pieces can make all the difference.
Steve King, managing director at Bottled & Boxed said it was important to remember that "there are plenty of ways you can keep the sparkle going for longer, ranging from home remedies or investing in more high-tech solutions. For instance, what you might not know is that although flutes and coupes are popular choices for serving Champagne, using standard wine glasses actually helps your fizz to taste better and last longer. Whichever method you choose, properly storing and preserving your sparkling wines is a key skill to master. Doing so means you can rest easy knowing that the drinks are taken care of and enjoy a stress-free Christmas dinner party with your loved ones".