The ribbon has been cut on a new bar dedicated to the ex-president, with presidential cocktails and memorabilia galore.
Called 45 Wine & Whiskey, after The Donald's place in the line-up of US presidents, the new bar pays homage to all things Trump.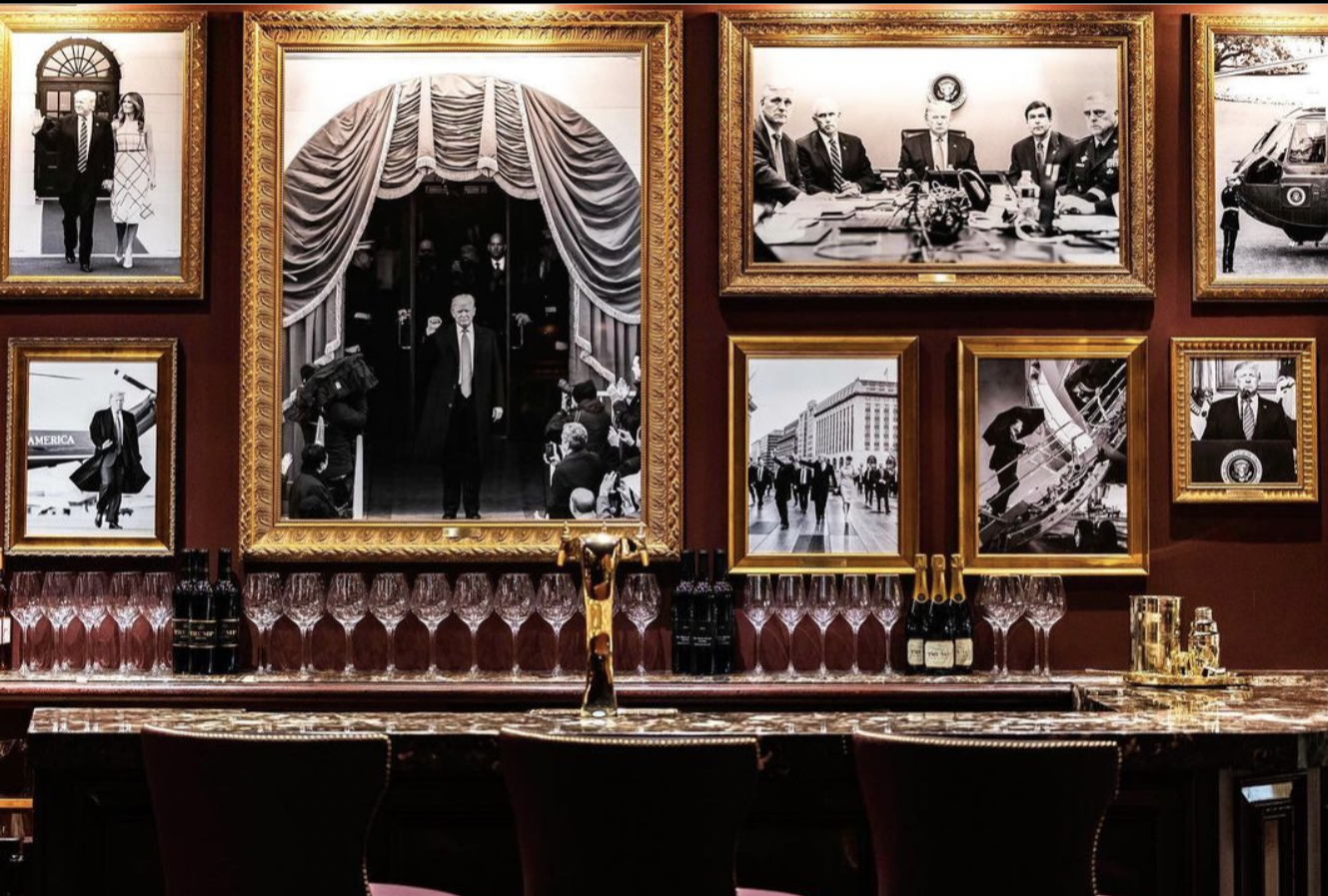 The bar walls are adorned with gold-gilt framed photographs of the one-time president, who held the reins from 2017 to 2021, including one image of Trump watching the US task force which killed ISIS leader Abu Bakr al-Baghdadi.
Burgundy velvet banquettes and marble-effect bar tables complete the plush surrounds, and cut-glass crystal Champagne coupes twinkle under spotlights.
While Trump claims to have never touched alcohol, the cocktails hark back to his presidential glory days with names like The Mar-A-Lago Spritzer, in reference to the 126-room mansion in Palm Beach, Florida, which Trump nicknamed his "Winter White House". Other cocktails include The West Wing and The FLOTUS (first lady of the United States) in a nod to Melania, Trump's wife of 16 years.
Drinks prices range from US$25-US$29. However, any customer who orders the Forty-Five (US$45), modelled on a classic Old Fashioned, and featuring Wyoming Whisky, will also get "two American Beef Sliders" and a Diet Coke, the soft drink that Trump allegedly had on demand at the White House at the push of a button.
The wine list features several offerings from the 99-hectare Trump Winery in Abelmarle County, Virginia, which produces some 36,000 cases of whites, reds and sparkling wine per year. The winery is owned by Donald's son Eric Trump and was formerly known as the Kluge Estate prior to the takeover in 2011.
According to the bar's Instagram page, its 45 Wall – "an inspiring display of patriotism" – features flags representing the United States and all six branches of the US military, "in celebration of our favourite president".
It's unknown whether Trump, who was the only US president to have been impeached twice, has visited the bar in person yet.