Moët Hennessy has unveiled a French cinema themed area in London department store Selfridges to promote pink Champagnes and rosés from its portfolio.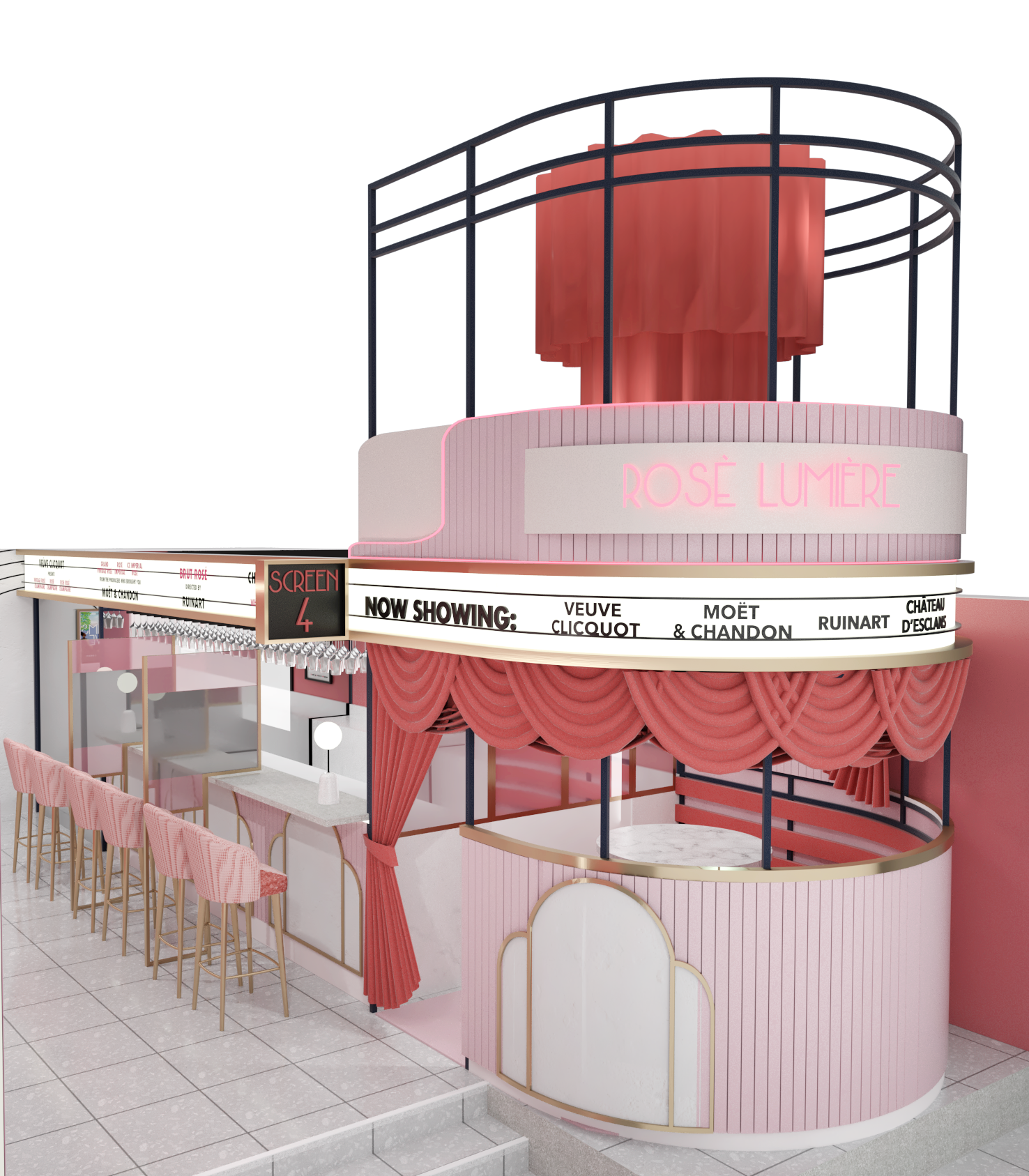 Called Rosé Lumière, the structure comprises a shop and bar that sells and serves pink drinks from Veuve Clicquot, Moët & Chandon, Ruinart and Château d'Esclans.
The area will also serve as a space for hosting "educational experiences" such as tasting flights and cocktail masterclasses with mixologists.
The design is art deco in style, with neon signs and classic cinema-style trailer hoardings "presenting the starring roles of each rosé wine as film titles", according to Moët Hennessy, who noted that the aim of the installation was to "to inspire and guide guests in their choices".
Rosé Lumière was officially unveiled on Monday this week and will run at Selfridges until June this year, with opening times from 10am to 9pm every day, except Sunday, when it's open from 11.30am to 6pm.
For more detail on the wines on offer see below.
Wine tasting flights:
Moët & Chandon Rosé Impérial, Veuve Clicquot Rosé, Ruinart Rosé at Rosé Lumière Bar, £40
Prestige Flight Moët & Chandon Grand Vintage Rosé 2013, Veuve Clicquot Vintage Rosé, Dom Perignon Rosé at Rosé Lumière Bar, £60
Château d'Esclans Flight Whispering Angel Rosé, Rock Angel Rosé and Garrus  at Rosé Lumière Bar, £35
Cocktails:
Moët & Chandon Rosé at Rosé Lumière Bar, £14
Whispering Angel Rosé at Rosé Lumière Bar, £14
Veuve Clicquot Rosé at Rosé Lumière Bar, £14
Wines/Champagnes by the glass:
Veuve Clicquot Rosé £21 Rich Rosé £24 and Vintage Rosé £27 at Rosé Lumière Bar,
Moët & Chandon Rosé £20, Ice Rosé £21 and Vintage Rosé £25 at Rosé Lumière Bar,
Ruinart Rosé £24, at Rosé Lumière Bar,
Château d'Esclans, Whispering Angel Rosé £12, Rock Angel Rosé £15 and Garrus Rosé £40 at Rosé Lumière Bar,
Personalised limited edition posters (see example below) are available with the purchase of:
Moët & Chandon Rosé, RRP: £59.99
Veuve Clicquot Rosé, RRP: £63.99
Ruinart Rosé, RRP: £74.99
Caves d'Esclans Whispering Angel 2020, RRP: £24:99
Personalised posters with bottles can also be ordered online at selfridges.com