The techno-loving head sommelier of Limewood talks to Douglas Blyde about his preference for white wines, especially when sourced from the Jura, pairing Lustau Moscatel with house favourite pudding, the tiramisu, and why time travel could help with the tasting of wines through the ages…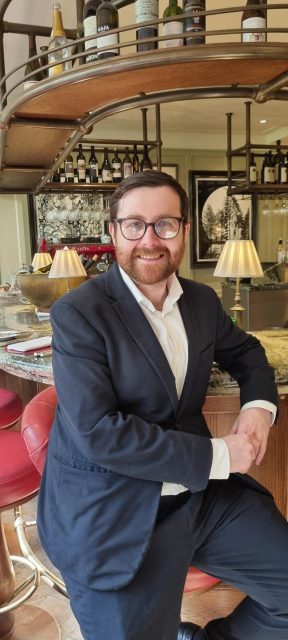 What is your vintage?
I was born in 1992 in Southport to a family of chefs. Unfortunately, 1992 doesn't give much in the way of grand vinous offerings, but I have been lucky to try some wonderful bottles, nonetheless, such as the bafflingly fresh Chardonnay from Hanzell Vineyards, a velvety Dominus, and an unexpectedly wonderful Guigal La Turque.
What is your motto?
Not a motto per se, but I heard Thomas Keller say in a TED Talk many years ago that one of his philosophies was to try and do just one thing better than you did it yesterday, even if that thing is as simple as tying your apron tighter. That sort of reflective, analytical approach to improvement has always stayed with me and is something I try to instil in my team.
Where did you work before?
At The Pig near Bath. I stumbled upon Robin Hutson and the Home Grown Hotels group back in 2016 when I was trying to become a sommelier and liked the sound of The Pig's approach. I was lucky enough to be hired with absolutely no experience, a lot of passion, and probably far too much lofty ambition – and I've stayed with the group ever since.
What bottle sparked your love of wine?
1986 Hermitage La Chapelle at Andrew Edmunds. Well, it didn't quite spark my love, but it did cement it. I studied the list for so long before finally committing to it. It was a wine so far above anything I had previously tasted in terms of complexity and expression (and price) and I felt in that moment that I would have to end up working in the wine world somehow…
Describe your list?
An eclectic mix of the world's wines, with a strong showing in Italy and North America. We've been diving deeper in to both iconic and under-the-radar wines from Italy recently, an area I'm very passionate about. If I must pick a favourite right now it would be Romano Dal Forno, which I am building a vertical collection of.
What is the Hartnett Holder & Co label?
This is our house wine produced with Tenuta Fertuna in Maremma. All the wines (including, unusually, the white) are made with Sangiovese by the expert team at Fertuna. These are delightful Tuscan wines which work wonders to support our food and represent the region's wine.
How do you decide what goes in the "seasonal sommelier selection"?
This is a small selection of top picks at a range of price levels which work for the season. The approach isn't too technical: I tend to think about the menu and what I might want to drink with some of those dishes, then write a list based on that. It's also an opportunity for us to foreground producers or regions which we are excited about at the moment, which might otherwise get lost in the main body of the list.
Is the Jura particularly dear to you?
I think my love for the Jura stems from the respect the region has for its white wines. I am one of those rare sommeliers who prefer white to red, and having fallen in love with Burgundian Chardonnay, I started to explore the grape elsewhere. In the Jura, I discovered these savoury, nutty, salty, mineral renditions which chimed exactly with what I love in white wines. I've been exploring the myriad of styles there ever since.
Do you foresee a time when, on account of English sparkling wine's quality, Champagne won't feature on a wine list?
I think it could happen now; we have a large enough diversity of price, style and regions to sustain a full British list (I'd have to include some wonderful Welsh wines too), but I think it would be a shame to do so. We should facilitate the opportunity for guests to compare and contrast between the two regions themselves. We should have confidence in our choices from both places, and match the wines to our guests like we do with any other recommendations.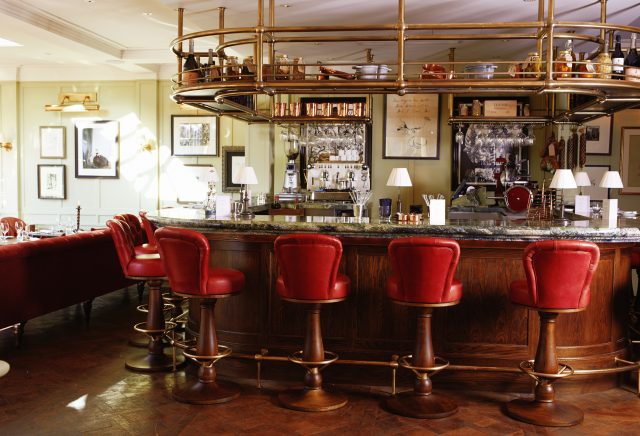 What is your most interesting pour via Coravin?
2011 Calvarino Soave Classico from Pieropan. I visited the estate a few years ago, and after being treated to a phenomenal 1994, hunted down some older stock so as to be able to show everyone what I had experienced in terms of the incredible aging potential of these wines.
What has been a standout wine and food match with Angela Hartnett's food?
One of our long-standing pairings has been Lustau Moscatel sherry with our tiramisu. We serve it tableside from a large dish, which just feels so wonderfully Italian. It's a pretty boozy and decadent imagining of the dish, and the dried fruit and sweetness of the Moscatel works so well to enhance the richness of the coffee.
Would you like Limewood to become a magnet for both civilian and trade wine lovers?
Certainly. I hope to curate a list which is enticing for everyone. One of my pet hates are lists which feature nothing but new releases. The list at Limewood will always represent a diverse range of mature wines which are drinking in their ideal window. I'm also keen for more people to bring corkage and contribute to Limewood's reputation as a wine-lovers destination.
Describe the playlist, and how does it compare to your keenness for techno?
It must be said that my personal taste in music – harder styles of techno – doesn't feature too heavily in our playlist, as you might imagine! The restaurant has a fairly relaxed feeling, and the playlist supports this perfectly.
What grape don't you get along with?
I would have to say Sauvignon Blanc is the most difficult for me. Oaked or skin contact examples go a long way to address the issues I have, but I can't see too many bottles making their way in to my personal wine racks anytime soon.
Which is the best table in the dining room in your opinion?
Table seven, being the end table on a long sofa where you look out towards the gardens. The sofa is dangerously comfy and the perfect place to relax after a spot of (over)indulgence.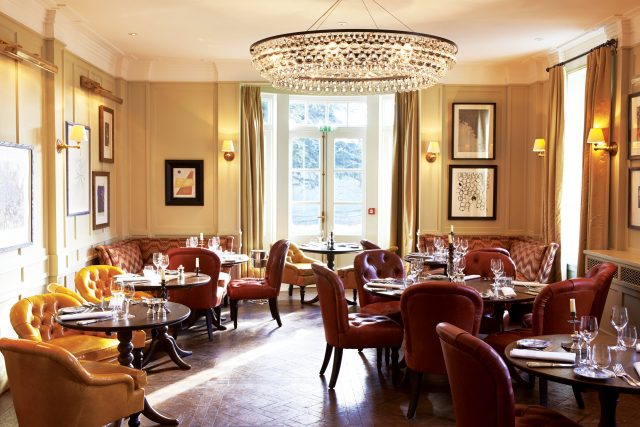 What is your favourite film?
"The Seventh Continent" by Michael Haneke. Not one I would widely recommend as it's a purposefully very boring, very bleak exploration of dissatisfaction in the lives of a middle-class family. I'm not sure anyone I've ever shown it to has liked it in all honesty, but it remains the film which left the strongest imprint on me after viewing.
Tell us something surprising about yourself?
A few years ago I fell in love with making candles from left-over wine bottles. I felt it such a shame that these relics of great times were being unceremoniously sent to the bin, and so I began learning how to cut, sand and make candles from them. I find the whole process rather meditative, and the results are lovely physical reminders of great times those wines were a part of.
Where do you dine on your days off?
I find myself in London a lot for work and will usually make time in my day to call in to La Compagnie des Vins Surnatural. The list is full of gems, and the saucisson is unbeatable, and it's become a favourite spot of mine.
If you could have a superpower, what would it be?
Time-travel. To see the world as it has been over the history of its existence would be fascinating. Not to mention the chance to taste thousands of vintages of wine, of course.
Who is the most famous person you've looked after?
I was lucky to work near Glastonbury for a number of years and so saw a few famous faces pass through our doors on their way to the festival. I won't reveal any names, but was privileged to take care of some of the UK's most important musicians during those times.
Still or sparkling water?
I've gone through a bit of a transformation on this point. I used to be exclusively still but have recently found myself craving sparkling when I'm out for dinner. I'm sure it's just one of the many cycles our palates go through, but almost caught be by surprise when I found myself asking for it.
Walk, run, ride an e-scooter, cycle, take the bus, train, or drive?
I prefer to walk. I live about 20 minutes from the hotel and so can amble through the forest in the morning on my way in. That being said, nothing for me beats a great train ride with good company.
And finally, what do you look for when hiring people?
Passion for both wine and for learning about it. Many people have the former, but when I meet someone who has already a love for learning as well, I know they will fit right in with our team.
Limewood – Beaulieu Rd, Lyndhurst, SO43 7FZ; 023 8028 7177; reservations@limewoodhotel.co.uk; limewoodhotel.co.uk