A youthful 72-year-old who regularly cycles 40 miles in a morning, Mark Watson is the co-owner with wife, Lorraine, of Penmaenuchaf Hall, Gwynedd. He talks to Douglas Blyde about looking after regular guest, Hugh Johnson, a dislike of "unexciting" Muscadet, and why wine producers should think twice before changing supplier…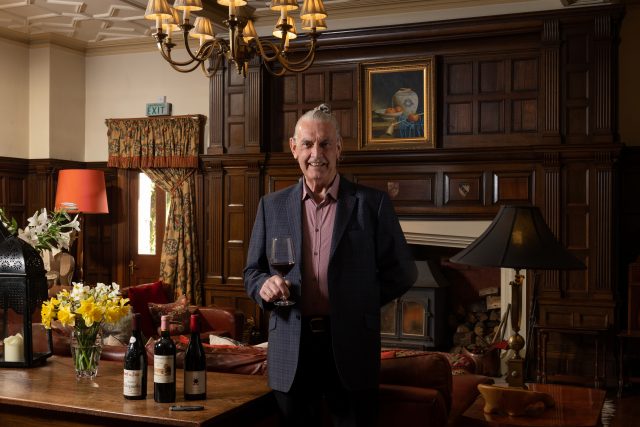 What is your vintage?
I was born in 1950 and did not become interested in wine until I opened my first venture The Harrow Inn, Kent when I was 33. I knew very little about wine apart from drinking the odd bottle of Black Tower (it makes me cringe now to think about that). By the time I became professionally interested in wine and spirits there was not much left on the market from 1950. After some research, I notice there are still some Ports around and some St. Emilions; perhaps I should invest in one of the Ports? As they are less expensive, the disappointment would be slightly less should they be unfortunately corked.
What bottle sparked your love of wine?
When I was in my twenties my parents and friends used to visit an Italian restaurant in Charing Kent on the top of the North Downs. The proprietor, Luigi Secatori always stocked Spanna from Antonio Vallana and we always used to order this of which he would always say he had some of the best years not on the list, which he would duly and proudly bring to the table. I have had the Gattinara on my list in the past, but the Vallana Estate was apparently rented and the owners have now taken it back under their own auspice. The Gattinara wines are made of Nebbiolo and are excellent value being in Piedmont and so like Barolo.
What advice did former owners, Rite and Gavin Miller give you when you and your wife, Rite took over Penmaenuchaf Hall in 1989?
When Lorraine and I purchased Penmaenuchaf Hall in August 1989 it was a family home. Gavin, who became a good friend, was an accountant and his wife, Rite looked after the gardens and had some goats. A little bit hippy, I think. They also rented out parts of the hall to tenants. We were about to launch a major refurbishing of the hall to convert it to a fourteen-bedroom hotel which worried them to see once we started to virtually rip the house apart. Every door had to be changed to fire-resisting doors, the floors had to be taken up to install fire-resistant materials, plus a new hot water system, heating system, telephone cables, fire alarm cables. Fourteen bathrooms were installed, as well as the restaurant, bar, and lounges. Rite and Gavin would regularly visit to see the progress, much to their horror at the early stages as everything seemed to look like a bomb site. The work was eventually completed, and we opened in December 1991. Gavin became our accountant and gave us plenty of financial advice we helped a great deal in the early years.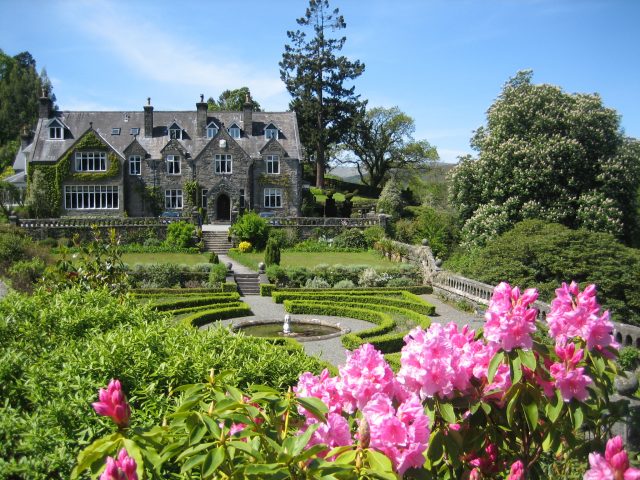 Were you working in hospitality prior to this?
Before purchasing Penmaenuchaf Hall I owned The Harrow Inn near Lenham in Kent. I purchased this very sad, closed down pub formerly owned by Whitbread at auction for £22,000 in 1972 with the intention of converting it into a residence. After a few years of working on it evenings and weekends I had the notion of turning it back into a hostelry. I had not touched the bar area during the conversions so was able to avoid having to apply for planning permission as it was considered I had not changed the use of the building. Plans were drawn up, finance arranged, and I commenced the construction work which included a large extension with a new cellar, seven letting rooms and private accommodation. Knowing nothing about wine at that time, I turned to Tanners as I had met one of their directors when holding the fort for a few weeks at the West Arms, Llanarmon Dyffryn Ceiriog whilst the owners were on holiday.
I thought it would be unique to purchase my wine from them as no one else in Kent did as far as I was aware, and they had a pretty good name. We put a list together of about thirty-five wines, which I thought was adequate for a pub with restaurant and rooms.  The Inn opened in 1982 and went pretty well. I was awarded South East Inn of the Year in 1985 from the AA. Things on the residential side went very well and I tried to add more bedrooms but was refused planning permission on several occasions so I decided to sell up in 1988. Ironically, the next owners obtained planning permission, built the extension and then sadly went belly up.
Who has been your professional mentor?
When it came to the list at Penmaenuchaf Hall, at the outset, I once again turned to Tanners. I was now in their hunting ground. The same director helped me set up a new wine list with about 75 wines on it. Early on in our years at the Hall we visited a local restaurant, and we became good friends with the Chef Patron, Dylan. He had been interested in wine with a small but well-chosen and very reasonably priced list. At some stage he asked me if I was interested in starting on a WSET course to which I agreed as it was becoming a bit embarrassing at times when some of our guests had more knowledge of wine than I did. We attended the intermediate course once a week travelling 40 miles each way, took the first test and both passed. After this, we attended the advanced course having to travel about 50 miles each way once a week. Once again, we both passed. I was feeling much more confident with our guests now and started adding wines to the Penmaenuchaf Hall list from different suppliers. Dylan then asked if I was up to commencing the Diploma. A big step up, and a lot of work involving travelling to London for the lectures over two years. Dylan and his wife, Llinos, and Lorraine and I used to meet up every Sunday. Lorraine would choose three wines and Llinos would choose three wines to taste so none of us knew all of the wines which were chosen from the relevant parts of the world we were studying for. They were obviously thoroughly wrapped in disguising foil. After the tasting and discussion, we would drink some more wine with a meal. Dylan and I both passed the Diploma which was damned hard work but thoroughly enjoyable and it has proved an invaluable grounding for my exploration into the world of wine. Lorraine has now attained the WSET Advanced which Llinos is currently studying for.
Describe your list?
Firstly, I have tried to make it approachable. I include a wide range of countries which I can confidently sell to our guests. I refuse to sell mediocre wines just for the sake of being a bit quirky. I like to describe the wines so that everyone gets the gist of their nose and taste and if they will enhance the flavour of their meal. I like to try new additions as the "Wines of the Month". I buy a case and see how it sells and note the reactions we receive, which I may then move onto the main list. The "Collector's Choice" are wines I have purchased and matured, which sell quickly. One of the nightmares of any list is when the producer decides to risk everything and change suppliers. A dodgy thing for them to do going from a steady trade to a dead start and leaving their retailers, restaurateurs and hoteliers wondering where they have gone and the likes of me having to decide whether to search for them and to open yet another account or replace them with something else. Particularly difficult when you think the wine really fits well into the list. I wonder at times how successful these producers are with their gamble of the grass being greener? One of the main characteristics of my list is that prices are very reasonable. I cannot believe how much some restaurants and hotels are selling the exact same wines for, or if in fact, they can sell them at that price? My policy is to sell wines at a reasonable price so the average person can have a good bottle with their meal without breaking the bank – and I can make keep the cellar moving.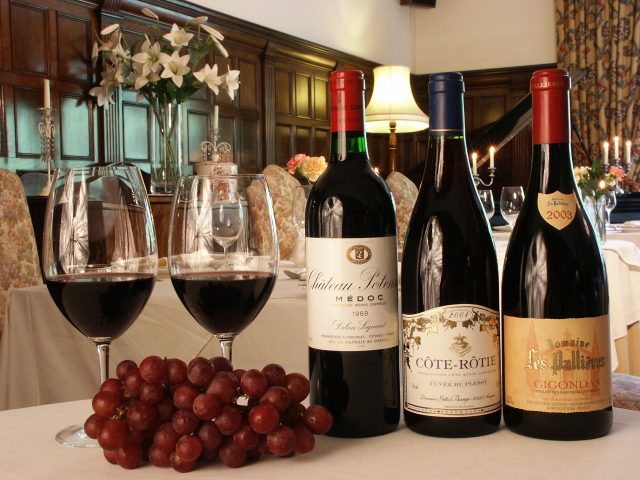 How many wine references do you have in total?
172 including Port and sherry. We transformed a dark dank damp basement into offices, our water tank and pumping room and the wine cellar. It is a suitable temperature but is a little small so we do not invite guests to see it.
What has been a standout wine pairing with a dish realised by head chef, Owen Vaughan?
Roasted loin of Coed y Brenin venison with smoked pancetta, crispy potato, beetroot, red cabbage, and venison jus paired with Montes Alpha Pinot Noir. Bin number 122a. The Pinot Noir does not overpower the dish and all the constituents of the dish meld well with the wine.
What music is played at the Garden Room restaurant?
An eclectic mix of light jazz, easy listening and lounge.
Which is the best table in the house?
Table four which offers a good view of the restaurant and a pleasant outlook over the garden. A useful table for one wishing to be anonymous and facing their partner who can survey the dining room.
Who is the most famous person you've ever looked after during your career?
As far as wine is concerned, one of our most regular and long-standing guests is Hugh Johnson.
Probably one of the most knowledgeable wine writers in the world. In his "Hugh Johnson's Pocket Wine Book" it says he is the most popular wine writer. He thinks our list is wonderful! His visits to us are concerned with his other love of trees to visit his own forest a few miles away and within sight of the hotel. One of our other guests is a former UK Prime Minister who visits for walks, relaxation and food and drink. It was my pleasure to be invited to host a tasting for them to choose wines in preparation for a big birthday celebration event we held for them.
Where do you dine on your days off?
Sticky Walnut in Chester which chef-owner, Gary Usher, opened on a budget which. Famously, this meant he had to choose between a combi-oven or new tables and chairs. Their website describes the restaurant as: "intimate, innovative Modern European with rustic exposed bricks and wooden furniture." We also enjoy Piccolino, Chester, which is part of the Individual Restaurant Group, an "upscale chain restaurant with a contemporary interior and menu of classic Italian specialities." With this, I heartily agree, and would add that there is always a good atmosphere and reasonable list.
What is your motto?
"Work conquers all."
What style of wine don't you get along with?
The only wine I would never choose if eating in a restaurant would be Muscadet Sèvre et Maine Sur Lie – the dry white produced from Melon de Bourgogne grape, sometimes mistakenly referred to as the Muscadet grape. For me, its acidity usually overpowers the fruit. And I just do not find it very exciting.
If not a hotelier, what would you likely be doing?
I would still be in the building trade which is what I spent five years studying at college and then working at in the family building business, all of which helped greatly when I came to manage the construction work at The Harrow Inn and at Penmaenuchaf Hall.
Tell us something surprising about yourself?
Since lockdown started I have not had a haircut and am now sporting a Gareth Bale style top knot! Also, I routinely cycle around forty miles on my road bike each Sunday and try to better my speeds and overall time. A difficult task with the wind and my age seemingly always against me.
And finally, what do you look for in potential hires?
Enthusiasm, a good sense of humour, a willingness to learn and to go that little bit extra, and a good knowledge of their work.
Penmaenuchaf Hall Hotel – Penmaenpool, Dolgellau, Gwynedd, North Wales, LL40 1YB 01341 422129; relax@penhall.co.uk; penhall.co.uk