The head sommelier of Ynyshir Restaurant and Rooms on the importance of listing sustainably produced wines which appeal to a younger drinker, a love for tacos at any time, and a shared fondness for Riesling.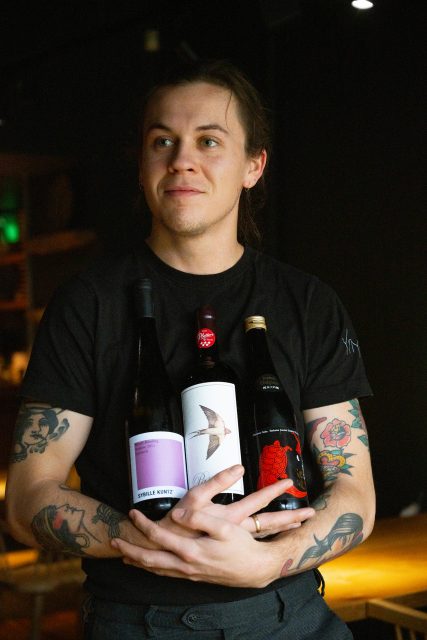 What is your vintage?
Now I know this isn't your everyday wine, however I was recently fortunate enough to drink a '94 Sassicaia. I was blown away. Everything was in perfection.
What is the story behind the restaurant's? name?
I won't lie and tell you that my Welsh is up-to-scratch. However, I do believe it means Long Island. Not to be confused with the village of the same name in the Rhondda Valley some 60 miles away.
Where else have you worked?
As a wine consultant to Best of Hungary, a fine wine and food importer, providing insight into portfolio creation, working on what venues would best suit our products and even hosting a few online tastings over lockdown. But my adventure into wine began at Cheval Blanc, a small wine bar nestled in the bustling village of Moseley, Birmingham. I learnt a great deal working alongside great friend of mine and certified Sommelier, Abi Connolly. We had a varied and interesting selection accompanied by great small plates It since became a French bistro.
What was the first wine to move you?
Nothing to Declare by maverick winemaker, Pieter Walser of BLANKBottle whose approach to sustainability was something that resonated with me. Someone, I thought, who was modernising and making wine which spoke to a younger audience.
Why is your Instagram strapline, "Champagne, Lambic & Tacos"?
Anyone who knows me knows how much I love Champagne. The sour beer hailing from Belgium is another love of mine and something I have started collecting over the past few years. Funnily enough, many come in Champagne bottle formats. If I could eat anything at anytime it would be a taco.
Describe your list?
It is a reflection of personal interests and coherence to the food served. Sustainability sits at its heart and we select products created by likeminded individuals. I believe we must all think towards our future if we are to be able to enjoy wines for years to come. We do allow space for vinified classics because I believe it is important to appreciate history and tradition.
What is your most treasured wine?
When I was 18, I worked the vendange at Château Lascombes. For my 25th birthday my parents bought me a case of the vintage I worked.
Do you provide a stock of drinks in the guest rooms at Ynyshir?
Actually, we have a vending machine near our main hallway stocked with late night snacks and a wide selection of wines, spirits, beers and cider, and – coming soon – pre-batched cocktails.
What grape, region or style do you find it hard to get along with?
I'm yet to be moved by Malbec, unspecific to style, producer or region.
And which is your favourite?
Grosses Gewächs Riesling.
What is it like working with chef-owner Gareth Ward?
I have a lot of autonomy in my role and he trusts me to do what is best. For that I offer a lot of respect, as this has allowed me to progress in myself greatly and strive to push the boundaries of what fine dining can be.
What has been a standout food and wine match?
Encompassing a wide range of techniques from foraging to dry ageing our aged duck liver course which has elements of apple, spelt and smoked eel, paired with a very unique Junmai Daiginjo sake called Lei by Katsuyama. Originally composed to pair with French cuisine, its rich, sweet palate works perfectly alongside.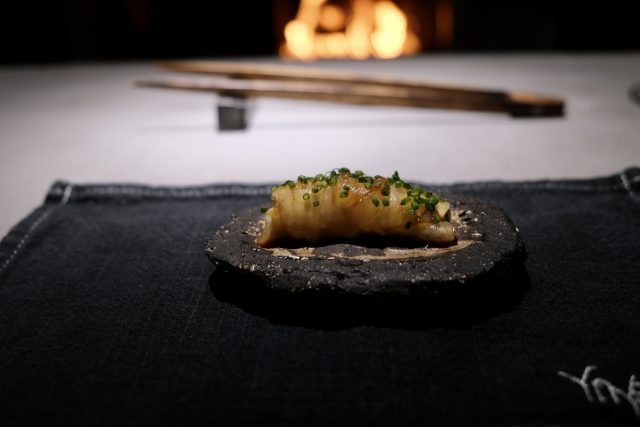 What does Gareth like to drink?
Off-dry Riesling or a gin and tonic made with the brilliant Dyfi Original from our local distillery.
Are you also excited by spirits?
My original background was working with spirits and cocktails which are a big part of the drinks offering at Ynyshir. I take a particular fondness towards whisky and agave.
What have critics said of the restaurant?
I think the resounding write up is that Ynyshir is a food lovers destination. We are known to go against the grain and our relaxed style and good time mentality always gets mentioned.
How do you relax?
I have a passion for music which is where I find escapism. Aside from that I love to cook, often with ingredients foraged in my local area. Though honestly, sat on the sofa with my girlfriend Abbie, watching a great film.
What has been the most rewarding service experience at Ynyshir?
When Danny Rampling DJ'd one of our industry nights.
Who should prospective team members contact if they want to join your team?
We post via social media platforms when jobs become available and look for dedicated individuals, who strive to be the best of the best. A strong work ethic and an ability to do all of this whilst providing a relaxed and fun experience is essential.
Ynyshir Restaurant and Rooms – Eglwysfach, Machynlleth, SY20 8TA; 01654 781209; info@ynyshir.co.uk; ynyshir.co.uk