London may not be "the city that never sleeps", but it has no shortage of clubs, pubs and bars open late at night and early in the morning to provide refuge to the most enthusiastic imbibers.
From greasy spoons serving towers of pints to chic cocktail bars, these are eight places to visit when you're in a spot and everything else is shut.
View this post on Instagram
Perhaps London's best known late night restaurant/bar also has one its best views. From Thursday to Sunday it's open until 5.30am, giving you just a glimpse of morning breaking. The all day menu includes the dish after which the restaurant is named. Classic cocktails with a twist such as the Duck & Stormy and Pecan Old Fashioned also feature. And, for those who are braving it early rather than late (though beyond a certain point there is no difference), there's the Breakfast Fizz, complete with an aromatically appropriate citrus and burnt toast infusion.
Casinos are reliably open at all hours, and this Mayfair institution will leave you feeling lucky. Even after the restaurant closes at 2am, you can still be on a roll at the roulette wheel. It's probably for the best that May Day is close to pay day, but please drink/gamble responsibly.
With locations in Chelsea, Aldgate, Bloomsbury and Islington, VQ (the initials for "Vingt-Quatre", a reference to the opening hours) is spoiling us for choice. The menu provides comforting classics from burgers to pasta should keep hunger at bay while the selection of drinks will keep you merry before, during or after a big night out.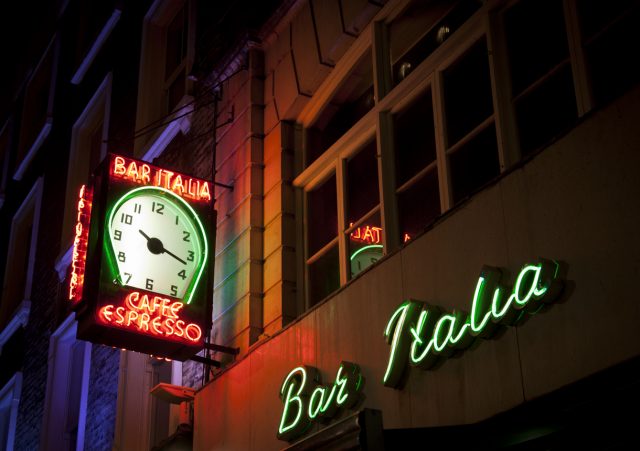 Though this Soho stalwart closes up at 3am, the distinctive neon lights are back on again at 7am. Classics endure for a reason, and Bar Italia is difficult to beat in terms of sublime simplicity. For late night revellers across the West End, that luminous clock brings hope of a digestivo (or an aperitivo, if you're just getting started) and a pastry. 
As name pairings go, "Fox" and "Anchor" is perhaps odder than "Duck" and "Waffle", but it's been around for quite a bit longer. Opening at 7am in the week (and a slightly more leisurely 8.30am on the weekends) so that you can enjoy the bustle of Smithfield Market before having your pint, this historic boozer offers breakfast to go with your beer. The British do cooked breakfasts and pubs like no other.
For a slightly more energetic spot than previous entries on this list, this Shoreditch club is an arts venue and creative centre in East London. By day it looks like a disused railway viaduct, because that's exactly what it is, but by night it is transformed into a culture haven with drinks to boot.
View this post on Instagram
Open since 1965 and a favourite haunt of Paul McCartney and Stevie Wonder, it's also the site where a young guitarist first performed under the name of "Jimi Hendrix". Though this hideaway in the heart of Mayfair honours the past, it does not live in it. Cosy booths and snug tables provide spots to enjoy whisky (as the name suggests), or all manner of drinks from their timeless bar, all while dancing the night away. 
View this post on Instagram
Though you might go to this Great British caff near Liverpool Street, open 24 hours a day, for a sausage sandwich or Welsh rarebit, you'll stay for a drink. The Polo Party Pail holds eight pints and means that you'll never be short of something to wash your all day breakfast down with. Lovely jubbly.