UK cinema chain Everyman Cinemas is set to premiere Served, the British drinks brand co-owned by singer Ellie Goulding, as its first hard seltzer.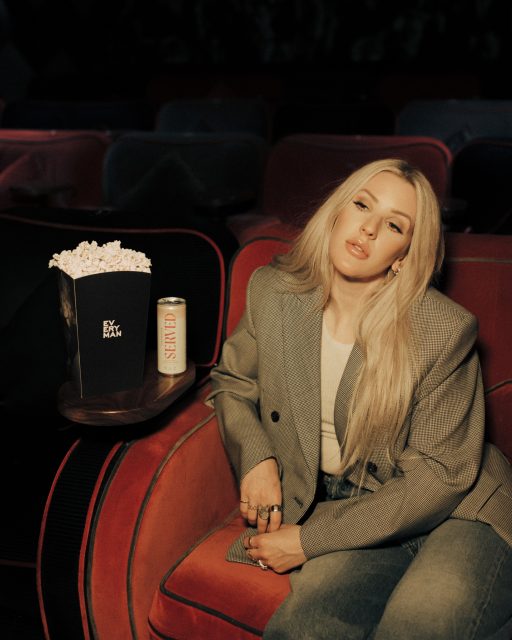 With 37 venues in total, situated mainly in and around London, Everyman is distinguished from other picture house chains by its commodious seating and luxurious food and drink offerings. From Monday 16 May the red carpet will be rolled out as the seltzer with a celebrity pedigree joins the list.
The company's head of food & beverages Rich Linford celebrated finding the "right brand partner".
"We love the fact that Served is produced ethically in the UK with all-natural ingredients," he said.
Goulding, who was born in Herefordshire, acquired a significant stake in the Herefordshire-based brand last year. The beverage is produced by infusing sparkling spring water with wonky fruit that would otherwise go to waste. ServedPure spirit, made in France from four-times distilled beet in France, is then added to bring the ABV to 4%. The flavours currently available are lime (using unwanted produce from Brazil) and raspberry (using wonky fruit from Scotland).
Dean Ginsberg, Served's co-founder, noted the low-calorie count (57 calories in 250ml), citing a 2018 figure from market research group Mintel that found that 78% of 18–35-year-olds [are] now conscious of the calories they consume with alcohol.
Ginsberg also pointed out the growing number of consumers prioritising sustainability in their choices when mentioning how Served's use of surplus and wonky fruit reduces "food waste and impact on the environment."
Reflecting on the deal, Goulding said that "as a premium British hard seltzer brand, we are delighted to be working with Everyman, who are known and respected for their quality offering."
Celebrity-backed hard seltzer could become the new celebrity-backed tequila, with even the likes of Gordon Ramsay getting involved.
Hard seltzer itself is becoming an increasingly popular drinks category across the world, particularly among younger people, who tend to opt for less traditional drinks than the older generation.