American tourists visiting the popular Greek island destination Mykonos were reportedly left aghast when their meal of "two crab legs and a couple of Mojitos" set them back nearly €600.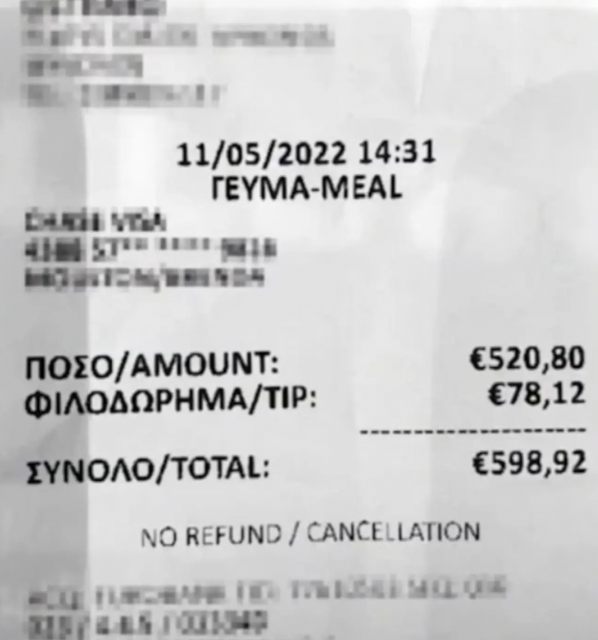 According to reports, mother and daughter Brenda and Keila Moulton were visiting the island's Platys Gialos beach for a day of sun and relaxation, but were left stressed and reeling after receiving an eye-watering bill when their light meal and two drinks set them back €598.92.
They said they were invited to sit on the restaurant's sunbeds by a worker, and though they initially declined, he was apparently persistent.
Brenda said that the waiter told them, "Sit here, have a drink and you will have these sunbeds at your disposal for free. It is noon, there is no problem."
She continued:
"We were constantly asked if we wanted to order something to eat. Keila and I were not hungry, but we decided to try something from the list, hoping that they would leave us alone."
When the pair received the bill and saw it was close to €600, Brenda assumed there must have been a mistake.
"At first it was not detailed, because the paper did not show exactly what we had ordered. The guy asked me to pay almost €600 and I told him he could not, some mistake would be made."
According to Brenda, the restaurant threatened to phone the police when they argued the point.
The mother said that they felt threatened and subsequently paid the hefty cheque, but has since informed police of the incident and instructed a lawyer.
The restaurant in question, DK Oyster, commented:
"The customer was charged this price because the royal crab legs are not a priced item and the costing is done according to their purchase invoice."
They insisted that "absolutely no violations had taken place".