Inception Group's 'Mr Foggs' portfolio continues to expand with the latest launch of Mayfair establishment Mr Fogg's Apothecary; a den of inequity, stocked with wall-to-wall potions.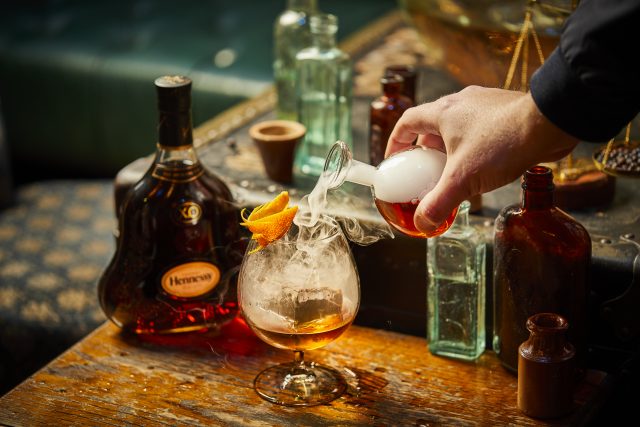 Mr Foggs, the group of London bars dedicated to author Jules Verne's fictional character, Phileas Fogg, has opened an eighth establishment in the capital, directly opposite Claridge's hotel.
The quirky new Mayfair venue, named Mr Fogg's Apothecary, joins sister branches in Fitzrovia, Covent Garden, Liverpool Street and elsewhere in Mayfair. It differs from the others in that it showcases the vast array of potions and elixirs that its namesake collected during his famous 80 day voyage around the world, many of which make it into the cocktails featured on the menu.
All manner of plants, powders, saps and "anti-venoms" are included as drinks ingredients, with vintage-style weighing scales on hand for mixologists to measure them out.
Guests will sip concoctions that claim to cure Lethargy, Melancholy, Indigestion and Dehydration, including a 'Salve to Soothe' cocktail, made with Volcán de Mi Tierra Añejo Cristalino Tequila, Ardbeg 10yr Scotch whisky, Hendrick's absinthe, Galliano L'Autentico herbal liqueur, chilli-infused agave syrup and dandelion & burdock bitters.
Also on the list is a citrusy 'Tixylix'; a gin cocktail with a twist, crafted using sage-infused Bombay Sapphire, fennel liqueur, fresh lemon juice and cough-syrup bursting bubbles.
A grand staircase and sweeping bar lead to a drawing room decked out with grandfather clocks, armchairs and sofas, and with walls adorned with portraits of scientists, botanists and pharmacists. A separate Elixir Room, which houses no less than 24 Hennessy cabinets, offers the opportunity for regulars to stash their own bottle inside, with unique keys gifted to lucky imbibers. This space is also available for private hire.
Eagle-eyed drinkers will also be able to spot apothecary cabinets throughout the bar, collected from Phileas' travels.
Open until midnight Tuesday to Saturday, it promises to charm with its "restorative remedies".