A pill that claims to help drinkers "wake up feeling their best" by accelerating the breaking down alcohol in the gut is now available to buy in the UK. Here's everything you need to know.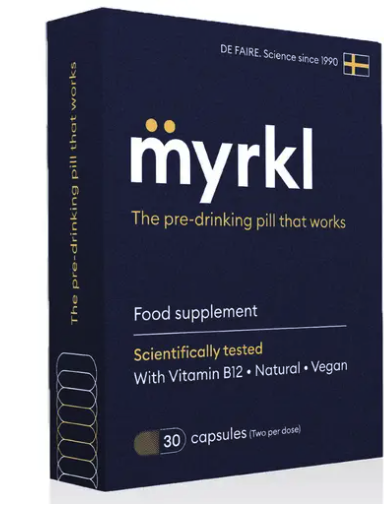 We've all woken up the morning after a slightly bigger night of drinking than anticipated wishing, in between mouthfuls of Berocca, that we'd had a little more restraint.
Well, a "ground-breaking" new pill has been brought to the UK market which, its manufacturers claim, will leave drinkers "feeling their best" after a night on the tiles.
Myrkl's makers say it works by accelerating the process of alcohol being broken down in the gut before it reaches the liver. Manufacturers recommend that drinkers take two pills at least an hour before they hit the booze for the pills to work at their best.
Research undertaken in conjunction with Swedish pharmaceutical firm De Faire Medical and the Pfützner Science and Health Institute found that taking the pills contributed to a reduction of alcohol concentration in the bloodstream of half after 30 minutes, and 70% after one hour.
However, drinkers should still exercise their usual caution when consuming alcohol, as Mrykl is not intended to combat the effects of excessive alcohol consumption.
"MYRKL helps breaking down alcohol fast before it reaches the liver, it is not suited and aimed to alleviate the impact of excess alcohol consumption." Its website states.
"MYRKL must never be an excuse to drink more alcohol and you should always limit your alcohol consumption within the government guidelines."
The pill comes in a back of 30, priced at £30.
Its developers claim that Myrkl is the "first product in history to break down alcohol effectively". It has been in development for more than 30 years, having been invented in 1990 by scientist Johan de Faire.
"Marking the first time in history that a consumer product is demonstrated to effectively and rapidly break down alcohol, we are very excited to be launching this ground-breaking product in the UK and in most European markets", said Håkan Magnusson, chief executive officer at Myrkl.
"Moderate social drinking is a huge part of British culture, with the majority of British people heading out each week to enjoy a few drinks together.