"A fish swims into a bar" is a setup which could end in any number of punchlines, but a new project from Carlsberg Sweden might well turn the joke into a reality.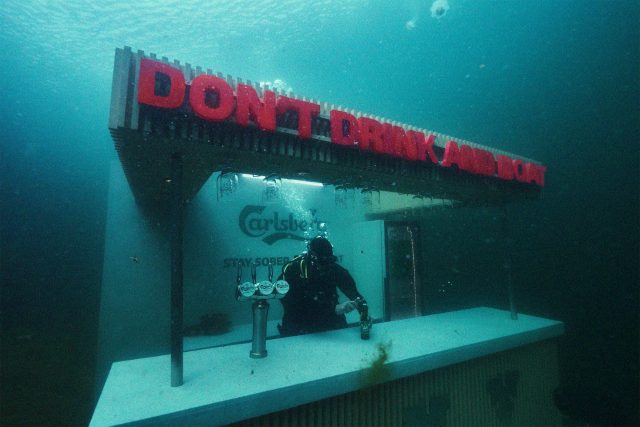 The offshore bar, sunk off the town of Smögen on Sweden's west coast, is complete with a counter, bar stools, neon signs, beer coolers and taps.
For those wondering how a pint can be poured underwater without it instantly dissipating into the Skagerrak strait – the taps are just for show, and the beer is served in bottles kept in the fridge instead.
Tourists willing to don their scuba gear will be able to plunge down four metres and experience it for themselves in the week, as well as Smögen's other land-based attractions, including its seafood restaurants and fish auction.
But while the sub-aquatic watering hole may seem like a bit of a holiday novelty, there is a potentially life-saving message behind the campaign. The Swedish Transport Agency states that in more than half of the cases boating fatalities the victim has alcohol in their blood, according to data from 2011-2020.
Henric Byström, communications manager at Carlsberg Sweden, said: "As a leading brewery and distributor of alcoholic beverages, we have a responsibility for how our beverages are consumed. Our ambition with the underwater bar is that it will be an important reminder to abstain from alcohol at sea, and instead choose an alcohol-free alternative".
Carlsberg has also recently made waves by trialling new fibre bottles in an effort to become more sustainable.