Italy's famous Amalfi lemons are on the decline, which could impact the country's Limoncello business.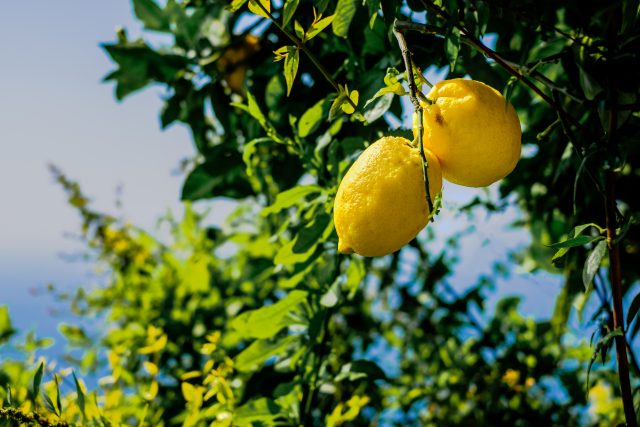 The plump sunshine-yellow lemons have become an instantly recognisable symbol of Italy's Amalfi Coast, and the fruit is hankered after by many chefs and food lovers around the world. Not to mention used to make the country's favourite liqueur, Limoncello
However, Amalfi's lemon terraces have "decreased from 72 hectares to 48 hectares since 1954", says Giorgia De Pasquale of Roma Tre University.
This is partly due to climate change as more intense rainfall is causing lemon terraces to collapse. It's also due to a younger generation not wishing to enter the lemon farming industry thanks to incredibly low returns on investment. Wild fires and creeping urbanisation also have a role to play in eating up the land on which the lemons grow.
The Sfusato (Amalfi) lemon is grown in the area that stretches along the Tyrrhenian Sea between Naples and the Gulf of Salerno. Known for their impressive size, a single lemon can weigh up to 3kg.
According to a CNN report, De Pasquale is currently lobbying to achieve "Globally Important Agricultural Heritage System" status for Amalfi's lemon groves in order to mitigate the damage and safeguard the fruit from dying out.
As farmers become increasingly squeezed financially, some are swapping rain-resistant limestone for cheaper materials like cement to separate their lemon groves, which (unlike limestone) prevents drainage and causes landslides.
One organisation attempting to bring tourist euros to the struggling industry is the newly formed Lemon Tours, designed to increase awareness of the Amalfi lemon.
The tours introduce visitors to all aspects of the production process, from growing the lemons to using them in final products such as Limoncello and lemon jam. Guided walks through the lemon groves and the viewing of centuries-old tools, equipment and documents related to lemon farming are all part of the experience, which costs from €25 per person.
This article was originally published by the drinks business and has been shared with permission.