An electric decanter which claims to "make your wine taste better in minutes" is splitting wine fans down the middle. Can fast-tracking your wine's aeration ever be a good idea? WLC investgates.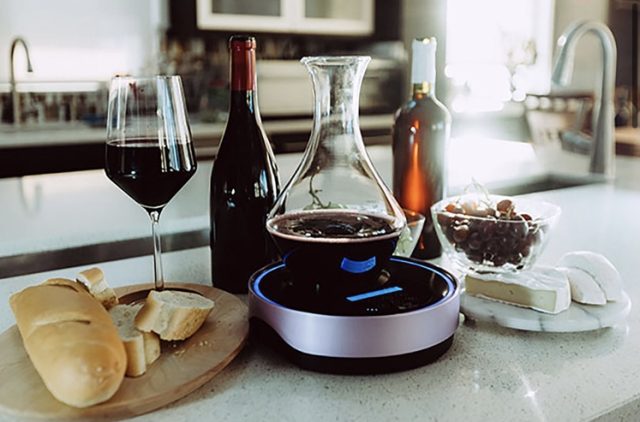 It's a product guaranteed to divide opinion. An electric device which claims to speed up the breathing process and make your wine "taste two to five times better in mere minutes".
While accelerating the opening up of a wine might suit today's culture of instant gratification, it may not sit quite so well with producers who have poured years of their lives into crafting a wine. And what impact might it have on the taste of the wine itself?
One such electric decanter, priced at US$169.99 and dubbed the 'Wake Up Wine Pro S', features a glass stopper for an airtight fit and a "super-fine sediment strainer", which the makers say filters out impurities as fine as 1mm.
A touch control panel allows users to set their decanting time, though "minutes" is all it claims to need for the wine to breathe.
With a bafflingly long battery life which "provides up to eight hours of continuous use from a full charge", it rather suggests that the brand is eyeing up the on-trade, as eight hours on the trot is an impressive amount of decanting time for home use, especially if each bottle takes just minutes to open up. Could we soon be seeing electric decanters in our favourite restaurants?
"I laughed out loud when I saw this. It feels like putting the wine in a rocking boat and hoping it will survive the seasickness," Melody Wong, head sommelier and wine buyer for Carlton Tower, Jumeirah, London, told WLC.  "This device might not be up to a sommelier's liking, but it would be fun entertainment for a house party if you can swallow the price tag."
Peter Wallbridge, wine buyer for Spain and South America, Enotria & Coe said: "On the basis that my biggest enjoyment in wine comes from seeing how a bottle of wine opens up and evolves in the glass over hours or even days, this seems a waste of time to me. If I'm sharing a good bottle with friends, I will have thought about the wine choice days, if not weeks before, carefully selected the bottle, left it upright to get the solids to the bottom, maybe already opened it the day before and it will be ready to drink…. And guess what, it didn't cost me a penny!"
He continued: "Rushing the evolution of a wine is like trying to cook a good ragu quickly. It'll never taste the same."
For Kate Sweet, PR Consultant at Limm Communication, whose clients include the portfolios of Louis Latour Agencies and Fells, the proposition is also a tall order.
"I'm checking the calendar to see if it's April 1st" she told WLC. "Are we are really so time-poor so that we need another gadget in our lives? Electric decanters… the world's gone mad."
And if opening up your wine in record speed isn't enough, the Wake Up Wine Pro S also features built-in Bluetooth speakers that play 360° "omni-directional sound".
The additional audio element isn't, however, enough to persuade Stephen Finch, founder of Vagabond Wines, to introduce them to his 11 wine bars across the UK any time soon.
"Now I know how those people felt when they first witnessed the wheel. For all these years I've been drinking wine like a muppet, falsely assuming that I could enjoy wine on its own terms. Silly me," he said.
"What I was missing was the superfluous nuisance of decanting an £8 wine while listening to Chumbawumba. When does the portable version come out?"
Experts differ on the optimum breathing time for a wine. Jan Konetzki, director of wine at London private members club Ten Trinity Square, told Club Oenologique: "Generally, you would see quite quick results if you decant a wine – within 15 to 20 minutes – but at a Château Latour tasting, we would usually carafe the wines for at least an hour before we serve them. Sometimes gentleness and giving something time to slowly open up benefits a fine wine."
On the other hand, Giles MacDonogh, author of several books on wine and gastronomy, said: "Old wines are often only at their best for an hour or two. It would be a crying shame to miss that by decanting too early."
Where members of the trade do seem to agree, however, is that jiggling it about is unlikely to transform your wine for the better.
This article was originally published by the drinks business and has been shared with permission.