A new Bottega Prosecco Bar & Caffé, operated by SSP UK, opens in the departure lounge of London Stansted Airport this month.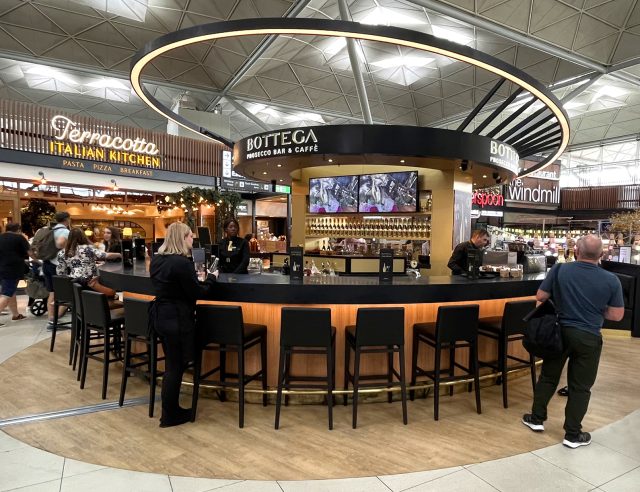 The premium wine bar offers people travelling through London Stansted the chance to taste Bottega's selection of still and sparkling wines. Each wine available can be paired with traditional Venetian and Italian food specialities available at the bar, including a range of sharing platters such as an Italian cured meats board, an Italian cheese board and a Scottish smoked salmon board. The Bottega bar will also serve specialty coffee and bakery products for travellers who would like to stop by.
The Bottega Prosecco Bar concept is inspired by the philosophy of the Venetian bacaro, where food is presented in the form of 'cicheti', or as substantial dishes served at the table. Combined with Prosecco, famed for its versatility, and other Italian wines, Bottega hopes it "enriches the spirit and restores the soul" showing that this philosophy can be "reproduced anywhere in the world, beyond the confines of Venice".
Cathy Granby, business development director of SSP UK & Ireland said: "Bottega has been a highly successful element in our brand portfolio for four years, and we are delighted to be opening a further unit at Stansted. The brand has proven a big hit with air passengers, and offers a new, premium experience for those passing through Stansted, offering them an excellent opportunity to treat themselves to something special before their flight."
Stephen Martin, retail director of Stansted Airport agreed and pointed out that "Bottega delivers a premium experience and to have their incredible Prosecco Bar & Caffé at London Stansted Airport, partnered by SSP, is an exciting time for Manchester Airports Group".
Sandro Bottega, president of Bottega added: "The opening of this Prosecco Bar has been an ambition for some time. London Stansted is an airport that has experienced significant growth in passenger numbers since the ending of the pandemic. It is also one of the main access gates to the British capital from continental Europe. Our wine bar format is of particular interest in the UK, where the Bottega brand is recognised as a leader in the Prosecco and sparkling wine market."
Over the past two years, the Prosecco bar offer in other airports has been progressively expanded to include coffee and breakfast products, signature cocktails, organic wines and liqueurs as well as alcohol-free sparkling wines.
This article was originally published by the drinks business and has been shared with permission.