Senator Alexandra Borchio-Fontimp tells WLC of her campaign to enforce similar restrictions on recipes as are found in the AOP system for wine: "it is fundamental to defend our culinary heritage as we can defend our literary, artistic or architectural heritage."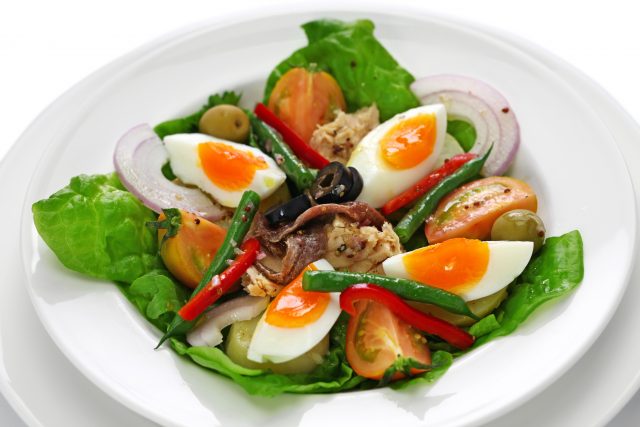 The nation that gave the world Auguste Escoffier and the Michelin guide is internationally revered for its gastronomy. However, Borchio-Fontimp, of the conservative Les Républicains party, argues that some of the nation's most celebrated dishes are threatened by deviation from the historic recipe.
Citing one of the signature dishes of Nice, the major city in her Alpes-Maritime constituency, Borchio-Fontimp said: "…we fight in particular against putting beans or potatoes in the salade niçoise. For us, this is a heresy that goes against the education of our parents and ancestors."
Most 19th century recipes for salade niçoise consist of tomatoes, anchovies and a drizzle of olive oil. In the intervening years, olives and boiled eggs were added, and tuna became a permissible alternative to anchovies. However, the line is drawn at cooked vegetables.
Other twists/corruptions Borchio-Fontimp mentions include yuzu sauerkraut and chickpea cassoulet. However, she insists that she is not close-minded when it comes to global cuisines: "The only thing we say is that we must respect the origins of what we consume."
Borchio-Fontimp is campaigning to legally dictate the ingredients that can go into dishes which share the name of regional specialties in an effort to avoid what some might refer to as 'brand dilution'.
The proposal to "defend all French regional recipes" has already received support from two organisations: Toqualoi Protections des Recettes de Cuisine and the Collectif Cuisine Niçoise.
Borchio-Fontimp is also concerned with how imitation might damage the reputation of France's drinks. She argues that international producers calling wines 'Bordeaux-style' or 'Champagne-style', for example, is "intellectual dishonesty": "Using a name that does not correspond to the final product is an attempt to mislead the consumer."
"Imagine if tomorrow we French were to produce cars totally different from Aston Martin; slower, lower quality, less expensive, but which would bear the name of Aston Martin. That makes no sense, does it?"
Historian and gastronomer Giles MacDonogh tells WLC that the proposals are flawed: "To say that a salade niçoise has to contain anchovies or eggs and may not use potatoes or capers would be to impose an unwelcome uniformity and might cause the inhabitants of 'Petite Flaque sur Marais' to rise up in anger when they point out that they have always made theirs with cornichons."
However, MacDonogh does not believe that legislation would be a disaster for culinary creativity, likening "pretentious chefs" to winemakers who deviate from the typicity of a particular AOP, even if it means that they have to label their product differently: "they prefer to put their stamp on things".
The suggestion that changing ingredients in a recipe is tantamount to "heresy" does make this writer wonder: at what point does an adaptation to a dish eventually become the 'tradition'?
This article was originally published by the drinks business and has been shared with permission.