Though Nusret Gökçe, better known as internet sensation Salt Bae, may benefit from his colossal social media presence, his London restaurant has been ranked as one of the city's worst.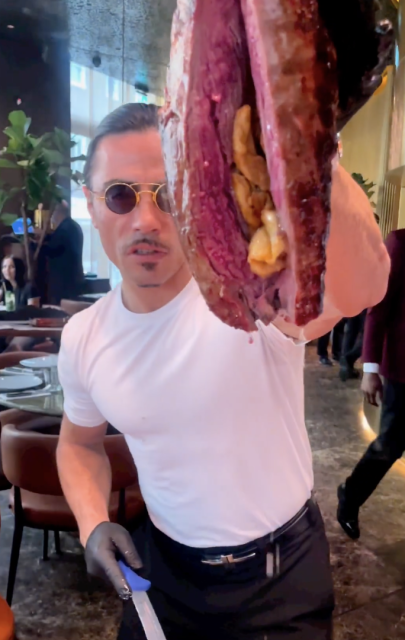 Yes, multiple outlets have reported figures from Tripadvisor that puts Salt Bae's restaurant in 16,970th place out of 17,542 listings on the reviewing site.
In fact, according to the figures, Salt Bae's London restaurant ranks as the second-worst steakhouse in the capital from a total of 261 listed on Tripadvisor.
Nusr-Et Steakhouse describes itself as "an internationally acclaimed destination, serving celebrity clientele. Its globally praised, unique concept combines an innovative menu with impeccable service and great fun."
However, Salt Bae has been plagued by criticism since launching his London outpost, with much of the vitriol centred around the prices.
Indeed, last year we reported the news that one particularly disgruntled customer had racked up an astonishing £37,000 bill at the steakhouse.
The itemised bill appears to show that the party of four enjoyed a 1996 Petrus priced at £9,100, two bottles of 2003 Petrus at a total cost of £19,900, and two bottles of Dom Pérignon Rosé 2006 for £1,620.
And it seems as though Nusr-Et's prices are the main target of Tripadvisor reviewers' ire.
"Absolute joke for the price. The quality is similar to that of chain restaurants and you're literally just paying for the name. Don't waste your money", one disgruntled commenter wrote.
A second added, "Nothing from another world. Too much salt and I had tried better meat for less price. People these are becoming more ridiculous and superficial."
A third wrote, "Would [have] been better off at a Harvester or local pub.
And the prices are ridiculous just for some overhyped social media's idea of how food is because a few "celebrities" have been there…. Stay away, like MILES away!!!"
Overall Nusr-Et Steakhouse is rated two-and-a-half out of five on Tripadvisor. 55 visitors rated their experience as 'excellent' while 73 said it was 'terrible'.
This article was originally published by the drinks business and has been shared with permission.