A bartender has gone viral online after revealing the "hack" he uses when customers complain that their drink is too weak.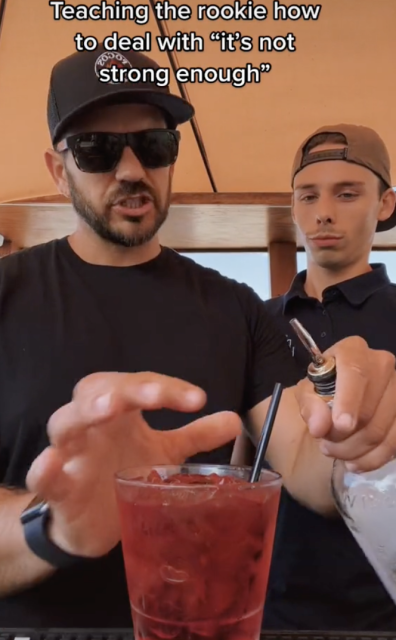 It's a common problem for bartenders, particularly if they're dealing a group who simply want to get on the sesh and aren't paying too much attention to the actual quality of the drinks.
But what is a bartender to do when their customers complains that their drink isn't strong enough?
Well, TikTok user @soberbartender19 has shown off his bartender hack for exactly that eventuality.
The video shows @soberbartender19 demonstrating his technique to a "rookie" co-worker. The video is captioned "teaching the rookie how to deal with "its not strong enough"".
In the footage, he takes a bottle of liquor out and pours some directly into the straw of the drink in question.
You can watch the video for yourself here:
Commenters seemed somewhat conflicted about the bartender hack on TikTok.
Some thought it was a clever idea, with one user writing "Lmao. I love that trick."
"My favorite bar trick" another commenter wrote.
"Why can people not just order a double??"
However, others seemed less impressed by the video.
"Don't touch my straw" one commenter wrote.
"Am I the only one cringing that it went on his hands into the drink?!" another added.
Others said that they often found they had the opposite problem – the drink was too strong for them.
"I on the other hand always find it too strong so I go order a sprite" one TikTok user wrote.
"Am I the only one that doesn't want to taste the alcohol?" another added.
So how do you feel about the bartender hack? Clever idea, or not appropriate?
This article was originally published by the drinks business and has been shared with permission.