Even as carriers scramble to deal with unprecedented supply and demand issues, Dubai-based Emirates Airlines is undertaking a US$2 billion overhaul of its in-flight experience with the ultimate perk for first class passengers: unlimited caviar paired with Dom Pérignon Champagne.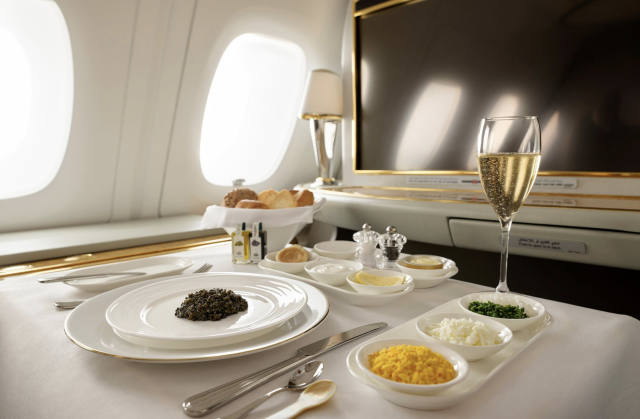 While even getting onto an airplane in the first place is something akin to running a gauntlet blindfolded at present, as carriers and airports lock horns over whose fault it is that travel plans are in such disarray, those flying first class with Emirates are likely to have a far more relaxing experience.
That's because the Dubai-based airline is investing some $2 billion in overhauling its in-flight offering across the entire Emirates fleet.
Amid the luxurious perks for first class passengers are brand new vegan options, a "cinema in the sky" and an all-new menu.
First class flyers will now be able to enjoy "pan-fried salmon trout with moqueca sauce and creole rice [and] roasted duck breast with orange thyme jus, steamed broccolini and fondant potatoes", while vegan passengers will dine on "pan-roasted king oyster mushrooms, flavoursome jackfruit biryani and sliced kohlrabi garnished with burnt orange."
But the real boon for those fortunate enough to enjoy the first class experience comes in the form of what Emirates is calling its "Champagne and Caviar Experience."
Doing pretty much what it says on the caviar tin, this is unlimited caviar paired with Dom Pérignon Champagne. The vintage-only Champagne brand has signed an exclusive deal with Emirates Airlines to supply its Champagnes.
As Emirates put it, it is "the only airline with an exclusive agreement to offer the luxury brand on-board."
The bubbly will surly be the perfect match for what the airline describes as "unlimited portions of Persian caviar." Just remember to save some room for pudding.
"While others respond to industry pressures with cost cuts, Emirates is flying against the grain and investing to deliver ever better experiences to our customers," Tim Clark, Emirates' president, commented of the US$2 billion overhaul. "Through the pandemic we've continued to launch new services and initiatives to ensure our customers travel with the assurance and ease, including digital initiatives to improve customer experiences on the ground. Now we're rolling out a series of intensive programmes to take Emirates' signature inflight experiences to the next level."
Elsewhere, Champagne Heidsieck has returned to the business class cabins of most Singapore Airlines flights.
And if you're looking to up your chances of bagging yourself a free drink from the economy cabins, then one flight attendant has revealed their go-to tips for getting the most out of your air fare.
This article was originally published by the drinks business and has been shared with permission.