The food and beverage manager of The Queen's Arms, Somerset talks to Douglas Blyde about what to match with local cheeses, the pub's edible gardens, and what bottle to reach for in the face of the apocalypse…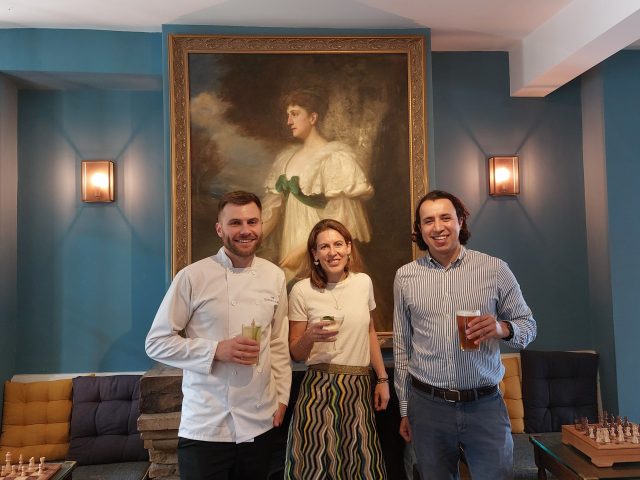 What is your motto?
"Be proactive, not reactive." I want to ensure guests have all they need before having to ask.
What is your vintage and terroir?
I was born in Colombia in 1989, a fantastic year for the wines of Bordeaux and Italy, including the smooth, steak-friendly Amarone from Bertani.
Where did you work before The Queen's Arms?
At Soho House, which introduced me to the next level of hospitality. When the opportunity arose for me to join The Queen's Arms, I knew it would be a way to put such training to use. I really like working in smaller venues because of the more direct access to decision-making.
Who has been your mentor?
>Sam Kershaw, the winner, in 2013, of the Bacardi Legacy cocktail competition. I worked with him when he was the bar manager for Babbington House and Electric House. His black book of cocktails is an inspiration.
What does your current role encompass?
I run the restaurant, train the team, and oversee the bar and drinks offering and regularly come up with new cocktails, including "The Whippersnapper". For this, I worked with head chef, Rich Townsend, to make a sugar-snap syrup. It is a wonderful green colour with a fresh pea flavour and works as a base with gin, St. Germain elderflower liqueur and fresh lime juice. We also created a brilliant Rhubarb Collins.
What is it like to work with Rich Townsend?
Amazing, because both Rich, and owner, Doune Mackenzie-Francis and I share an enthusiasm for local, seasonal produce. Doune has planted an abundance of fruit trees, edible plants and herbs in our gardens, ranging from figs, ginkgo and gooseberries to yuzu. Rich and I sit down each morning to discuss menus and potential pairings, such as cured monkfish with grapefruit, fennel, pickled ginger and chillies with the apple and apricot scented Villa Wolf Pinot Blanc, and 2016 Royal Tokaj with our local cheeseboard, comprising Westcombe, Tunworth and Bath with home-pickled onions.
Which wine suppliers do you work with?
Alongside sizable suppliers such as Matthew Clark, I relish working with smaller, indie merchants like Paddy McGill at Vine Wine. Via training, he helps to instil confidence in, and enthuse, my team. We often taste potential new additions to the wine list blind, so bins are chosen on merit.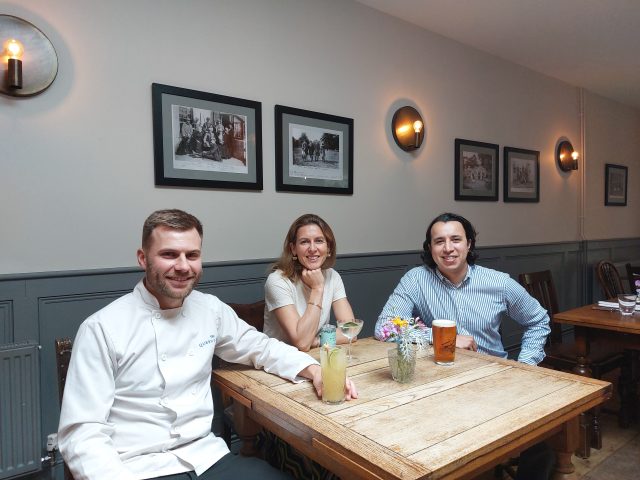 What do you have on draught? 
The local village cider, Lawrence's. We are also fortunate in having the Apex microbrewery on our doorstep run by Alex Ferris, whose Stirling IPA and Lights Out have proved a huge hit with our guests.
What bottle would you reach for if the nuclear button was pressed?
A bottle of Casamigos Reposado, some fresh limes, and a pair of sunglasses.
What was an embarrassing service mistake?
On my first waitering job just out of university, I managed to drop a tray of 15 glasses of Prosecco onto a guest. Thankfully, she saw the funny side. And I've subsequently learnt to master a steadier hand!
Tell us something surprising about yourself?
At age 16, I was selected to be part of the GB winter Olympics skeleton bobsleigh team, although my mum was so worried I might get hurt after seeing some videos of the sport that she didn't let me go.
What do you do on your days off?
I like to skateboard, and also to eat out at new places with my girlfriend although I would prefer more places to be open on Mondays and Tuesdays, which is a sign of the state of the industry. Though I'm pleased to say The Queen's Arms is a seven-day-a-week operation.
Which restaurant is on your bucket list to dine at?
Little French in Bristol, an independent, family-owned restaurant at which you'll find French cuisine given a Somerset twist.
If you could have a superpower, what would it be?
Teleportation – so I can get to all the best Michelin-starred restaurants across the globe.
Finally, would you prefer to share a treasured bottle with Michael Parkinson, Prue Leith or Tyson Fury?
A tough choice! Prue Leith has certainly led a colourful life and her knowledge of food is amazing. But I probably would choose Michael Parkinson: he's met so many interesting people it would be great to actually "interview" him…
The Queen's Arms – Corton Denham, Sherborne DT9 4LR; 01963 220317; info@thequeensarms.com; thequeensarms.com
This article was originally published by the drinks business and has been shared with permission.