From Wine List Confidential 2022, Douglas Blyde takes a closer look at the impressively situated Lympstone Manor…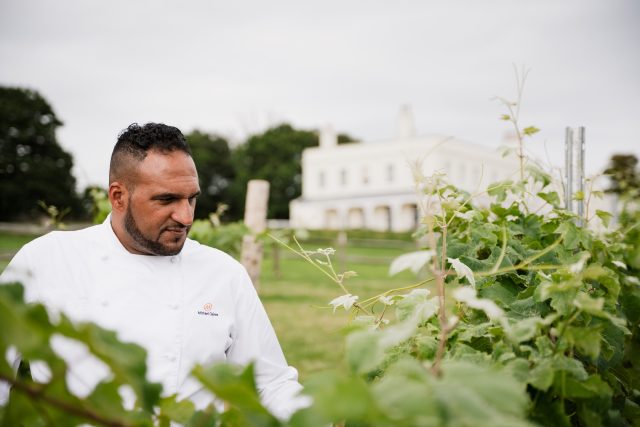 "A handsome Grade II-listed Georgian manor house, Lympstone presides over the mouth of the Exe estuary in Devon, with stunning views of the water, the rolling British countryside and the hotel's very own vineyard," wrote Charlotte Taylor in Vanity Fair of Lympstone Manor.
Once owned by the Baring banking family, what was previously known as Courtlands House was acquired in a dilapidated state by Exeter-born chef-patron, Michael Caines MBE in 2014 who set about rehabilitating it as, "a country-house for the 21st Century." On observing the favourable location of the estate, featuring southwest-facing parkland in which palm trees grow, with views of the Exe estuary, Caines decided to explore the feasibility of planting an on-site vineyard. "The vine likes to see the water," he says. "Most of the great vineyards of Europe are all located near rivers. So why not the Exe estuary?" The fruit from the resulting 17,500 vines of Pinot Noir, Meunier and Chardonnay are "ostensibly for sparkling wines with opportunities to make limited production still wines," says operations director, Steve Edwards, who has worked with Caines for over two decades. The first Lympstone Manor Cuvée will be released in 2024, and the adventure is recorded on the Passion For Wine" blogs on the venue's website.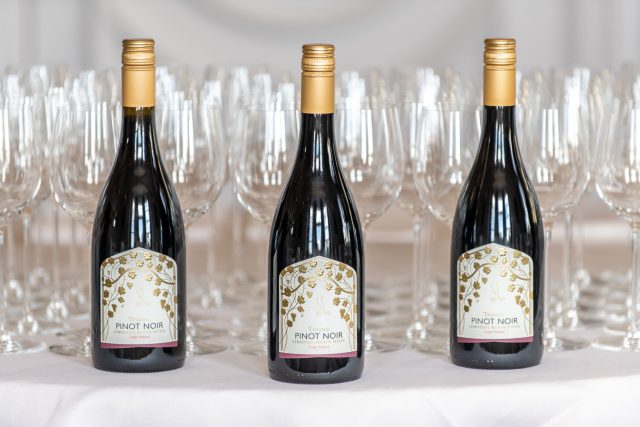 However, the still Pinot Noir is already available to order for diners. Launched in April, and priced at £110 per bottle, with a release of only 2,100 bottles, the 2020 incarnation is significantly better than being merely competent, being impressively deeply-coloured, succulent, with a show-stopping pure draught of red fruits.
Head sommelier, Sylwia Oger, who previously worked for Caines at Gidleigh Park, describes the wider 600-bin wine list, including premium by the glass dispensed by "Wine Emotion" machines, as "beautiful and well-crafted with plenty of hidden gems." This ranges from first-growth Bordeaux to white Beaujolais, to the wines of the Lyme Bay winery 25 miles away, which is where Caines' wines are produced, with incursions into the Judean Hills, Canadian Pinot Noir, Koshu from Japan and Chinese Cabernet, although Oger is a particular fan of Riesling. And, after a long day, tasting, talking about, and serving wine, she craves a glass of Mosel Riesling Kabinett by J.J. Prum.
Served in three dining rooms named after views from the property, Powderham, Mamhead and Berry Head, dishes realised by head chef, Jordan Denning may include salted Newlyn cod with lemon purée, Lyme Bay crab, samphire and chorizo, and pigeon pithivier, with duck liver, black truffle, braised onion and Madeira and truffle jus. A recent favourable pairing saw Alto Adige Moscato Rosa by Franz Haas meet white chocolate candle and raspberry sorbet which, says Oger, "is all about playing around with the same intense flavour profiles."
Bedrooms and suites inside the house are named after the birds of the estuary, while shepherd huts in the grounds, some of which feature Scandi-style Hikki hot tubs, take the names of woodland creatures. All include a complimentary aperitif tray including Chase gin and Luscombe Devon tonic.
While in the area, note the Michael Caines Collection also includes: Mickeys Beach Bar & Restaurant and Café Patisserie Glacerie in Devon and The Cove Restaurant & Bar and The Harbourside Refuge & Bar in Cornwall. A motoring fan, Caines has also devoted time to act as a catering consultant to the Williams F1 team.
Best For:
Cellar Room
The Estuary Tasting Menu
Wines on the terrace
The vineyard experience
Lympstone Manor – Courtlands Lane, Exmouth, EX8 3NZ; 01395 200920; tables@lympstonemanor.co.uk; lympstonemanor.co.uk
Wine List Confidential, which evaluates 100 restaurants and wine bars, five members' clubs, and five pubs, which are united in taking the pleasure of wine seriously, is out now – to purchase visit: https://www.thedrinksbusiness.com/2022/06/the-wine-list-confidential-2022-guide-is-now-available/
This article was originally published by the drinks business and has been shared with permission.