Wine List Confidential author, Douglas Blyde delves deeper into "gastronomic wine bar and shop" Porte Noire, the project of Luther actor, Idris Elba.
The concept:
Billed as a "gastronomic wine bar and shop," Porte Noire is the project of Luther actor, Idris Elba, who is also actively involved in projects internationally against slavery and child labour, and French wine merchant, David Farber, founder of French and Italian-focused fine wine merchant, Connaught Cellars recently rehomed at a new location near Marble Arch. It takes the name, logo and allocation of Elba's Champagnes, made by the Sanger school. Pronounced "Sans Guerre," meaning "without war", the initiative was set up after World War I when a Champagne-producing couple with no familial beneficiaries left their land and winery to the French government under the condition it became a winemaking school. The Porte Noire brand today has expanded to include a Provençal rosé, with a limited of release Super Tuscan edition coming soon. These authored wines are supplemented by a worldly and expanding drinks selection here in Kings Cross exhibiting Farber's thirsty sense of curiosity globally and his command of what constitutes quality both in glass and on the plate.
The décor:
The Meccano-like gas holder which might have been valuable if still in service during an energy crisis in which Porte Noire is set is replicated in miniature in the design of signature ice buckets. "The idea for these came to me one drunken night," recalls the affable Farber. "Fortunately, I wrote it down before I fell back to sleep." Wine-related references continue with, as wavy as the Douro, the cork-wrapped wall, a form of sculpture which helps dampen acoustics, and coat hooks fashioned from reappropriated corkscrews. Bacchanalian merchandise is also available for purchase, including T-shirts printed with pairs of grape bunches as lungs based on "Anatomie d'Un Vigneron" (Jiri Sliva) and "Dog Pérignon" dog bowls. Of the latter, Farber, famously a dog lover, notes, "we sell three of those a week." Facing the terrace, which, on my visit, was where a duo of kayakers rested their vessels while enjoying coffee on a break from navigating the nearby river, the bar counter seamlessly becomes an extension of the kitchen. There is also a wall of retail wines which edges towards the fine wine room and humidor,  then a gallery of cured meats beside the entrance. The whole venue is fed by a limited supply of green electricity.
The food:
Formerly of, given its meat market location, the perhaps unexpectedly glamorous Oriole bar, Smithfield, where he designed a Nikkei-inspired menu to provide sustenance to fans of upgraded cocktails, head chef, Gustavo Giallonardo works closely with Farber who seems to take as much interest in sourcing the culinary components as he does wine. As well as excellent charcuterie, including Auvergne saucisson generously appointed with Piedmontese nuts, and cheeses from our islands, dishes may include a pretty, seasonal ratatouille, alcohol-enriched cured salmon by "The Pished fish" as well as the alcohol-free "designated driver" version, an Italian-style steak tartare featuring pine nuts and pesto, Veal Normande, crisp chickpea chips with rosemary and aioli, and butter whipped hard with fermented plum. Sweeter offerings include standout burnt matcha cheesecake on an Oreo base, and the glass of homemade pistachio ice cream served with a glossy shot of Campania olive oil to drench over.
The drinks:
Both Elba's Blanc de Blancs Champagnes, being the Porte Noire 2010 with its rich Roquefort and green apple notes, and the slinky Petite Porte are offered with pride. The latter features alongside Dima's Ukrainian triple grain vodka in signature cocktail, The Porte Noire Flower, poured over a candied, edible hibiscus flower. Other Champagnes include Rare by the glass at what is likely the capital's most reasonable price. Two versions of the wine list are available, with the shorter, easily navigated folder being a collection, principally, of 30 whites and 30 reds, though the best way to get a feel for the collection is to stand up and peruse the retail shelves and enter the wine room given everything may be enjoyed within. Specials from the blackboards include prime by-the-glass selections of the day such as top vintage Ornellaia, Domaine du Vieux Télégraphe Châteauneuf-du-Pape Blanc, and the Gorgona Frescobaldi, produced by prisoners on the last such island facility still in use in Europe. There are also four wines on draught, including Judith Beck's "Ink" Zweigelt. "There have been no negative perceptions from guests to wines on tap," notes Farber. And, in summer, the "Frosé" granita apparently became a runaway success.
Farber has taken exceptional care with glassware, ranging from entry-level Royal Glass to Lehman for sparkling wine, as well as Gabriel-Glass, Zieher and literally flexible Zieher. For larger Coravin pours, Farber offers a miscellany of small crystal Coravin crystal carafes.
There is also a rich beer and cider selection, from Siren Broken Dream to Sassy, with spirits encompassing such discoveries as Pocketful of Stones Morveren Cornish absinthe.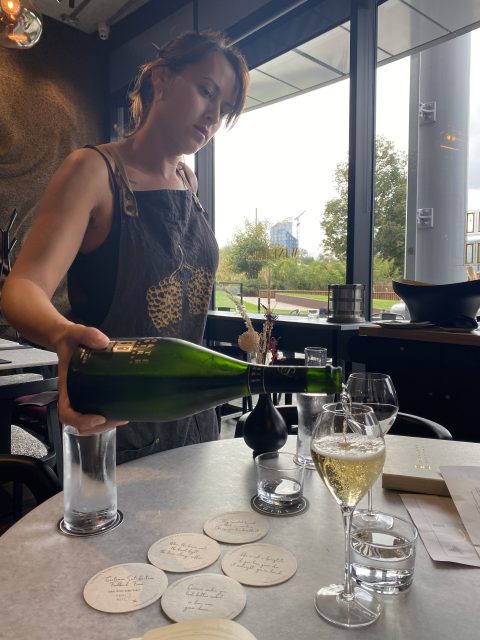 Who to know:
David Farber, who brings tremendous personality to the location, is a likeable host involved in every aspect, with a sense of adventure when it comes to sourcing wines though mindful of his guests' tastes. However, it is arguably his sidecar riding labradoodle, Cooper, who is the premise's lead attraction, regularly featuring on the Instagram account, @connaughtcellars. "I remember we received a phone call from a customer asking if Cooper would be in!" recalls Farber. Identified by a Porte Noire embroidered harness, Cooper acts as the welcoming committee at the entrance area and garden.
Last word:
Farber intends to expand Porte Noire, initially at this site, by creating an arch into the sunny, next-door unit which will allow an additional 60 covers and provide the opportunity for private wine tasting salons and even a lounge. Elba and Farber also came tantalisingly close to taking on a larger site at Battersea Power station. "I have a strong belief in the success of Battersea Power Station, which is a bit like Kings Cross, being industrial originally, on the river, with a mix of residential and offices," says Farber. However, crewing the venue with appropriate talents became an insurmountable challenge. When more skilled staff may be recruited, the dream may well be rekindled. "I would love the next Porte Noire to centre around a grill – what is better, after all, than pairing grilled meat and red wine…?"
Porte Noire Kings Cross – Gasholder 10, Unit A, 1 Lewis Cubitt Square, London, N1C 4BY; 020 3479 1914; bookings@portenoirekx.com; portenoirekx.com
This article was originally published by the drinks business and has been shared with permission.