From Wine List Confidential 2022, Douglas Blyde takes a closer look at Timberyard, Edinburgh which was commended for winning "Best Natural Wine List"…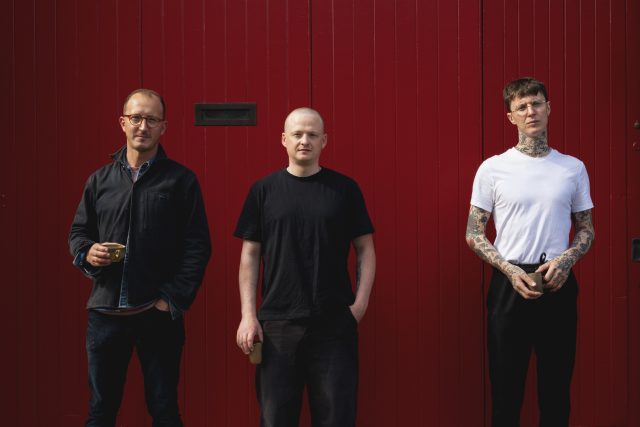 "Here is food and wine as edge and arch in an 18th-century warehouse – that modern-day temple of provision – in which the staff, priest-like, wore white shirts, black trousers and dark aprons," wrote William Sitwell in The Telegraph, adding, "They became one, save the wine guy who had tattoos on his arms, hands, fingers, on his palms and possibly his eyeballs. They were as mesmerising as his deep, deep wine list, matched by his Mariana Trench of knowledge…"
Said "wine guy" is Joseph Radford, the youngest member of the Radford family which runs Timberyard (ex of Atrium and Blue). His wine list is a charismatic and depthful compendium of naturally-inclined wines, although similar care is lavished on the bar, too, from spontaneously fermented ales to rare Marc, far-reaching single malts and non-alcoholic infusions, vinegars and kombuchas to potentially match the tasting menu.
Radford focuses on organic grapes "at a bare minimum", drawn from the Old World. Bottles should also make guests "feel energised" and come from producers with decent "social morals". Standout producers, which the Timberyard team gets to know personally, may include Rudolf Trossen in the middle Mosel, as well as, "age-worthy cuvées from Cantina Giardino, the haunting aromatics of Le Coste di Gradoli, and the purity of Domaine Belluard," says Radford. Meanwhile, sparkling wines take in the traditional and often ancestral methods, such as Milan Nestarec's Bum Bum Cha Riesling/Blaufrankisch.
Note, that the brown text on the list signifies white wines with extended skin maceration, such as the Swiss Disobedience (Fendant). "It's important for me that they still sit in the 'white' section as they are, ultimately, expressions of white grapes," says Radford. "A delicate extraction of Pineau d'Aunis will still sit in the "red" section next to a more lengthy extraction of Nebbiolo; why should it be different for white wines?"
Radford understands that "natural" is not "a byword for quality." He says: "there are a few slightly more feral and wonderfully wild wines on the list, but we generally focus on the cleaner end of the spectrum. Fine wines that just so happen to be made in a very honest manner."
With so many listings bought on strict allocations, the Timberyard list needs regular replenishment. To this aim, Radford tastes but doesn't actually drink alcohol. "My palate has never been sharper," he says, resultingly. When new parcels arrive, Radford allows them to settle for six months before listing, such as the De Moor Chablis 2018.
While the majority of Timberyard's larder is Scottish, Radford also includes "the seasonal waves" in Europe, too, "for example, preserving bergamot, Amalfi lemon, blood orange and clementine" not only for the kitchen but also the bar.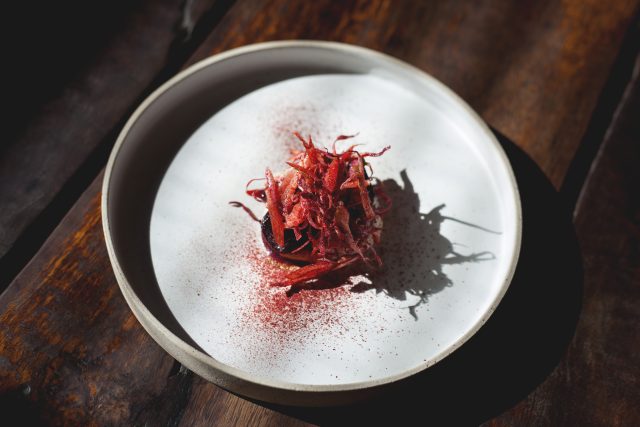 With celeriac, Lanark blue cheese, hazelnut and spruce by head chef, James Murray, ex of Nur Hong Kong (RIP) and Lyle's, London, Radford pairs Mythopia's Clockwork Orange. "A Pinot Noir from Switzerland with Vin Jaune qualities, aged for 10 years in barrel, not topped up," says Radford. "The colour has dropped out and it pours the most beautiful orange hue. Perfect." Radford also relishes choosing wines to accompany pickled elements. "Sometimes looking for a wine with a touch of residual sugar is your best tool. The Chenins of Angeli or Bellivière can be a great place to start."
Best For:
Rested wines from France, Italy and Germany
Soft pairing for tasting menu including infusions, vinegars and kombuchas
Private room, "The Shed"
Timberyard – 10 Lady Lawson Street, Edinburgh, EH3 9DS; 07583 193 652; timberyard.co
Wine List Confidential, which evaluates 100 restaurants and wine bars, five members' clubs, and five pubs, which are united in taking the pleasure of wine seriously, is out now – to purchase visit: https://www.thedrinksbusiness.com/2022/06/the-wine-list-confidential-2022-guide-is-now-available/
This article was originally published by the drinks business and has been shared with permission.