Wine List Confidential author Douglas Blyde visits the three-Michelin-starred London bastion of the world-famous Alain Ducasse…
The concept:
"Rarely does a restaurant feel so comfortable, and yet so utterly sumptuous and luxurious: the waiters came and went as though they'd wire-tapped our brainwaves, somehow appearing just when needed and floating away the same way," wrote David Ellis in Evening Standard of Alain Ducasse's much garlanded minimalist, Park Lane haven. Here chill-out and soft jazz percolate, with the cohesive front-of-house team bringing a sense of lightness and warmth to a generous, memorable and very finely tuned guest experience.
Who to know:
The Naples-born head sommelier, Vincenzo Arnese who was crowned Taittinger UK Sommelier of the Year 2022. In collaboration with the Burgundy-born Gérard Margeon, wine director for Ducasse, Paris, Arnese oversees some 1,100 references cellared in a neat floor-to-ceiling facility looking onto the shimmering "Table Lumière" and its also illuminated cabinet of Baccarat glassware.
A Star Wars fan, Arnese, who rates Yoda's saying, "do or do not, there is no try", previously worked as head sommelier at Dinner by Heston Blumenthal, with other venues including The Fat Duck and The Waterside Inn, and a world away, Vue de Monde, Australia. His love for wine was sparked by his grandfather. "Once a year, my family gathered to process the grapes. I have vivid memories of being on my grandfather's shoulders 'pretending' to push the upper screw of the basket press. It seems natural that a few years on I would be seduced by the wine world…"
Arnese recalls selecting the wines for Masterchef: The Professionals, held at the restaurant. "A fascinating day. The work behind shooting each scene was meticulous."
As well as being in love with the culture of wine, Arnese is a keen cyclist, "and one of my treasures is a 1975 Bianchi Felice Gimondi, with the classic Celeste colours."
The food:
Arnese enjoys working with "modern chef", Jean-Philippe Blondet, an enthusiast of Champagne (an engraved large format of Dom Pérignon Rosé 2003 features in his wedding video) and white Burgundies. "A wine can completely change the perception of a dish," says Arnese, "and vice versa, and his vision about the concept of the dish is extremely relevant." A recent match saw, in homage to Blondet's Polish wife, Cornish turbot crumbed in beetroot powder, coffee and Espelette pepper, with Crapaudine beetroot, finished with beetroot, horseradish, lemon, and coffee sauce, meet Domaine Bart's Marsannay Les Longeroies. "The lightness of the wine was in line with the delicacy of the fish, and we found the earthiness and the red fruits flavours complimented the beetroot character."
In addition to the turbot, other British ingredients may include substantial scallops which are on occasions harvested by a helicopter-released diver, then served in the shell over seaweed and dry ice, with a caviar-laden citrus beurre blanc formed with Suffolk butter. Alongside the Italian-owned Domaine Giachino Roussette de Savoie "Prieuré" is chosen to work with the seaweed aroma.
Arnese found meeting holder of no fewer than 21 Michelin stars globally, Alain Ducasse, "incredible and a bit stressful." He recalls, "he wanted to know everything about the dishes and to try our pairings and was really focused on the final experience. We also had fun making the team picture."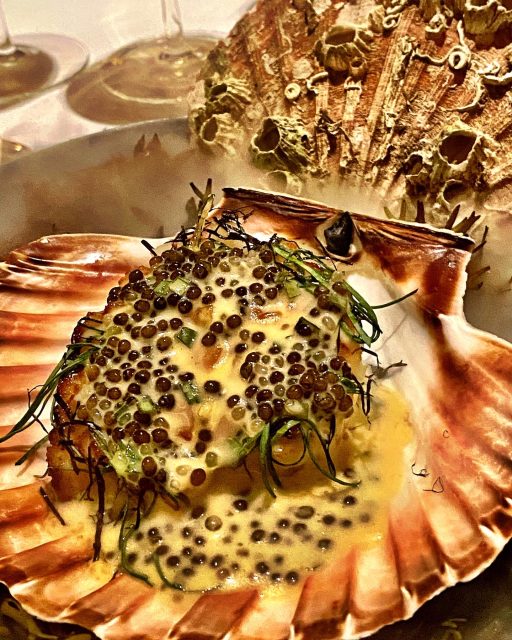 The drinks:
In compiling the list, Arnese avoids "overripe, extra concentrated and over oaky" wines. There is a significant focus on Burgundy, including domaines, Armand Rousseau, Claude Dugat, Emmanuel Rouget, Georges Roumier, Leroy, and Méo-Camuzet, with verticals of Bordeaux comprising Château Margaux, Cos d'Estournel, Château Pichon Longueville Comtesse de Lalande, Le Puy, Léoville-Las Cases, and d'Yquem. There are also multiple selections from Clos Mogador, Biondi-Santi, Sassicaia, and Jasper Hill.
"We recently increased the number of local varieties from lesser-known regions," says Arnese. Hence the presence of Istrian Malvazija Istarska Alba Antiqua Matošević, and Greek Ktima Gerovassiliou Malagousia Epanomi, as well as homegrown incursions from our island, with the team having established a close relationship with Chilterns sparkling wine producer, Hundred Hills, resulting in them participating in this year's blessed-seeming harvest. In a matching of colour, Hundred Hills saignée has been paired with a dish of lobster, chicken quenelles, truffle and semolina pasta. At least 45 wines are obtainable by the glass, with the likes of Dom Pérignon P2 2004 and current vintage 2013 Riesling Cuvée Frédéric Emile offered via Coravin for the top tier "Icons" wine pairing option.
Glassware is entirely bespoke to Ducasse, being unbranded and clearly handmade, to the extent differences may be observed, with Arnese amusingly describing one glass as approximating the "leaning tower of Pisa".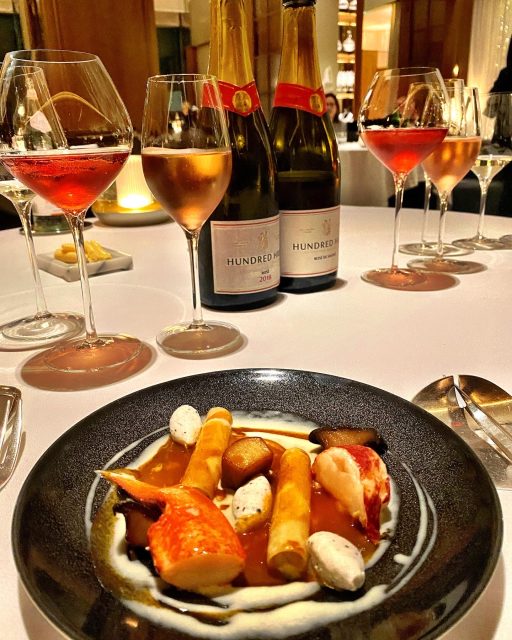 Last word:
Alain Ducasse at The Dorchester received three Michelin stars in 2010, being three years after opening and has maintained the accolade since. However, on previous visits well in the past, the dining experience had felt rigid and formulaic. This reviewer is very happy to report that the current experience is notably joyful,
Best for:
"Wine Icons" top pairing featuring the likes of Dom Pérignon P2 and Mouton
Large formats
Table Lumière encircled by 4,500 shimmering fibre optic strands
Alain Ducasse at The Dorchester – Park Lane, London, W1K 1QA; 020 7629 8866; alainducassereservations@alainducasse-dorchester.com; alainducasse-dorchester.com
This article was originally published by the drinks business and has been shared with permission.