Douglas Blyde puts faith in St. Bart's…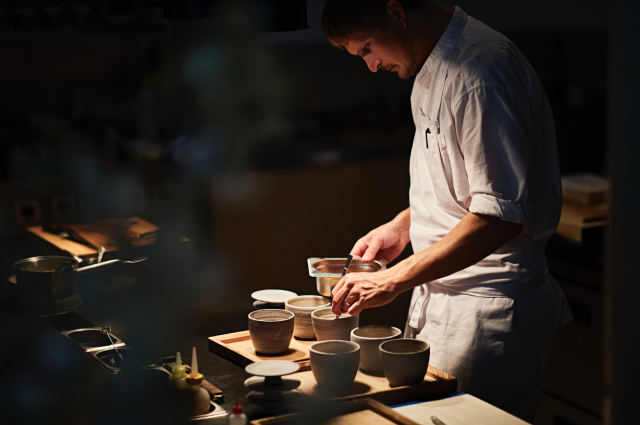 "A low-lit, super-modern, post-Nordic sextaurant of the kind one rarely sees in England" wrote Giles Coren of the Smithfield restaurant in The Times, praising its cooking "of great precision and wit." The venue is the most ambitious offering from the same trio of friends who launched NEST in Hackney where a tasting menu is also mandatory and FENN in Fulham which offers a la carte options. The minds behind: executive head chef, Johnnie Crowe, Luke Wasserman who describes himself on Instagram as "Potwash. Wine. Owner" and Toby Neill, who it transpires creates, by hand, tactile tableware, some examples concentrating aromas of creations in a comparable way to a tapering wine glass.
The Design
The minimalist dining room overlooks the manicured grounds of the gothic twelfth-century Great St Bart's church which lovers of rom-coms will recognise as the location for the fourth wedding in Four Weddings and a Funeral. In homage to the ecclesiastical setting is the monolithic, functional ice well centrepiece which feels font-like. The bar is more intimate, with fluffy hides on chairs. Oddly, tracks of lights highlight nothing in particular while the playlist, upbeat and informal, featuring Tame Impala – Is It True, can feel a little jumpy in its contrasts.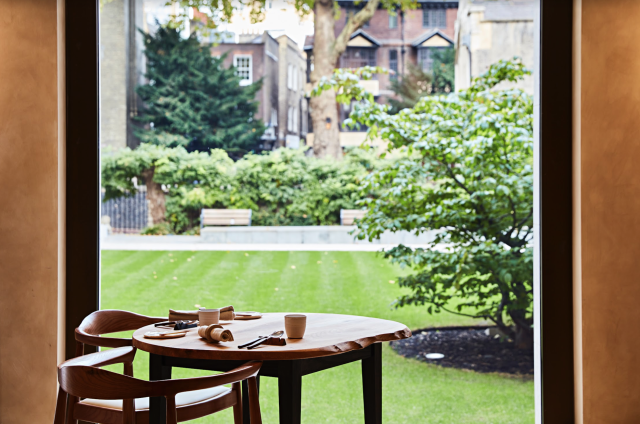 The Kitchen
It is in the bar where a profound and greeting meaty broth, then snacks such as an excellent crunchy cod fritter rolled in batter scraps are served at very low coffee tables by a kitchen team led by executive head chef, Johnnie Crowe (formerly of Anglo and The Harwood Arms). A highlight at this point is the generously sized one-bite raw wagyu bun with capers offered with ultra-precise rosé bubbles from Chilterns producer, Hundred Hills if taking the wine pairing. Indeed, relatively light dosage bubbles provide a very good way to help sail through the majority of Crowe's dishes.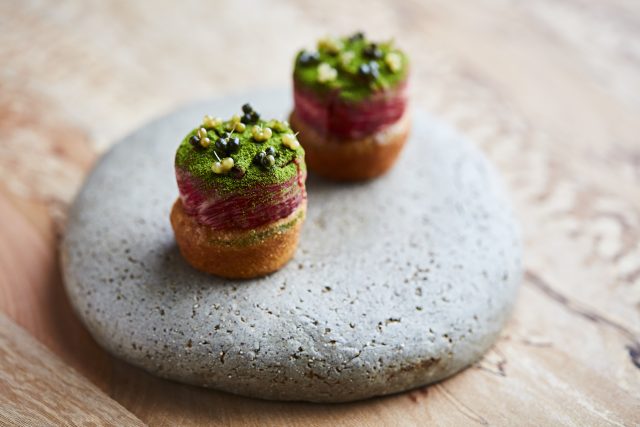 The Drinks
St. Bart's represents the first head of wine role – at least officially – for Emma Denney, a former competitive dancer who began her vinous career in New Zealand at Glengarry/Hancocks followed by S.P.Q.R. then in London at Roka, LPM Mayfair which appears to have been a particularly formative role, Davies and Brook at Claridges which closed when its chef, Daniel Humm was courting vegan Laurene Powell Jobs, and The Clove Club. Her focus is on organic and biodynamic wines from, despite her origins, the Old World, including spiny grower Champagnes and a trio of still wines from Croatia such as skin contact Pošip from the island of Korčula (Negotians Vinarius), while corkage is set at a tempting £35 a bottle.
Denney showed particular verve when pairing the notably vivacious 11-year-old Stagard, 'd.u' Grüner Veltliner from Kremstal with a dish of white Cornish crabmeat scented with nutmeg initially eclipsing a ginger accented base of brown meat emulsion. Another high during the 15-course performance was the Alsatian "Ophrys" Pinot Noir from thirteenth-generation Domaine Valentin Zusslin poured with a tranche of duck with lingonberry and a granola-esque accompaniment. This, shared Denney, was one of the first wines she tried when putting together the list for St. Bart's.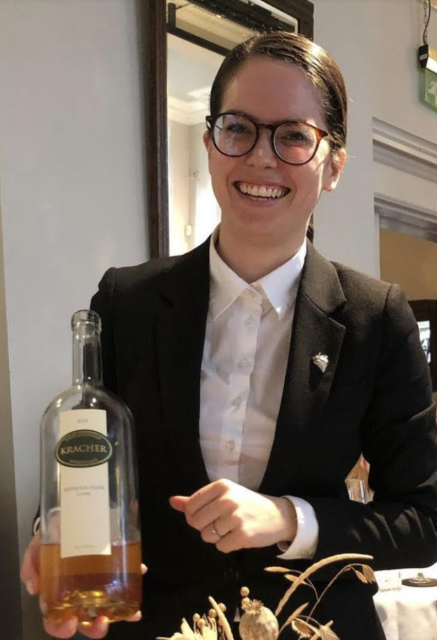 The Last Word
The team at St. Bart's appears unified, organised and genuinely keen to please, and the atmosphere is warm. However, given the spacious setting and distinctive cooking, this is a venue which warrants the team allowing Denney the opportunity, unsuppressed by mere budgets, to build up the higher end of her wine list, which presently only has two bottles over £200. If guests unaffected by a cost-of-living crisis – and this is zone one London – wish to spend their fortune on the pleasures of the table, quite simply, it is not the role of the restaurateur to install a ceiling over their ambitions…
St. Bart's – 63 Bartholomew Close, London, EC1A 7BG; 02045477985; info@restaurant-stbarts.co.uk; restaurant-stbarts.co.uk