A Christmas miracle or an icy nightmare? Around 40 people were forced to seek refuge in a pub on Sunday night after becoming stranded due to the snow.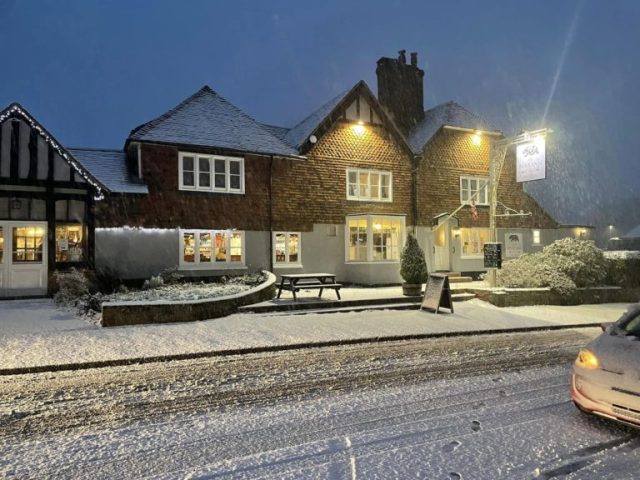 The Bear Inn in East Sussex gave a very warm welcome to some stranded motorists this weekend after the snow became too heavy for them to make it home.
As many as 40 people were provided with shelter after the heavy snow prevented them from completing their journeys.
The pub's landlady provided log fires, free food and drink and even mattresses to the motorists. According to the BBC, one customer even called the evening "biblical".
"It was a long night and quite scary, but we made so many good friends and met so many lovely and kind people," they said.
Not all pubs in the area were feeling quite so generous.
Dr Alexandra Loske, one of those unable to get home, posted online, saying she had been stranded near Burwash since 5pm on Sunday afternoon. She and a group of others had to make a two mile trek to The Bear Inn after being "kicked out" of the first pub where they sought shelter.
Stranded and snowed in near Burwash since 5pm, and we all got kicked out of the first pub. A 2-mile treck through the snow to The Bear Inn, which has taken in dozens of people and is staying open all night. Hot drinks, logfires, mattresses for children. Human kindness. @BBCSussex pic.twitter.com/jibHEfT97z

— Dr Alexandra Loske (@Saschaloske) December 11, 2022
The pub's landlady put out big trays of chips, pigs in blankets and roast potatoes for those who were feeling peckish.
The pub's eight hotel rooms were quickly filled by stranded drivers, so many ended up having to sleep on the floor, but it didn't prevent them from making the most out of the situation.
This isn't the first time snow has provided an excuse for a pub lock-in. Last year an audience of more than 60 crowded into a Yorkshire pub for an Oasis tribute act's performance. On Monday morning, most of the customers – and the members of 'Noasis' were still stranded in the pub after Storm Arwen struck, leaving the pub surrounded by nine-foot snow drifts. Read more on that here.
This article was originally published on thedrinksbusiness.com and has been shared with permission.