Quo Vadis, known as 'the Great Dame of Dean Street', is set to become significantly greater in size as refurbishment plans were announced that will restore it to its former capacity.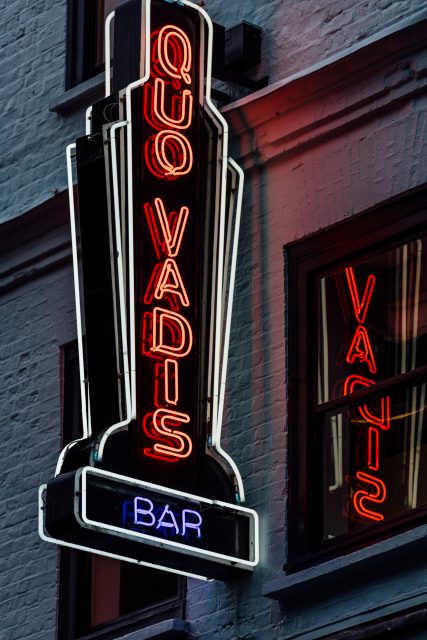 The much-celebrated London restaurant that, as its website proudly notes, was "formerly a brothel and a home to Karl Marx" is something of a Soho institution, with chef Jeremy Lee's seasonal, regional British cooking earning the historic eatery a reputation for excellence.
In 2016, with the relocation of sister restaurant Barrafina from Frith Street to Dean Street, the size of Quo Vadis was substantially reduced. At the time the decision made sense, as co-owner James Hart told Eater, because: "Quo Vadis was adored but also not very profitable or always full…"
But now, due to lingering doubts over the intervening years about whether the smaller restaurant was optimal, the bullet has been bitten and Quo Vadis will re-expand. Thanks to the makeover, capacity will now double to 40 diners (though this does mean the reception area will somewhat shrink).
A statement from Quo Vadis said: "Design for the reimagined space is being conducted by co-owner, James Hart, who will be removing the imposing revolving door to create a welcoming, though no less arresting, entrance. The door will be painted 'Red Stallion II' and have a large brass knocker. The stained-glass windows, which were never as 'original' or 'vintage' as anyone assumed, will remain in part, as despite their humble background, they are very beautiful. Reception, once vast, will become more 'bijou,' whereas the dining room will be upholstered with red Georgian style dining sofas and a reclaimed Georgian wood floor. We are toying with the idea of a window curtain."
"For those with 'Soho' as their special subject," it continued, "no worries should be spent on the fate of the one of the 'Seven Noses of Soho,' which resides on Quo Vadis' exterior. This is no rhinoplasty. It will however be protected from the elements by a proud new black and white striped awning, emblazoned with the QV monogram."
The refurbishment does mean that the restaurant will be closed from 2 January to 7 February (the QV Club is not, with the exception of a few days of which members are already aware, affected). However, when it does reopen, it has been said that there will be some new celebratory dishes on the menu to mark the beginning of this new era.
Two-years-ago, db spoke with Lee about his food memories, his favourite pairings, and his biggest blunders on the job.
This article was originally published on thedrinksbusiness.com and has been shared with permission.