A Florida bartender hopped the bar to rescue a woman being held in a headlock by an armed man.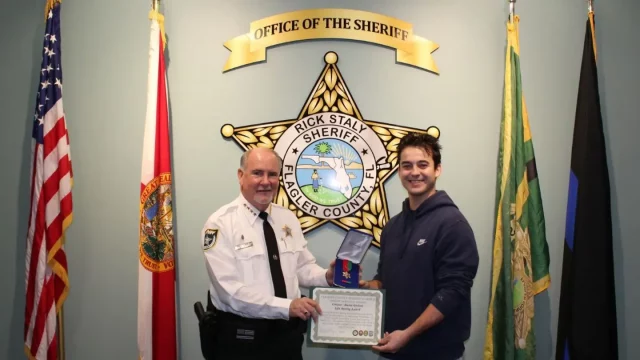 David Ghiloni, a bartender at Smiles Nite Club, said: "I was protecting her. I didn't even know there was a gun involved until I did tackle the guy."
Surveillance footage shows the attacker grabbing the woman unprovoked and holding her in a headlock. The bartender responded quickly, jumping over the bar to block the man.
Several of the bar patrons rushed in to help Ghiloni free the woman, allowing her and the other patrons to escape as the man fired six shots inside the bar. However, no one sustained serious injuries at the scene.
The suspect, Connor Anderson, was taken into custody by Flagler County Sheriff deputies shortly after. He is facing several charges, including aggravated assault with a deadly weapon, shooting into a building and using a firearm under the influence.
The Flagler County Sheriff's Department has presented Ghiloni with a Lifesaving Award for heroically protecting the bar patrons from harm.
Sheriff Rick Staly called it a "courageous act". He said, "[Ghiloni] without a doubt saved lives that night… and put his own life in harm's way to protect others".
Ghiloni described himself as going from "being a nobody" to receiving an outpouring of recognition from both the sheriff and the Palm Coast community where the bar is located.
He has since become aware of how dangerous the moment was. "Now that I see the video and I slow it down, I can see how bad it could have turned out," Ghiloni said.
This article was originally published on thedrinksbusiness.com and has been shared with permission.