Chef Pip Lacey and Gordy McIntyre have opened Hicce Hart, a new pub serving beers from The Goodness Brewery, in London's Islington.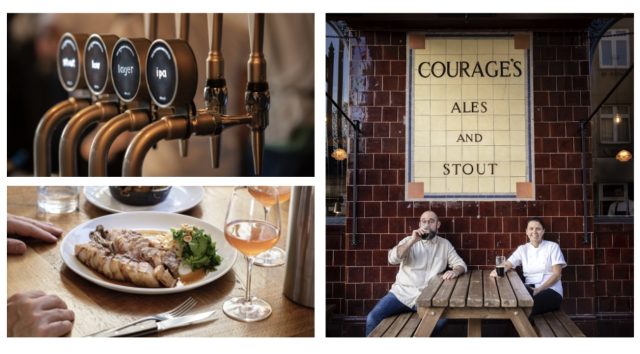 The venue, which will showcase head chef Charlotte Harris British-style cooking alongside beers exclusively from independent north London brewer, The Goodness Brewery.
Speaking to Wine List Confidential, Gordy McIntyre said: "When the opportunity to open Hicce Hart presented itself, the chance to work closely and solely with a local fellow independent and as an added bonus co-brew our very own beer was really a no brainer. The Goodness range is exceptionally strong and consistent; this is why we are very proud to have only Goodness beers."
Designed in partnership with Lacey, Harris has created a menu of crowd-pleasing pub classics, as well as new delights; offering a selection of small plate-style bar snacks for those perching at the bar, alongside a full dining menu for those settling in. Sunday roasts will be a staple of the weekend menu with a select menu of starters. For example, guests can enjoy classics including rabbit leg stew and chocolate stout cake in the warmth of a traditional pub setting.
The pub's own co-brewed session beer, Hicce IPA, will also be available as well as a Kolsch-style lager, a full-bodied stout and a 2.2% ABV table beer. Alongside the beer offering, the wine list includes a mix of sustainable, biodynamic and low intervention wines made by small producers to be enjoyed by the glass, carafe, or bottle and a Black Book Wine List which features small batch organic wine choices. A pair of wines will also be available on tap.
The choice of spirits served is based on a similar principle, working with independent small suppliers in a concise cocktail list including the signature Hart Negroni, which will evolve throughout the year based on the season; the Fandango, a twist on a shandy and a Down Hicce way, which is a take on a Manhattan. Weekends will be led by the Bloody Mary with the choice of three; classic, smoky or kimchi.
The pub is split across two levels with the 52-cover open plan kitchen and bar area on the ground floor available for walk-ins, whilst the 32-cover dining room upstairs is held for reservations.
This article was originally published by the drinks business and has been shared with permission.